February 6, 2023 11:13 am
Deadly 7.8 magnitude earthquake hits southeast Türkiye
76 killed in Turkey, 111 dead in Syria, hundreds wounded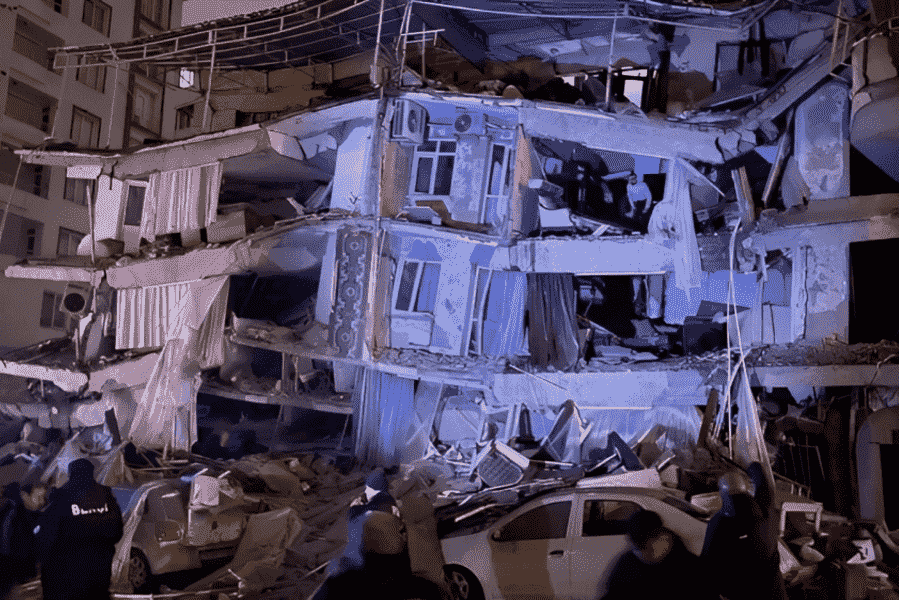 The aftermath of a major 7.8-magnitude earthquake that struck southeastern Turkey (Photo Credit: Twitter)
A 7.8-magnitude earthquake that had its epicenter in southeastern Türkiye left more than 76 people killed and 440 injured in several provinces in the south of the country, including Adana, Adiyaman, Malatya, Kahramanmaras, Gaziantep, Sanliurfa, Diyarbakir, Osmaniye, Hatay and Kilis."
The quake was centered north of the city of Gaziantep, 90 kilometers away from the Syrian border.
There were at least 6 aftershocks after the initial tremor.
Read more: Expected losses from climate change valued at $5.6 tln
The massive earthquake that also reverberated through Syria claimed the lives of more than 111 people dead and hundreds of wounded in the north and the west of the country, calling on citizens to help shuttle victims to hospitals in their cars.
"This earthquake is the strongest since the National Earthquake Centre was founded in 1995," Raed Ahmed, who heads the center, told SANA.
Rescuers have been rushing to search for survivors under the rubble of collapsed buildings since the earthquake hit Syria at dawn.
AFP correspondents in northern Syria said terrified residents ran out of their homes after the ground shook.
SANA had reported earlier that the earthquake was felt from the western coast of Latakia to Damascus.
The quake jolted residents in Lebanon from their beds, shaking buildings for about 40 seconds. Many residents of Beirut left their homes and took to the streets or drove in their cars away from buildings. The Lebanese interior ministry denied rumors circulating online that claimed that buildings were damaged in the country, adding that the footage originated in Syria and not Lebanon.
A seismic researcher predicted two days ago, the exact location and magnitude of the earthquake. It was posted on Twitter on February 3rd.
The earthquake came as the Middle East is experiencing a snowstorm that is expected to continue until Thursday.
The tremors were felt in Greece, Cyprus, Jordan, Iraq, Georgia, and Armenia, according to AFP correspondents.
The National Center of Geophysics in Bhannes hospital in Lebanon reported that a 4.8-magnitude earthquake hit the sea between Lebanon and Cyprus – 160 kilometers away from the Lebanese coast.
Türkiye sits on top of major fault lines and is frequently shaken by earthquakes.
Some 18,000 were killed in powerful earthquakes that hit northwest Türkiye in 1999.
For more on climate change, click here
Exclusives