February 6, 2023 2:57 pm
GCC markets closed mixed
As Q4 2022 earnings season continues to gather steam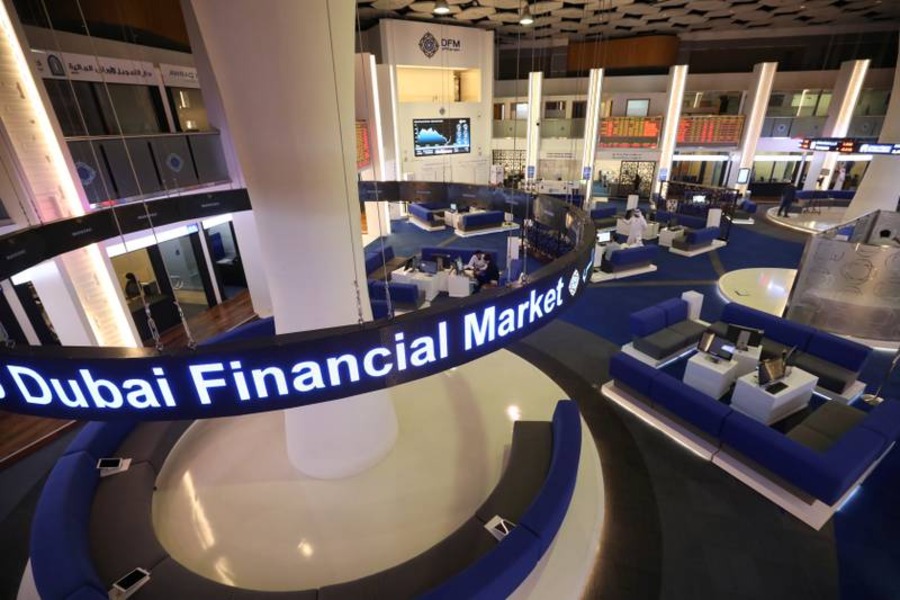 Dubai Financial Market (Photo Credit: WAM)
As the Q4 2022 earnings season continues to gather steam, GCC net foreign inflows drop -3.4% in January 2023, according to investor relations consulting firm Iridium Advisors.
The GCC markets closed mixed. Abu Dhabi (+2.0%) rose the most, lifted by heavyweights FAB & E&. Banks ADIB and ADCB, which reported strong 4Q 2022 results, also drove the index higher. Dubai (+1.6%) was partly driven by DFM and CBD, which posted healthy earnings growth, and Mashreq bank, which boosted its annual dividend by 800%. Kuwait (+0.3%) remained positive for a fourth week. However, Bahrain (-0.3%) slipped, while Oman (-0.7%) fell for a third straight week. Saudi Arabia (-1.1%) declined as the IMF lowered Kingdom's 2023 growth forecast by 1.1 pp to 2.6%. Qatar (-3.7%) fell the most, contrasting its earlier week's performance when it stood as the top gainer. In the US, while Nasdaq Composite (+3.3%), and S&P 500 (+1.6%) remained in an uptrend, Dow Jones (-0.2%) inched lower.
Read more: GCC markets end the week with mixed results on earnings
The mixed movement in the markets came in reaction to earnings reports, some favorable economic data, and a strong monthly jobs report which renewed rate concerns though the Fed's latest interest rate decision was on the expected lines. European markets, though, ended firm. DAX (+2.2%) beat its counterparts CAC40 (+1.9%), FTSE100 (+1.8%), and STOXX600 (+1.2%).
Net Foreign Flows in January 2023
The GCC equity markets experienced a modest -3.4% dip in net foreign investor inflows in January 2023, with a total of $271.6 million, compared to inflows of $281.3 million in December 2022, Iridium reported. According to stock exchange data, Saudi Arabia remained the top performer with net inflows of $278.3 million, followed by Qatar with $89.2 million and Dubai with $31.3 million. Nevertheless, the UAE markets combined recorded a net outflow of -$81.5 million, due to Abu Dhabi leading the charge with -$112.8 million of outflows, marking the first time since October 2021 that the market witnessed a net outflow. Kuwait, which also saw net outflows of $22.6 million in January 2023, is the second consecutive month of outflows. As depicted in the GCC Net Foreign Inflows chart on the left, the recent dip in net inflows follows a four-month period of strong inflows. Market participants will be keeping a close eye on the earnings cycle to determine if it can attract more inflows in the upcoming weeks.
For more stock market news, click here
Exclusives