September 28, 2022 1:00 pm
16 agreements signed between Oman and UAE
Including an investment of $3 bn to set up railway linking Oman to UAE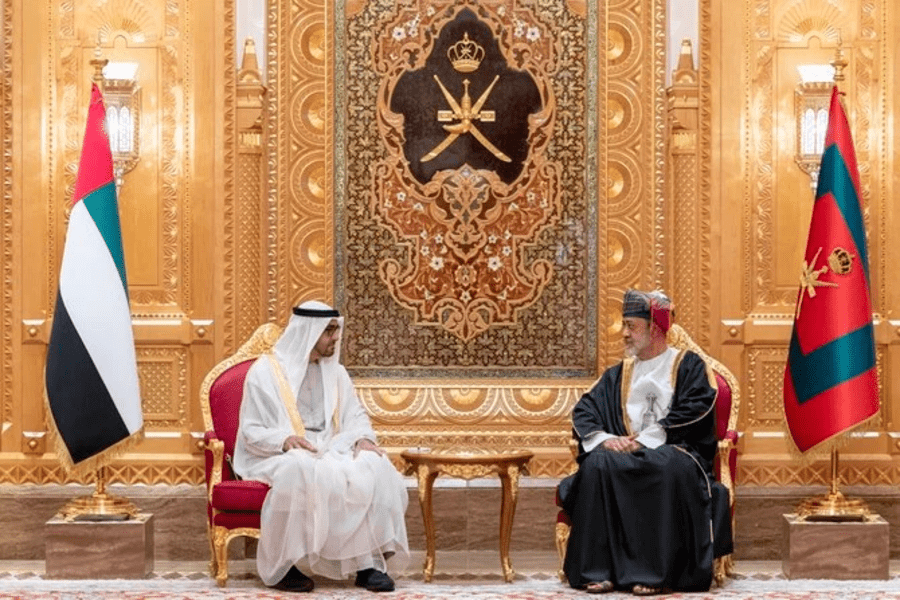 UAE President Sheikh Mohamed bin Zayed meets with Sultan Haitham bin Tariq of Oman (Image source: WAM)
The UAE and Oman signed 16 agreements in transport, energy, industry, and finance on the sidelines of UAE President Sheikh Mohamed bin Zayed's visit to Muscat.
As part of the agreements, the national railway operators of both countries established a joint company with an investment of about 1.16 Omani riyals ($3 billion) to set up and operate a railway linking Oman's Sohar port with the UAE's network, Oman's state news agency reported on Wednesday.
Spanning 303km, the railway will feature state-of-the-art passenger trains that will be traveling at a maximum speed of 200kph. This will slash travel time from Sohar to Abu Dhabi to one hour and 40 minutes, and from Sohar to Al Ain to 47 minutes. Meanwhile, freight trains will run up to 120kph.
Sheikh Mohamed bin Zayed arrived in Oman on Tuesday for a two-day visit.
He was received by Sultan Haitham bin Tariq of Oman before both leaders engaged in talks on strengthening bilateral ties at Al-Alam Palace.
"Their talks centered around the two leaders' shared vision for a secure and stable region that promotes sustainable development and supports a thriving economy where people can realize their full potential," according to a statement on the Emirates News Agency.
Sultan Haitham bin Tariq hosted a dinner banquet for his Emirati counterpart on the first day of his visit. Both leaders also exchanged medals and gifts at Al-Alam Palace.
Exclusives