January 3, 2022 12:27 pm
$3.6B to slash ADNOC fields carbon emissions
ADNOC, TAQA partner to curb carbon emissions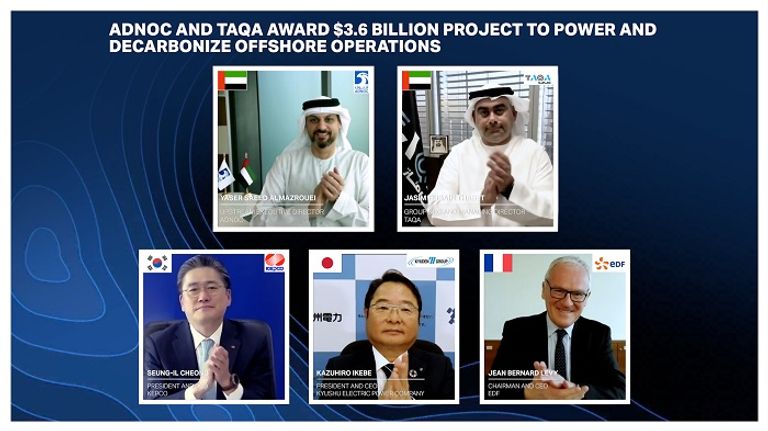 ADNOC, TAQA, KEPCO, Kyushu, EDF e-meeting
Abu Dhabi National Oil Company (ADNOC) and Abu Dhabi National Energy Company (TAQA) announced today, Wednesday, the establishing of a AED13.22 billion ($3.6 billion) strategic project to reduce carbon emissions from ADNOC's offshore operations.
The project, the first of its kind in the Middle East and North Africa region, saves costs and enhances the efficiency of operations, thus enhancing the two companies' efforts and position in leading sustainability efforts and supporting the UAE's vision of achieving net zero emissions by 2050.
"The electric power generators in the offshore fields will be replaced with more sustainable and environmental-friendly electric power sources, which will contribute to a significant reduction in carbon emissions, in addition to saving costs and enhancing the efficiency of operations," said Yasser Saeed Al Mazrouei, the Executive Director of Upstream Directorate at ADNOC.
It is expected that this will contribute to reducing the carbon emissions of ADNOC's offshore operations by more than 30%, as the current electricity generators depend on gas turbines.
Therefore, replacing those gas turbines with more sustainable sources of electric power will achieve this goal. 
For this, a system will be developed and operated to transmit a high-voltage direct current along the seabed to supply ADNOC's offshore production operations with more efficient and environmental-friendly energy by connecting it to TAQA's onshore electricity network.
In this context, Jassim Hussain Thabet, Group CEO and Managing Director of TAQA, believed that the decarbonization process would "provide opportunities for cooperation and growth on the social and economic levels, something that TAQA seeks through its alliances and strategic partnerships in the market."
As per the agreement, a joint venture company will be set to finance the project, and will be jointly owned by ADNOC and TAQA, each holding a 30% stake in it. A consortium comprising the Korea Electric Power Corporation, KEPCO, Japan's Kyushu Electric Power Company, and the French Electricity Company EDF, will retain the ownership of the remaining 40% stake.
The consortium will undertake the tasks of developing and operating the advanced electricity transmission network in partnership with ADNOC and TAQA. 
ADNOC will regain 100% ownership of the project after 35 years of operation.
Over 50% of the total value of the project will be redirected to the local economy through ADNOC's In-Country Value program, as part of its commitment, along with TAQA, to continue their efforts to promote sustainable investment and drive growth and development for the local economy.
This is not the first partnership between TAQA and ADNOC, as this project follows a recently announced Global Clean Energy Project between ADNOC, Mubadala and TAQA, which aims at generating a total capacity of at least 50 gigawatts from renewable energy sources by 2030. It was also preceded by a partnership with the Emirates Water and Electricity Company to supply up to 100% of ADNOC's onshore production operations and more than 90% of ADNOC's offshore production operations with electricity produced from clean nuclear and solar energy sources.
Exclusives