As Saudi Arabia prepares to welcome its first guests to The Red Sea and AMAALA destinations, the anticipation is high for the luxurious and unique experiences that await visitors. From scenic islands and vibrant coral reefs to serpentine dunes and sleepy volcanoes, these destinations offer a blend of exotic experiences that are impossible to find anywhere else in the world. With a focus on prestigious hospitality and private settings, visitors and nature often merge to emerge more refined, renewed, and re-energized for the betterment of the planet and mankind.
In this interview, Economy Middle East has the pleasure of speaking with John Pagano, the Group Chief Executive Officer of Red Sea Global, a vertically integrated real estate company with regenerative development projects along the Red Sea coast of Saudi Arabia. With over 35 years of international experience in the commercial property sector across Europe, North America, and the Caribbean, Pagano is the perfect person to provide insight into the unique blend of luxury and sustainability that defines the Red Sea and AMAALA destinations.
RSG will open its first hotels at The Red Sea this year. What can potential first guests/tourists experience in terms of attractions at The Red Sea with the launch of the hospitality sector there?
An unforgettable experience! Visitors will indulge in unparalleled, sustainable luxury during their stay. They will be able to choose the experiences they want in diverse settings ranging from idyllic islands and vibrant coral reefs to dramatic dunescapes and dormant volcanoes.
We cater to every taste. Guests can enjoy a sumptuous sunset dinner on a private island after a day spent exploring one of the world's few flourishing coral reefs. The wonders of our local marine ecosystem are easily accessible to divers, with almost 300 reef sites across the destination. These precious habitats are home to more than 280 different species of fish, not to mention the endangered Indian Ocean humpback dolphin and critically endangered Hawksbill sea turtle.
There is also no shortage of places for energetic visitors to explore on land. They can hike and scramble along cliffs, run on trails, go e-biking and gravel biking, and take conservation tours. At night, they can marvel at the stars in our dark skies, set to become one of the largest Dark Sky Reserves in the world.
For guests who are more interested in culture, The Red Sea has plenty for them to enjoy too. They can trace the Incense Trail of ancient traders or meet Saudi artisans and folklorists and learn first-hand about local customs and traditions.
This is just a flavor of what's on offer. From diving classes and dugong spotting to spa days and stargazing, The Red Sea has something for everyone.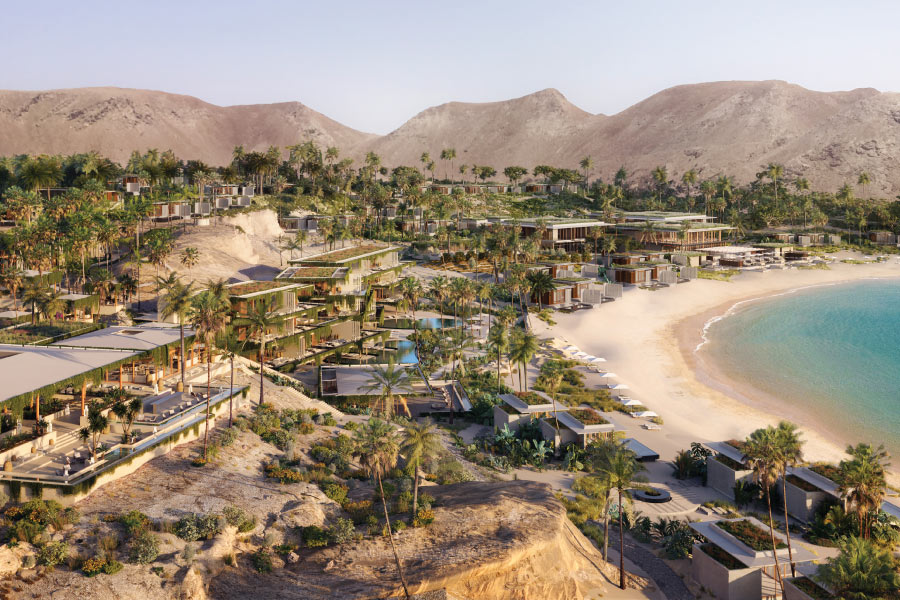 What can you tell us about the hotels at The Red Sea and AMAALA in terms of planned hotel openings in the next two years: number of rooms, luxury hotel brands, rates, technology, F&B, amenities, and the like?
We have partnered with some of the world's most prestigious hotel brands to bring our vision of luxurious, regenerative tourism to life.
The Red Sea will welcome its first guests this year, with three hotels opening in the coming months: Six Senses Southern Dunes, St. Regis Red Sea Resort, and Nujuma – A Ritz-Carlton Reserve. Together, these resorts will comprise 248 keys. Our other hotel brands at The Red Sea are just as prestigious: Grand Hyatt, Edition, Intercontinental, Fairmont, Rosewood, Miraval, Four Seasons, Raffles, Jumeirah, SLS, and Faena. When we complete the destination's first phase in 2024, it will be home to 16 hotels totaling 3,000 keys.
At AMAALA, our integrated wellness haven further north along the coast, we are building eight hotels with upward of 1,200 keys in the first phase of the Triple Bay development. We expect to welcome our first guests at AMAALA in 2024, and our hospitality partnerships there already include Clinique La Prairie, Jayasom, and, most recently, Rosewood Hotels & Resorts.
Both destinations will offer outstanding dining and luxury retail options of the kind our discerning guests would expect. Underlying our visitor experience will be smart technologies that ensure the comfort and convenience of our guests while also maintaining our stringent standards for sustainability. Upon arrival at our eco-friendly airport, for example, guests won't have to touch their bags until they reach their hotel rooms, thanks to our seamless baggage-handling technology.
Read more: Red Sea project, NEOM, to accelerate regenerative tourism to Saudi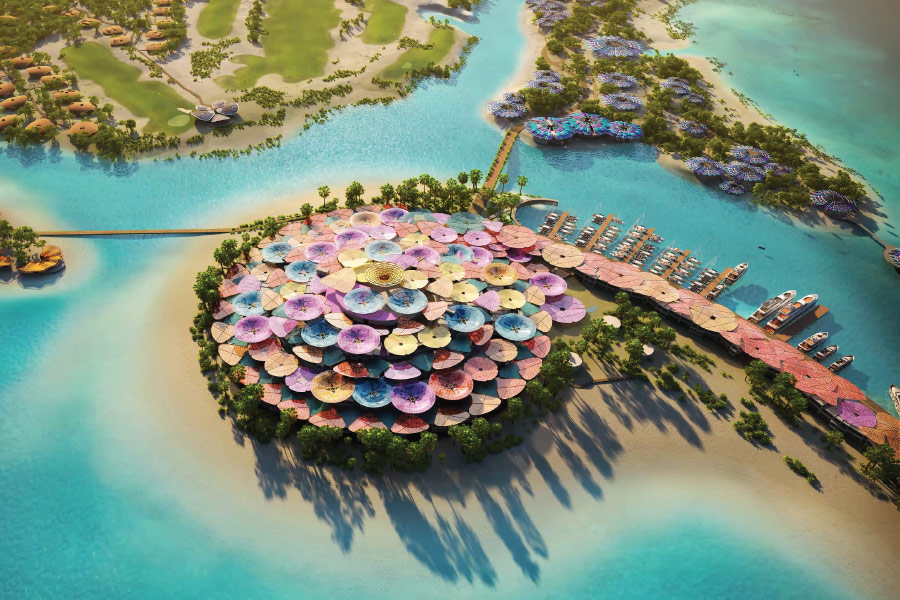 Does your portfolio of projects expand beyond The Red Sea and AMAALA? If yes, what type of projects, funding, and milestones can you share on these? What will these destinations contribute to the Saudi GDP in the years to come?
Our recent rebranding to Red Sea Global reflects our ambitions to expand beyond The Red Sea and AMAALA while fulfilling our mandate to set new standards of responsible development worldwide. We want to lead the way in making tourism a force for good. Hopefully, we will inspire others in the international industry to join us on this journey.
We understand that creating memorable travel experiences requires much more than just building a hotel, and our expanded portfolio includes the establishment of subsidiary brands that we believe will enhance the Kingdom's tourism appeal. In February we introduced our water sports brand WAMA and diving brand Galaxea. Both brands will help us deliver the top-quality experiences that our guests expect. They are also proof of our evolution from a developer that not only creates world-class destinations but operates them too.
In addition to The Red Sea and AMAALA, we have almost a dozen other projects up and down the Red Sea coast that are under a feasibility study, entering the masterplan competition phase, or already under construction. We have proven our ability to deliver developments that are both responsible and visionary, and we look forward to enlarging our role in the Kingdom and eventually expanding beyond it. More details will follow soon on these projects.
We are confident that our destinations will be a catalyst for Saudi Arabia's tourism industry. We anticipate that The Red Sea and AMAALA together will contribute upwards of 33 billion riyals to the nation's annual GDP and generate 120,000 jobs, most of which will go to talented Saudi men and women from across the Kingdom.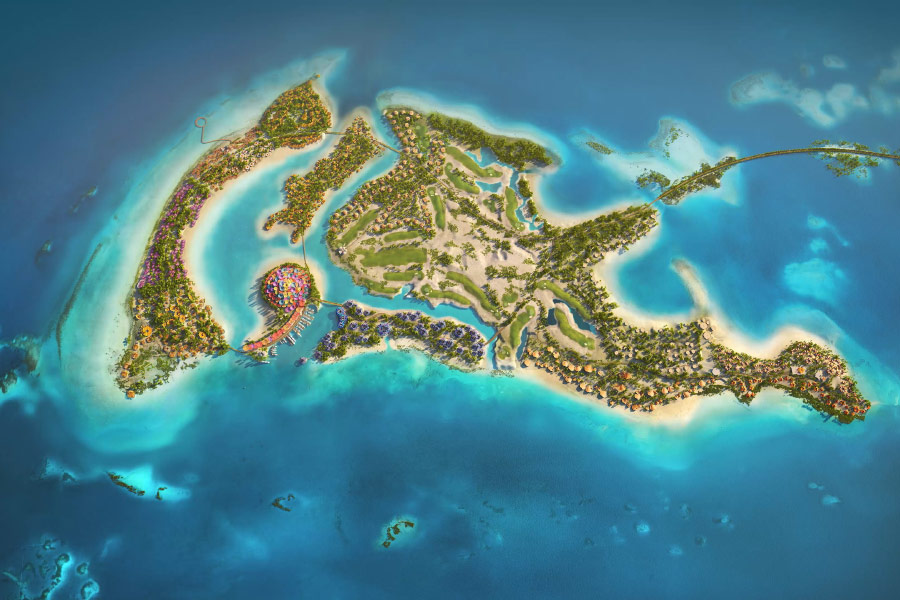 When it comes to funding and specialized expertise, have you partnered or are you looking to partner with companies to create JV deals? What specific areas of construction are you looking at and what type of companies are you seeking deals with?
We are always open to teaming up with like-minded partners and are optimistic about the interest we have received so far from both within and outside the Kingdom.
We select our partners based on shared values: Like us, the brands we have partnered with all seek to do better for people and the planet. This mutual commitment is evident in our hotel management agreements with the top-tier brands I mentioned earlier.
Another example of collaboration in our pioneering approach to responsible development is our selection of a consortium led by ACWA Power to deliver The Red Sea's entire utilities network. Our two main solar parks, taken together, are more than 93 percent complete. Once the consortium finishes installing solar panels and the world's biggest battery storage facility, The Red Sea will operate exclusively on renewable energy, 24 hours a day, saving some 500,000 tons of carbon emissions annually.
Last year we formed our first joint venture, with Al Mutlaq Real Estate Investment Company to develop Jumeirah The Red Sea, a 159-key luxury resort on The Red Sea's Shura Island. We've also partnered with firms seeking innovative solutions to specific environmental and operational challenges. We're working with ZeroAvia, for instance, to develop hydrogen-powered seaplanes.
As for funding, we are owned by Saudi Arabia's Public Investment Fund and are fully funded. Yet, we speak continually to the regional and global investment community about opportunities to support our expanding project portfolio as long-term partners, as in the case of our JV with Al Mutlaq.
To this end, RSG secured the world's first-ever riyal-denominated Green Finance credit facility. We closed on a facility of SAR14.12 billion ($3.76 billion) with four Saudi banks and with HSBC as the Green Loan Coordinator.
Our partnerships are a testament to the unique advantages that investors see in what RSG is doing. We are proud to attract investment that benefits not only our destinations but also the Kingdom more broadly.
Today you are leading the creation of unique eco-luxury, sustainable, regenerative global tourist destinations. How do you ensure that tourists leave the destinations in better shape than when they arrived?
As one of the world's most responsible developers, we pride ourselves on promoting regenerative tourism. We do this not only in our operations but by working closely with our partners and guests to ensure that they act on these principles too.
By deciding to visit us, guests will already be expressing a preference for sustainability. The Red Sea will be the world's largest tourist destination powered solely by renewable energy, 24/7. Both The Red Sea and AMAALA will rely 100 percent on renewables across their first phases, from hotels to airports and mobility networks.
Our guests will appreciate that we have designed our resorts with the lightest possible touch on the local environment, blending our built structures with their natural settings through thoughtful and innovative architecture. Both The Red Sea and AMAALA will also ban single-use plastics and send zero waste to landfill once they are fully operational.
We will offer unique activities that keep sustainability and regeneration at the heart of the guest experience. All our activities will encourage positive, eco-friendly behaviors. Our Galaxea subsidiary, for example, will oversee all diving to protect corals from possible harm. We plan to supply coral-friendly sun-protection creams, and for hikers, we will provide wayfinding programs that guide them to enjoy the local terrain without damaging sensitive habitats. We will announce more of these sustainable guest experiences in the coming months.
We are going even further to protect our precious habitats against potential stress from over-tourism. We calculated the environmental carrying capacity of each destination. As a result, we are capping the annual number of visitors to one million at The Red Sea and 500,000 at AMAALA.
These lucky visitors will be able to experience unparalleled luxury while discovering more about how we're achieving positive change. For instance, they will have opportunities to learn first-hand about our success in gardening corals, planting mangrove seedlings, and rescuing and rehabilitating injured sea turtles. Likewise, they will be able to engage with the local community, enjoying Saudi Arabia's famed hospitality and appreciating how tourism can benefit people from a socio-economic standpoint.
We believe that visitors will come away sharing our sense of responsibility as caretakers of our planet, practicing sustainability in their everyday lives, and becoming advocates for regenerative tourism.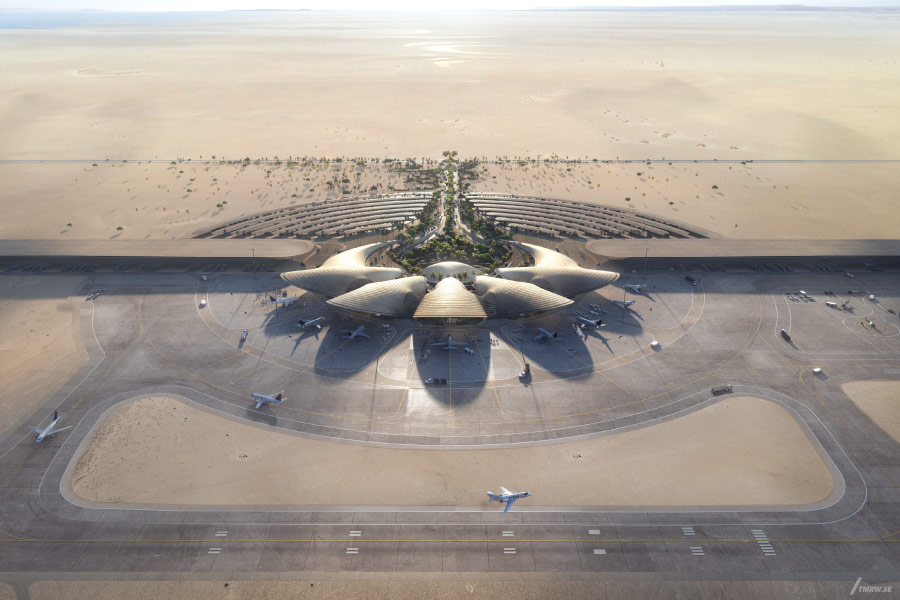 What challenges did you face from master planning to financing, construction, and built asset management, and how did you overcome them?
We set out to develop unrivaled tourism destinations that combine the heights of luxury with benefits for the environment. As you can probably imagine, this hasn't been a journey without challenges.
Tourism as an industry is not renowned for sustainability, not least because of its association with air travel, which accounts for around 2.5 percent of global carbon emissions. We decided from the outset to take a different approach to sustainability. Instead of merely maintaining the environment as we found it, we wanted to find ways to actively enhance it. This is what we mean by regenerative tourism, and it marks a radical change for our industry.
We brought in scientists before we stuck our first shovel in the ground. We carried out a marine spatial planning simulation for a lagoon at the heart of our project site. We virtually sectioned off 2,081 square kilometers of this lagoon into a grid and assigned a conservation value to each block of this virtual grid. It was the largest assessment of its kind ever undertaken.
Our research team then drew up a list of actions to help ease pressure on the lagoon environment and identified islands with a lower conservation value. Based on their findings, we decided to develop only 22 of our 92 islands, leaving the other three-quarters of them untouched, and set our goal of achieving a 30 percent net conservation benefit by 2040.
We later surveyed the wildlife populations and habitats of 200 kilometers of coastline. It took us 11 months; no private developer has ever conducted a bigger environmental survey. These are just two examples of the lengths we've gone to.
Another challenge for us, as greenfield developers, is that we have had to install all the infrastructure ourselves, a mammoth task compared to simply building hotels. However, we seized on this as an opportunity; to minimize disruptions to local ecosystems and communities, we're manufacturing as much as possible off-site. A good example of this is our stainless-steel, over-water villas at Sheybarah Island – they were built in the UAE and shipped to us ready-made for installation. We've already placed 17 of the 38 over-water villas planned for this one-of-a-kind resort.
We've also had to change our approach to contracting due to the tremendous demand for construction in the local Saudi market. We're now procuring package contractors, and working with smaller and medium-sized construction companies. We are also actively seeking to attract new contractors to come and establish themselves in the Kingdom through international roadshows that highlight the huge opportunities in the country. The key is that we want them to come and create new opportunities for Saudis as well as help deliver Vision 2030.
Each of these situations shows how creative thinking has helped us turn challenges into opportunities.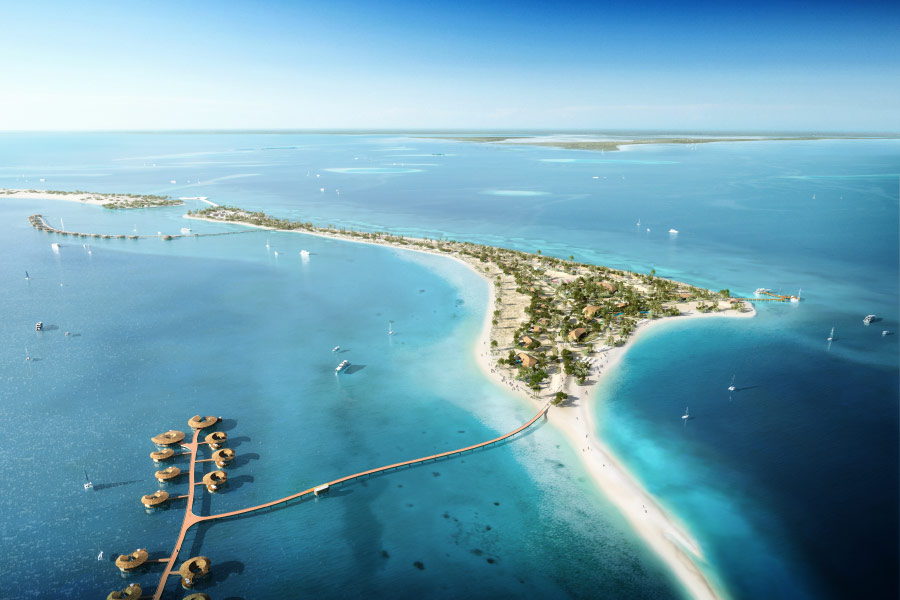 Both projects carry huge sustainability themes and targets. Can you summarize those and explain the tie-up with health and wellness, not only for the ecosystem and climate but also for personal ones on tourist and resident levels?
Our main sustainability target, which I touched on above, is to deliver a 30 percent net conservation benefit by 2040 across AMAALA and The Red Sea. We will achieve this by enhancing key habitats that are crucial to biodiversity and by applying stringent environmental regulations.
We are already well on track to achieve net carbon neutrality, largely because we will power both destinations solely with renewable energy in their first phases, coupled with a smart and sustainable mobility network powered initially by electricity. We are also gardening corals, using innovative floating nurseries, so that we can enhance our reefs. This matters as coral reefs occupy 0.2 percent of the ocean floor but are home to 25 percent of all marine life.
We aim to plant and restore as many as 50 million mangrove trees across all our destinations. Mangroves shelter a staggering diversity of wildlife, and some mangrove forests can sequester up to 30 times more carbon than tropical rainforests.
To monitor progress toward our 30 percent target, we publish annual sustainability reports that show where we are succeeding and where we need to work harder.
What's good for the planet is good for people too. Our visitors will find ample opportunities to connect, and re-connect, with nature. AMAALA, our wellness haven, is nestled between mountains and tranquil waters and will be an ideal place for guests to slow down and recharge. AMAALA will deliver an exceptional wellness offering to guests and residents alike, including a Clinique La Prairie Health Resort providing cryotherapy, hyperbaric suites, IV infusions, and next-generation therapies.
Do you see Red Sea Global's destinations as opening the floodgates for a major influx into Saudi Arabia as a tourism and hospitality destination?
Red Sea Global supports the growth of Saudi Arabia's tourism industry in line with Vision 2030. We aim to play a key role in the expansion of the industry from the current contribution of 3 percent of GDP to a targeted 10 percent by the end of the decade.
We are helping to put Saudi Arabia on the global tourism map. AMAALA and The Red Sea are hidden gems, and the generosity of the Saudi people makes them all the more attractive. I've already mentioned many of the offerings at our destinations, but we also have a geographical advantage: Our location on the Kingdom's Red Sea coast is within eight hours of flying time for 85 percent of the world's population. Our average annual temperature of 25 degrees makes the trip well worth it for sun-seeking travelers.
Saudi Arabia already attracts a great many visitors. The Kingdom welcomed 93.5 million foreign and domestic tourists last year, and they spent a total of SAR185 billion ($50 billion). Travelers to the Kingdom have traditionally been mostly religious pilgrims, but a growing number of people now visit for other reasons. The introduction of tourist visas in 2019 has made a big difference. The country has opened its doors to the world.
Saudi Arabia is just beginning to unlock its vast potential as a global tourism destination. As more people overseas learn about the Kingdom and all it has to offer, I expect to see visitor numbers rise dramatically. The Red Sea and AMAALA – by setting new standards of excellence for regenerative tourism – will be a powerful engine driving this growth.
Riyadh Air is a new airline that will cater to tourism growth. What else in terms of capacity building, infrastructure development, and technological facilities does the kingdom need to meet future tourism demand?
Vision 2030 has been a catalyst for rapid tourism growth, in terms of visitor numbers and spending as well as work completed or underway to improve the necessary infrastructure. With new destinations opening their doors, such as Diriyah Gate and Al Ula, and more projects close to opening – like our resorts at The Red Sea – the progress is constant. It is an exciting time to be in the Kingdom.
Red Sea Global is doing its part to build capacity for soft skills in the nation's hospitality industry too. We have launched several programs to train young Saudis, such as our Elite Graduate Program, now in its fourth year. Through the EGP, we hire Saudi university graduates and provide on-the-job training, putting them to work alongside the best and brightest people in their respective fields. We have enrolled 180 EGP Elites so far.
We've also funded scholarships for 170 students pursuing the University of Prince Mugrin Bachelor's degree in international hospitality, a program accredited by the prestigious Ecole hôtelière de Lausanne. We run a separate program with the University of Tabuk, teaching hospitality skills to 100 students. And we're providing vocational training for 700 hospitality, airport, and technical services workers.
Can Saudi Arabia reach a point where a wealth of unique and sustainable project portfolios allows it to export its tourism concepts in terms of strategy, planning, building, and manpower expertise?
With the projects in our portfolio, we certainly aim to set new international standards in the development of luxury tourism destinations. Our brand communicates our willingness and aspiration to one day apply these standards on a global stage – and inspire others in our business to join us in putting people and the planet first.
For now, we remain focused on doing our best to nurture Saudi Arabia's nascent tourism industry. We will continue to deliver on our commitments, and we look forward to fulfilling our role as a lynchpin of Vision 2030.
To access additional tourism updates, click here.