From November 1st, Abu Dhabi International Airport Terminal A, will begin operations bringing a major increase to passenger capacity in Abu Dhabi and strengthening the emirate's standing as a global aviation hub. Etihad's ceremonial flight will take place on October 31st, ahead of opening to the public on November 1st. The new Terminal will enhance travel experiences through state-of-the-art facilities made available to passengers and airlines in the region.
Three phases
Airlines will transition into Terminal A in 3 phases over a period of 2 weeks: after Etihad's ceremonial flight on October 31st, Wizz Air Abu Dhabi and 15 other international airlines will fly from the new Terminal on November 1st. From November 9th, Etihad Airways will operate 16 daily flights, before completing their transition to their new home on November 14th, together with Air Arabia Abu Dhabi and 10 other airlines. From November 14th, all 28 airlines will be  operational from Terminal A.
In preparation for the opening in November, operational readiness trials will conclude on October 17th. In total, the trials involved more than 11,000 volunteers selected from the Abu Dhabi community.  These included Abu Dhabi Airports staff members, students, families and stakeholders from Abu Dhabi's aviation community. Those taking part in the robust simulations stress-tested end-to-end passenger journeys encompassing systems, equipment, staff and procedures in key operating areas such as check-in, baggage, security screening, immigration and boarding. The successful completion of these trials is a key milestone in ensuring Terminal A is ready for opening to the public in November.
Read more: Abu Dhabi Airports to launch advanced biometric tech with touchless boarding
New opportunities and experiences
Elena Sorlini, managing director and interim CEO at Abu Dhabi Airports, said: "With final preparations almost complete, I am proud to say we are ready to open Terminal A to the public on November 1st. We will see a rapid increase in the number of flights operating from Terminal A as of November 1st to the 14th, and I'm excited by the new opportunities and experiences which the iconic facility will bring to both airlines and passengers. Terminal A will drive the growth of the aviation sector in Abu Dhabi and play an instrumental role in welcoming more businesses and tourists to the emirate for decades to come."
Shopper's paradise
When fully operational, Terminal A will be a shopper's paradise covering 35,000m2 with 163 retail concessionaires and food & beverage, offering passengers a wide variety of shopping and dining opportunities to enjoy. From Gucci, Yves Saint Laurent and Ferragamo, to the world's first Muji airport store, Terminal A is a shopping destination designed to amplify a passenger's travel experience.  When it comes to food and beverage, there is something to accommodate all palates. Jones The Grocer, Taste of India, Starbucks and the Camden Food Co. are just a few of the exciting brands calling Terminal A their new home. Also, catering to little palates, young travellers can embark on a culinary adventure amidst their favourite McDonalds or TGI Fridays restaurant as they enjoy its playful décor. Additionally, Todd English opens his first airport restaurant providing diners with a wide selection of cuisines from around the world. For relaxation and rejuvenating prior to flying, there are two health and beauty spas along with a high quality 138-bedroom hotel plus a modern open-air lounge offering renowned Arabic hospitality.
Prioritizing passenger experience
Terminal A will prioritise the passenger experience, facilitating a streamlined service from kerb-to- gate. It will also be the first in the world to include all nine biometric airport touchpoints. In the first phase, this will see biometric solutions installed in key areas, such as self-service bag drops, immigration eGates and boarding gates. When fully operational, it will use facial recognition technology to screen passengers and minimise wait times. Combined with other high-tech facilities including an advanced baggage handling system capable of processing up to 19,200 bags per hour, Terminal A is poised to deliver a seamless passenger journey to travellers like never before. Increasing to 65 parking stands connecting aircraft with allocated boarding gates, this allows for less congestion, a more relaxed boarding experience and smoother onward journey.
The X-shaped building design helps improve operational efficiency and passenger flow featuring four themed piers inspired by Abu Dhabi's desert, sea, city and oasis natural landscapes. It also features the Sana Al Nour, which is one of the largest indoor public art features in the Middle East, standing at 22 metres tall and 17 metres wide.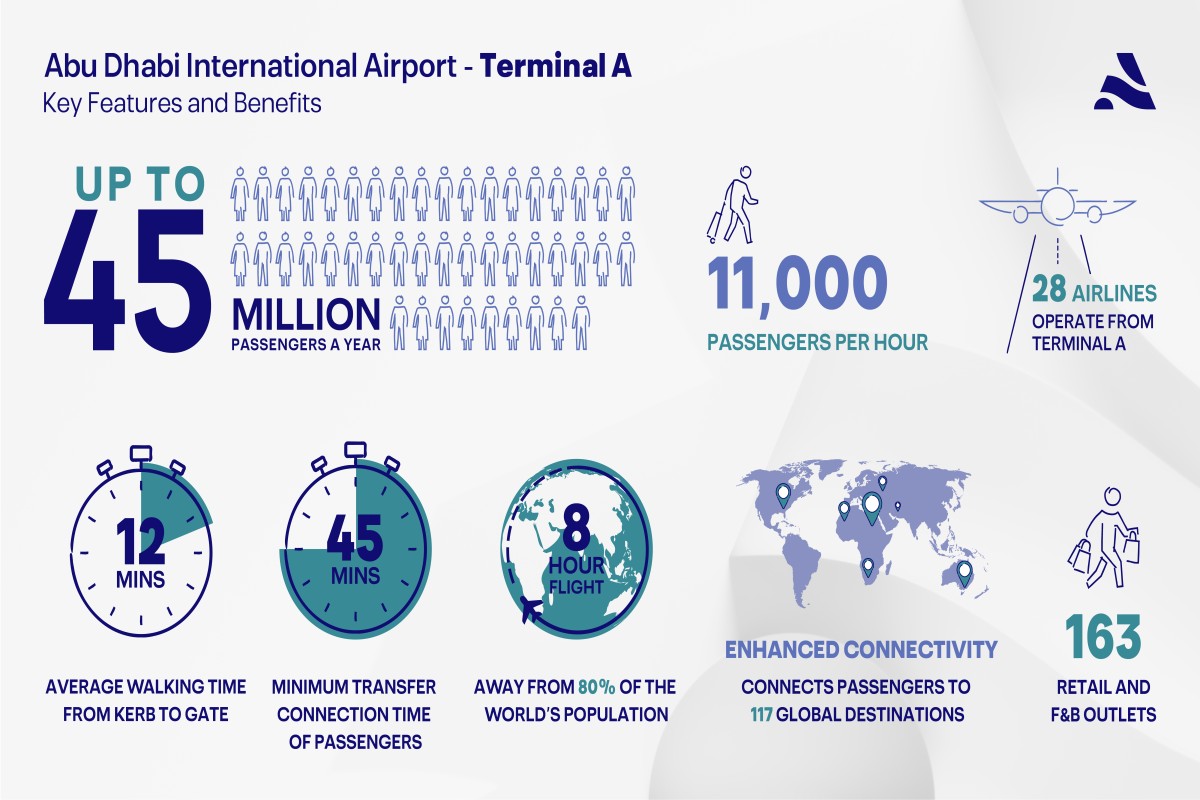 Reducing water consumption
Terminal A will drastically reduce water consumption by 45 percent, whilst more than 7,500 solar panels power a 3MW plant that currently saves 5,300 tons of carbon dioxide annually. Meanwhile, a state-of-the-art Advanced Surface Movement Control System, the first of its kind in the Middle East, will allow planes to land quickly and safely during low-visibility weather conditions.
Terminal A is one of the largest airport terminals in the world, strengthening Abu Dhabi's global position as a centre for tourism, trade and commerce. The Terminal will double the current airport capacity, with the capability to accommodate up to 45 million passengers per year. At triple the size of the previous Terminal, and with flights to 117 destinations worldwide, it will increase both the frequency and reach of flights to and from Abu Dhabi, boosting the emirate as a destination for travel, business and entertainment.
For more news on logistics, click here.