Whatever the industry, today's world is one that requires brands to aim for a future that has net-zero emissions across their operations. Acer, one of the world's top ICT companies, is leading the drive with its pioneering sustainable laptop Aspire Vero.
Founded in 1976,the Taiwanese company operates across 160 countries today serving consumers and businesses alike. With 7,000+ employees, the tech giant's sphere of products includes service-oriented technologies, the Internet of Things, gaming, and virtual reality.
Sustainability drive
While most consider operating energy efficiency as the only measure of sustainability, Vero takes into account direct and indirect emissions and the supply chain which can all contribute to a net zero future, knowing Acer works on a holistic sustainable concept that actively contributes to a greener and more sustainable circular economy.
The Product: Aspire Vero
The forward-thinking product is Acer's first that is designed to feature post-consumer recycled (PCR) plastic and eco-friendly packaging. The eco-design concept meshed with the eco-iconic look, and the laptop's chassis is composed of 30% PCR plastic and has a dramatic reduction of 21% of the CO2 emissions when it comes to its production process. The Acer Aspire Vero has yellow and volcano grey accents on its bumpers, making it unique and easy to spot, while the text on the R and E keys has been inverted to highlight the principles of reduce, reuse, and recycle.
Acer has also worked on quirky yet functional ideas such as the 100% recyclable packaging that can double as a DIY laptop stand as well as keycaps that are made of 50% PCR plastic.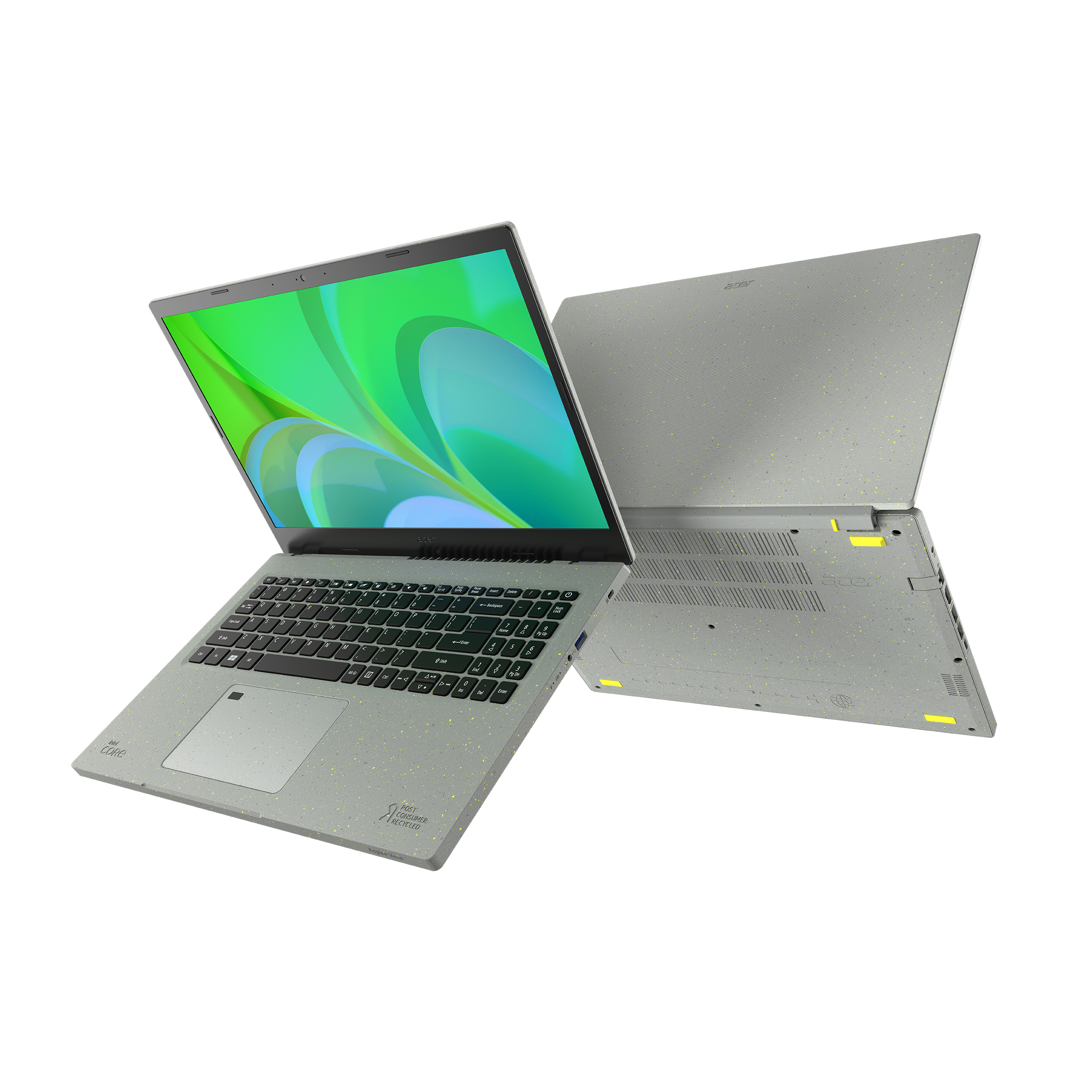 Durability 
Another important factor in achieving a sustainable product and reaching the net zero goal is durability. Acer works on the principle that a device should also last longer, this way eliminating the need to purchase a new one every few years. The Aspire Vero is designed so it can be repaired and recycled with ease but also upgraded for performance so it can be used for years to come.
The Credentials
Featuring Wi-Fi 6, a Type-C USB port and two Type-A USB ports, the Aspire Vero has a 99% recyclable 15.6-inch FHD IPS SlimBezel PCR display that is powered by 11th Gen Intel® Core™ processors and Intel® Iris® Xe Graphics. Depending on the model, the laptop can harness up to 16 GB of DDR4 Memory as well as 512 GB or 1 TB of PCIe NVMe SSD storage.
While top-of-the-range performance is at your fingertips, for the less demanding tasks, Acer's new VeroSense™ software allows the option of selecting a usage that optimizes energy efficiency and battery life.
One of the things Acer manages to do so well is to keep ahead of the game and satisfy consumer demands. The new Acer TrueHarmony™ and Acer PurifiedVoice™ with AI noise reduction are great examples. These clever features help actively suppresses background noise creating much clearer sound quality for those of us who so often find ourselves anywhere but the office while making those ever-important conference calls.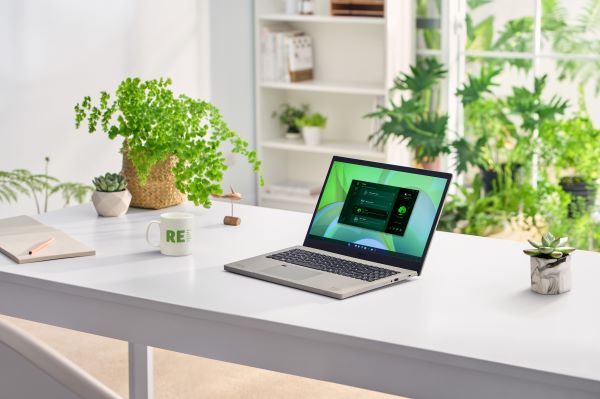 The Verdict
The Vero is a mid-range laptop that comes in two sizes, 15.6-inch and 14-inch, respectively. The Intel Core i5 processor, 8GB RAM, and 256GB SSD storage, a 720p HD webcam, and a range of connectivity options, including USB 3.2 ports, HDMI, and Wi-Fi 6 all make it more than enough for the modern day.
It is an Eco-friendly machine with great display and battery, as well as good speakers and the Ocean Glass Touchpad is entirely made from abandoned ocean-bound plastics.
The fact that it can be easily upgraded and recyclable as well as be very energy-efficient bearing the ENERGY STAR certificate, are all assets the Vero has to its name.