The following article is based on an interview conducted by Economy Middle East with Telecom Egypt's Managing Director and CEO Mohamed Nasr, who shed light on the factors influencing the current state and future outlook of Egypt's leading ICT provider. Under his leadership, the company is "Gearing up for tomorrow today" and is cementing its position as a key player in Egypt's transition into a global data hub and the primary telecom gateway to Africa, the world's next center of growth. 
The current state of Egypt's telecom industry and future outlook
Egypt's telecommunications market, one of the largest in Africa and the Arab world, is characterized by intense competition in the mobile and broadband sectors. Additionally, Egypt boasts an emerging and innovative digital sector that has pioneered business models for digital content distribution. Consequently, the country's mobile and fixed penetration rates are comfortably higher than the African and Arab nation averages. In recent years, the Egyptian telecom industry has undergone significant changes, experiencing high growth rates in both the mobile and internet markets. 
Telecom Egypt, a leading player in the industry, has successfully connected over 93 percent of households with fiber-to-the-curb (FTTC) technology. Moreover, they have expanded their fiber-to-the-home (FTTH) services in all new-build areas across Egypt. These initiatives are part of the company's ongoing efforts to improve the quality of fixed broadband services. Telecom Egypt has made substantial investments in upgrading Egypt's ICT infrastructure, exemplified by their "Fixed Broadband Enhancement Project in Egypt." 
Thanks to Telecom Egypt's endeavors, fixed internet speeds have increased eightfold in just three years. These improvements have bolstered the infrastructure's capacity to accommodate the unprecedented surge in data traffic and have contributed significantly to the ongoing digital transformation in Egypt.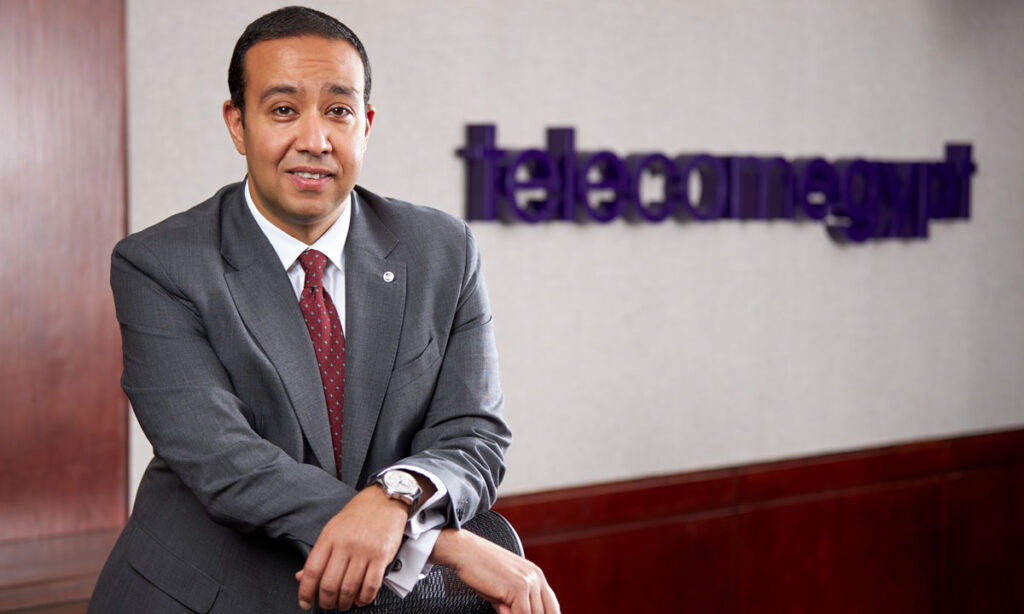 Looking ahead, under the Ministry of Communications and Information Technology's "Digital Egypt" strategy, Telecom Egypt aims to transform all areas into FTTH networks, aligning with Egypt's Vision 2030 for a digitally transformed society and a robust digital economy. To realize this vision, the company is implementing two digital transformation programs. Firstly, in urban areas, it is installing fiber optic cables and upgrading and optimizing telecom exchanges. Secondly, in rural villages, Telecom Egypt is participating in the "Decent Life" presidential initiative, which focuses on enhancing infrastructure, including telecommunications, in rural Egyptian areas. The company is responsible for deploying fiber optic cables in over 4,500 villages, thereby improving internet access for 3.5 million households and serving a large portion of Egypt's population. 
Moreover, as part of the Ministry's "Digital Egypt" initiative, Telecom Egypt is addressing the government sector's digitalization requirements. It is actively working to connect 33,000 government buildings nationwide through a fiber optic network, aiming to enhance communication and maintain a more resilient service. As of now, it has successfully connected 18,000 government buildings, with the remaining buildings scheduled for connection in subsequent phases. 
Telecom Egypt is also lending support to other national digital transformation projects. This includes equipping schools with fiber optic cables and providing access to all of the Ministry of Education's e-learning websites. Furthermore, the company has played a pivotal role in supporting the healthcare sector by delivering stable broadband connections to hospitals and healthcare units throughout the country. Through continuous investment in network upgrades and development, Telecom Egypt has been instrumental in facilitating these transformational efforts. 
Regarding 5G, it is worth noting that its development in the Egyptian market is still in its early stages. Nonetheless, telecom operators are currently investing in preparation for the new era. As the country's wholesale infrastructure provider, Telecom Egypt is actively gearing up for secure and widespread 5G-based services. The company is also paving the way for the application of IoT, AI, and other next-generation technologies by upgrading networks and deploying fiber-backed mobile sites across the domestic mobile market.  
The upcoming smart city projects throughout the country will serve as the primary catalyst for the launch of the 5G network. This will unlock transformative IoT applications across various industries, offering a plethora of innovative use cases. 
Leading Telecom Egypt's growth aspirations
Nasr, who takes pride in his role as head of Telecom Egypt, has been dedicated to steering the company's strategies to deliver exceptional services that prioritize customer needs and provide a seamless customer experience. "I am excited to be at the helm during this transformative era in the industry and to deliver on the company's vision of shaping the future of ICT," he says. Through the adoption of superior services, Telecom Egypt is making remarkable progress in enhancing fixed-mobile convergence services for its users, taking the services to new heights. Additionally, the company places significant emphasis on the enterprise sector, aiming to expand and connect its service portfolio to become the leading digital ICT provider for enterprise, SOHOs, and SMEs. 
Nasr firmly believes that achieving these goals requires expanding the company's capabilities and corporate agility, as well as building a future-proof organization that facilitates growth and fosters a seamless customer journey.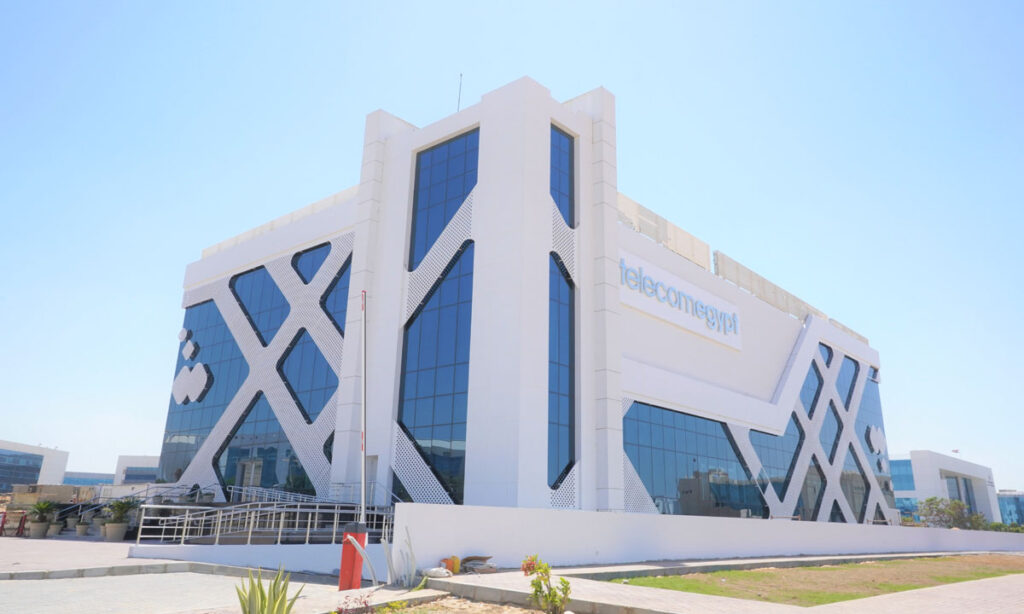 Egypt is the most reliable and trusted hub connecting Africa, Europe, and Asia since the early deployment of subsea telegraph cables over 150 years ago. Telecom Egypt's international strategy focuses on delivering a cutting-edge infrastructure footprint through its expanding network of subsea cables and diversified terrestrial networks. "Leveraging Egypt's strategic location at the crossroads of the three continents, as well as its extensive coastlines along the Red Sea and the Mediterranean Sea (1,941 km and 995 km, respectively), the company enjoys a competitive advantage in establishing multiple widespread subsea landing points separated by considerable distances to deliver the required geodiversity to its global customers," Nasr says.  
Currently, Telecom Egypt provides the subsea industry with 10 landing stations, 10 crossing routes, and supports the landing of 14 subsea cable systems. Over several decades, the company has closely collaborated with global telecom carriers and hyperscalers, sharing a common understanding and commitment to their development and prosperity. 
Impact of divestment on Telecom Egypt's operations and plans
Following the government's announcement regarding the state ownership policy and its objective to optimize resources, the Ministry of Finance, Telecom Egypt's primary shareholder, has divested 10 percent of the company's total outstanding shares. It's important to note that this divestment has no impact on the company's operations and strategies, as the Ministry of Finance remains the main shareholder with a 70 percent ownership stake, and the board representation remains unchanged. 
According to Nasr, Telecom Egypt's management team possesses a clear vision and strategy that has evolved and strengthened in recent years, and will continue to work tirelessly to solidify the company's position as a regional telecom leader, always looking to maximize Telecom Egypt's shareholder value. 
Influence of currency devaluation on Telecom Egypt
The devaluation of the Egyptian pound, inflation, and global financial and banking challenges are circumstances that significantly impact the overall economy, including the telecom sector. These inflationary pressures have influenced customer behavior, causing them to prioritize their consumption objectives. Despite these challenges, Nasr notes that there has not been a substantial change in the demand for telecom services thus far. 
The full impact of these economic factors is expected to become apparent in the near future, coinciding with the company's network expansion. Since a significant portion of Telecom Egypt's capital expenditure (CapEx) and some operational expenditure (OpEx) items are denominated in hard currency, the company has managed to mitigate the effects of inflationary pressures resulting from the devaluation of the Egyptian pound by securing about 25 percent of its top line in U.S. dollars. Nevertheless, Telecom Egypt aims to grow and diversify its revenue streams, particularly those denominated in the greenback, to hedge against any currency fluctuations. 
As a telecom market leader, the company encourages international manufacturers in the telecom industry's supply chain to establish production lines in Egypt. The government has implemented several initiatives to support such endeavors, which will not only reduce Telecom Egypt's reliance on foreign currency but also benefit the country as a whole.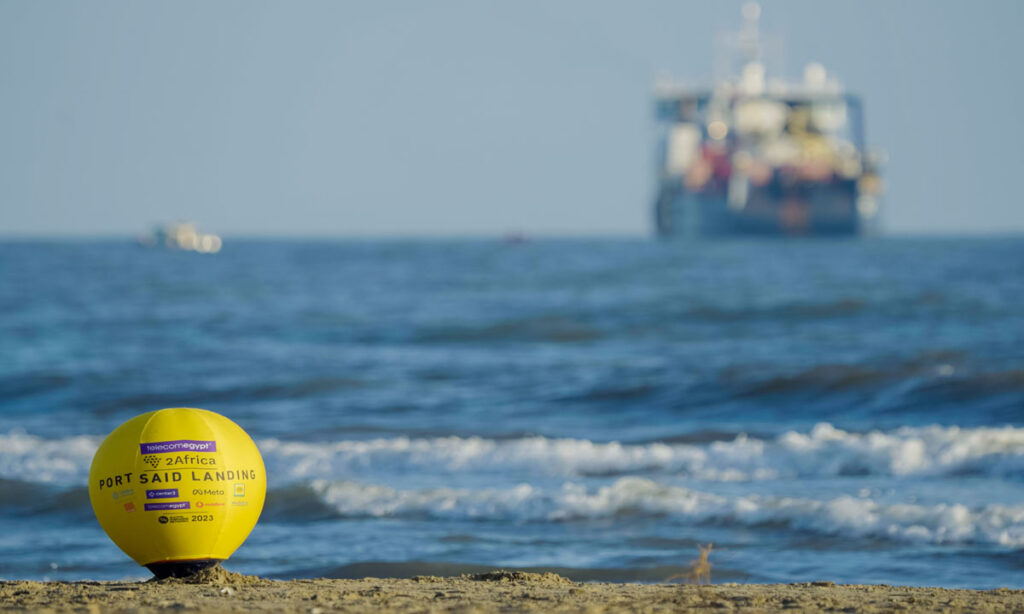 Overview of the landmark 2Africa subsea cable project
2Africa's subsea cable system is specifically designed to enhance international connectivity and bolster internet access, connecting Africa with the rest of the world. In addition, it strengthens Egypt's role as a vital international hub for global communication networks. As one of the world's longest cable systems, 2Africa addresses the growing demand for capacity in the Middle East and supports the expansion of 4G, 5G, and fixed broadband access. 
According to Nasr, embarking on such large-scale projects always carries the possibility of challenges. "However, most of these challenges can be managed due to our pioneering efforts, well-established infrastructure, and global partnerships. We promptly address any obstacles or threats to ensure the satisfaction of our customers," he says. 
2Africa was launched in May 2020 right after the breakout of the COVID-19 pandemic and the associated lockdown restrictions. The main challenge at the time was securing the necessary human resources, equipment and associated permits for the installation of the new subsea cable landing stations and crossing routes for this mega project.  
However, the company was able to overcome these challenges by diligently working with the relevant authorities and stakeholders to secure the requirements. In addition, a team of top-notch experts worked around the clock to make sure everything ran smoothly and efficiently. This paved the way for the successful completion of the end-to-end testing and delivery of 2Africa's Egypt brand-new seamless optical terrestrial crossings ahead of schedule, making it the first segment of the project in operation by December 2020.  
Subsea cables play a critical role in global connectivity and serve as the backbone of the world's economy, carrying 99 percent of internet traffic. Their economic impact stems from the immense capacity they provide, the speed at which data travels, and the growing reliance on data-intensive applications integrated into various aspects of life. Egypt is no exception to the opportunities presented by a massive cable like 2Africa, particularly for its telecom sector and overall economy. 
By offering reliable and affordable internet access, 2Africa, along with other major subsea cables, will contribute to job creation, stimulate economic growth, and improve education and healthcare. 2Africa's reach will extend to 3 billion people, which accounts for 36 percent of the global population. Consequently, the project aims to realize more of its potential by pursuing new subsea cable initiatives and introducing cutting-edge products that will propel the ICT industry to new heights. 
Telecom Egypt's sustainability agenda
"Telecom Egypt fully recognizes the importance of operating in a sustainable manner, as part of its responsibility towards the community, investors, customers, and the world at large," Nasr says. The company acknowledges that climate change poses a significant threat to humanity and all life on Earth. Therefore, urgent collective action is necessary to address this crisis and secure a sustainable future for generations to come. 
As a pioneer in sustainability and eco-friendly practices, Telecom Egypt has taken the lead in sparking climate action ahead of COP27. It has achieved this by transforming its cellular base stations in Sharm El Sheikh into solar-powered stations, demonstrating its dedication to environmental-friendly solutions. Additionally, the company has deployed electric, eco-friendly cars and buses in the city, showcasing its commitment to combating climate change through various projects and initiatives. 
Telecom Egypt aims to become a leader in corporate sustainability by harnessing the power of digitalization to tackle the climate crisis and mitigate its impact. To achieve this, the company is developing a comprehensive carbon reduction strategy and focusing its efforts on high-impact activities. For example, it is replacing copper with fiber and adopting FTTH technology in all greenfield areas. 
A recent milestone on Telecom Egypt's sustainability agenda is the partnership with Egypt's New and Renewable Energy Authority. The company has inked a deal to procure all of its low voltage power from renewable sources. This commitment makes Telecom Egypt one of the largest and most environmentally friendly telecommunications companies in the region. 
Furthermore, Telecom Egypt strives to adopt eco-friendly business practices to the best of its ability. This includes promoting optimal resource utilization, recycling, and adopting sustainable and green supply chains whenever possible. The company also emphasizes the importance of corporate governance, risk management, and compliance, as well as business ethics, data privacy, cyber security, and maintaining excellent customer service. 
Diversity and inclusivity a key focus for Telecom Egypt
Within its commitment to sustainability, Telecom Egypt actively promotes diversity and inclusion, ensuring equal opportunities for all employees throughout the recruitment process, career development, training, and promotions. The company places significant emphasis on key areas such as women empowerment, youth engagement, health and safety, employee wellbeing, and training and development. 
Nasr highlights that Telecom Egypt plays a pivotal role in supporting the implementation of impactful social responsibility initiatives. To ensure effective execution, the company has established a dedicated Social Responsibility Committee which is entrusted with the role of formulating and executing the company's corporate responsibility strategy in alignment with Telecom Egypt's mission. Additionally, the committee takes the lead in identifying and recommending projects, initiatives and donations that contribute to the overall social welfare. 
Turning Egypt into a global data hub gateway to Africa
 Nasr highlights "Gearing up for tomorrow today" as Telecom Egypt's slogan, reflecting the company's response to the unprecedented changes brought about by the growing digital economy, which have caused disruptive shifts in the ICT ecosystem. Taking their strategy to the next level, Telecom Egypt has positioned itself as a key facilitator of digitization by establishing the renowned Regional Data Hub (RDH) as part of their data center expansion plan. 
Telecom Egypt already operates seven data centers, with RDH standing out as the first facility in Egypt to receive certifications from the Uptime Institute in the categories of Design, Constructed Facility, and Operational Sustainability. RDH benefits from its strategic connectivity to the Mediterranean Sea and Red Sea landing stations, granting it access to over 60 countries worldwide. The initial phase of RDH, consisting of 400 racks, is already operating at full capacity, prompting the company to prepare for the next expansion phase, which will be slightly bigger. 
Telecom Egypt currently boasts a transit capacity of over 165Tbps between the Red Sea and Mediterranean Sea, a figure set to double with the installation of new cables. This vast capacity and connectivity offer tremendous opportunities for other data center developers to leverage when delivering services to hyperscalers and content providers. Furthermore, Telecom Egypt adopts an open access model, allowing potential data center customers seeking global reach to connect to their subsea stations. To maintain its leading position and stay aligned with cutting-edge technologies and connectivity solutions, Telecom Egypt has established partnerships with prominent global ICT players. 
Telecom Egypt is excited about the opportunities that lie ahead and will continue to prioritize customer-centricity and maximize shareholder value as it exerts its utmost efforts to become a global data hub.