With a distinguished history of over 30 years, INFINITI Motor Company remains a brand to be reckoned with in the GCC. Today INFINITI produces some of the most sought-after crossovers, saloons, and SUVs, and continues to command a loyal customer base within the premium segment.
Economy Middle East spoke with Andrew McLaughlan, who, earlier in 2022, took over the role of Managing Director at INFINITI Middle East, and discussed the Japanese car maker and what plans the brand has in the future.
You have an extensive automotive background. Could you tell us more about yourself?
The automotive industry has always been a passion and fascination of mine. I have been fortunate to work in the industry for over 25 years, on both the dealer and manufacturer sides of the business, starting out as a sales executive in Scotland. Sixteen years ago I was given an opportunity in the Middle East and gradually advanced from national and regional management roles up to director-level positions in the areas of sales, dealer network development, customer quality, and aftersales. Leading INFINITI Middle East has long been a career goal, and I'm elated to have joined during such an exciting time for the brand.
Outside of that, I am a husband, a proud father of three children, and a fitness enthusiast.
How do the GCC markets differ from one another?
INFINITI's strong dealership presence in the GCC extends across all six markets, with many of our dealer partnerships initiated nearly two decades earlier, alongside INFINITI's introduction to the region. Speaking from the brand's perspective, which was founded on the basis of being customer-centric, we establish an understanding of each market in accordance with the needs of its customers in the premium segment. In general, GCC markets have significant similarities in comparison with other regions where INFINITI is sold. The GCC customer is younger and has a greater inclination towards top trims and grades – they're trendsetters and early adopters. The differences are more nuanced and fortunately, INFINITI's service and product offerings cater to the unique requirements of the customer in each market – whether it be a proclivity towards performance, heritage, technology, or design – all bases are covered.
There is a visible shift into a more lifestyle brand identity at INFINITI. What is the idea behind that? 
That is quite an observation, and I'm pleased that the brand identity is being seen as incorporating a different approach. I wouldn't however call it a shift. It's simply an expansion of our identity to ensure that we are reaching and representing INFINITI customers. From its origins, INFINITI has focused on the human experience, and on facilitating that within our vehicles. Aren't cars part of a lifestyle? We spend so much time commuting, we drive our cars on adventures where we create memories with friends and family, and we sometimes escape to our car from a difficult day to decompress, listen to music or a podcast, and even to self-reflect. As a brand, we like to embrace these realities and represent that idea of luxury that can be lived in. We all tend to lead quite busy lives in the modern world, and for me personally, the best part of my day is driving my kids to school in the mornings, listening to their stories, and just relishing that daily moment to bond within this private space. Ultimately, the idea is to embrace the role our vehicles play beyond the transaction or simply driving from A to B.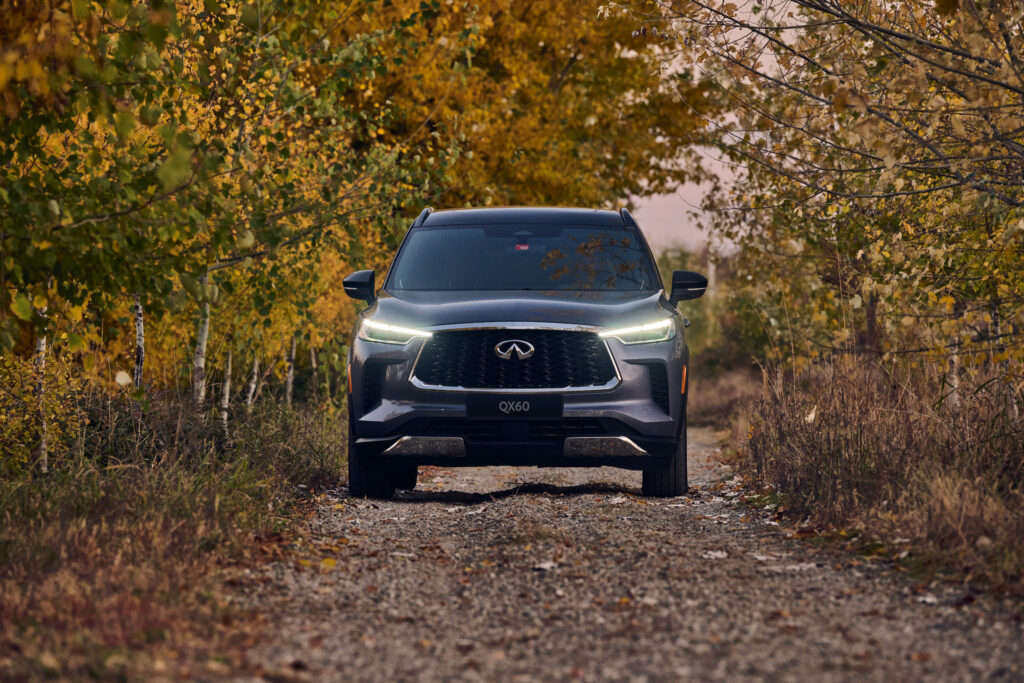 What is currently the most exciting new offering from INFINITI and can you name some key new features?
That would have to be our newest launch, the next-generation INFINITI QX60. A long-standing cornerstone model for the brand, which has been reimagined from the ground up, signals a new era of design and ingenuity for INFINITI. The QX60 is a three-row premium SUV, harnessing aesthetic excellence while delivering confidence-inspiring technology. This model is an expression of modern luxury, thanks to its powerful proportions,
It enjoys Japanese tailoring and curated design features. It also introduces several firsts for the brand, among them our V6 engine mated to an all-new 9-speed automatic transmission, advanced intelligent all-wheel drive featuring direct coupling, and the debut of the innovative ProPilot Assist for INFINITI, designed to reduce the stress of stop-and-go driving by helping control acceleration, braking, and steering – the first phase of autonomous driving.
What can we look forward to from INFINITI in the next 5 years?
There is oh so much to look forward to from INFINITI in the next five years, but I won't get into specifics, because there are some key announcements in the pipeline starting early 2023. I will say however that we are staying committed to our values of being HUMAN, DARING, and FORWARD and the upcoming lineup will intensify our approach to customer-focused seamless technology, confident performance, and exquisite Japanese craftsmanship.
With almost all brands moving to EV offerings, what are INFINITI's electrification plans?
As part of our Ambition 2030, INFINITI has committed to ensuring that the majority of its vehicles sold globally will be electrified.  In February 2022, we announced the first step in that journey by confirming that the Canton Vehicle Assembly Plant in Mississippi has been selected as one of the first global locations to produce the next generation of INFINITI EV products. Further announcements on this journey will be made in due course, however, our design and engineering teams are working on future models that deliver technology through a human-first lens, which includes offering a variety of powertrain options, from the traditional internal-combustion engines to full EVs. We believe choice for customers will be the key to our lineup going forward.