Dubbed the Net Zero Master, among other names befitting sustainability pioneers, Karl Feilder, CEO and Founder of Neutral Fuels, pioneered the commercial production of net-zero biofuels in the Middle East in 2011.
Today, Neutral Fuels is expanding cleantech fuel facilities in the GCC with its founder having already contributed to savings of over 15 million tons of CO2 from working with global corporations such as DHL, Del Monte, McDonald's, and many other global corporations.
In an exclusive interview with Economy Middle East, Karl shifts the responsibility of fixing climate change to where it really resides and looks realistically at electric vehicles (EVs).
EVs are great but…
"Elon Musk has done great things moving the planet towards electric vehicles and a transition to a cleaner greener global economy," Karl said.
"But most businesses have completely forgotten the question of what to do about trucks and heavy vehicles because there just aren't yet electric replacements for these, at least not for many years from now."
He liked that the UAE was really active towards electrification, having lower carbon footprint plans for its electricity grid among other wide-ranging renewable energy and sustainability efforts in the country.
"But there was a huge missing part around transport and supply chains and that's why I jumped into biofuels," Karl explained.
"We did a lot of research and concluded that it was the only viable option, and no one was doing it, so I came up with the idea of starting a biofuel factory in a fossil fuel country."
Fixing climate change is up to companies
It wasn't the first time that Karl took the lead with a company in an effort to fight climate change, having owned and run a successful consulting business helping large organizations assess, reduce, and replace their carbon footprint.
In fact, he believes that lowering carbon emissions is more the responsibility of private sector companies than the UN or governments.
"The first company I worked with on this was DHL, one of the largest companies in the world. At the time, they had 520,000 employees. Their carbon footprint extended to every country in the world and when we did the initial benchmarking, it measured the size of 46 countries put together," Karl revealed.
"That led to an interesting hypothesis – if you could persuade companies to do something about climate change, you would have more impact than the UN."
Karl reasoned that since the 1992 Rio Earth Summit, where the UN declared their goal to reduce global carbon emissions, emissions have actually gone up by 40%, whereas in his first 3 years working with DHL their carbon emissions went down by 5%.
"I can actually claim I had more impact than the UN," Karl half-jokingly quipped.
Businesses and climate change
Karl added that businesses create carbon footprints, not governments per se. If one can reframe the problem into a business problem that has financial benefits to the business, then these corporations will make the right decisions.
"That's what we did with DHL. We looked at thousands of buildings and ranked them into the least and the most energy-efficient. We learned from the good ones and applied that knowledge to the bad ones," Karl described.
"The first thing for any organization is to learn where they are today, and that it's a numeric problem that they can measure to a few decimal places. It's a scientific challenge that's all about data and engineering different solutions."
Karl's consultancy did pioneering work for large organizations like Lockheed Martin, LG, and McDonald's, among others.
"Trying to change the way the public behaves is a waste of time. We need to change the way companies behave so that the only options they leave in front of consumers are low carbon," Karl said.
Change companies' behavior? How?
Karl said companies need to first analyze their energy usage, then optimize it, and later seek to replace their energy savings with renewable solutions like solar panels and biofuels.
As for cost, or what many companies believe will prevent this exercise, Karl said: "After 15 years of doing this, I've seen that it doesn't cost companies money that they can't recover, and payback occurs within the normal decision cycle or within 3 to 5 years."
Are we winning the CO2 battle?
"The numeric answer is no. The Antarctic and Arctic are warming faster than all the scientific models predicted, the tundra in Siberia and the furthest reaches of the northern hemisphere is melting and releasing methane faster than anyone was expecting, sea levels are rising and warming faster than projected models, and CO2 levels are rising faster," Karl summarized.
"We have to reduce fossil fuel use in a dramatic way, and what we do consume must be in a more efficient manner."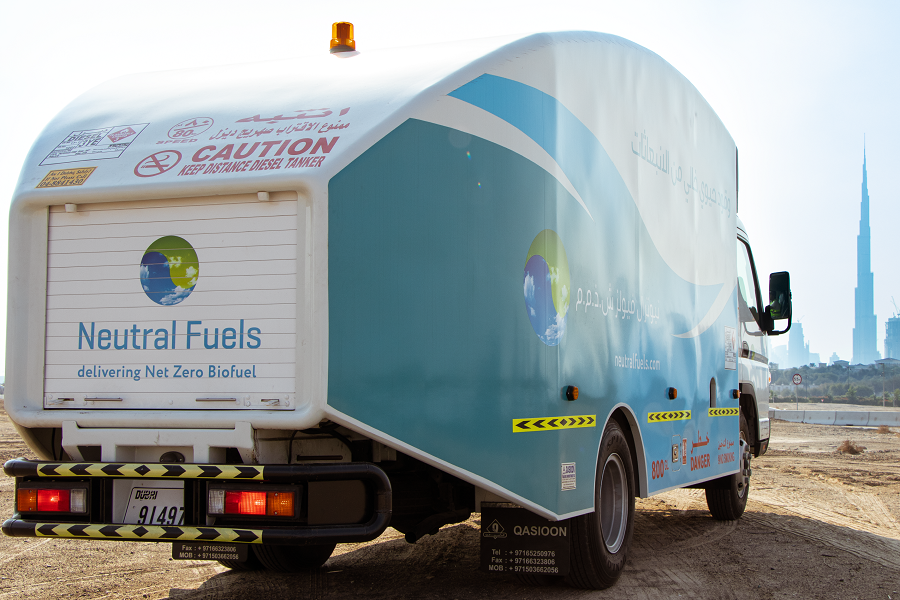 What do biofuels solve?
Karl has built his biofuel business in many cities including New Delhi, Bahrain, Abu Dhabi, and in Dubai over the past 11 years.
"The oil and gas industry works on the assumption that there are a few countries in the world where one can find gas and oil, and that everybody on the planet wants to use these resources. This is a few-to-many type of relationship," Karl said.
"Whereas biofuels are best made out of waste products and those exist wherever humans live, and you don't need huge sea tankers to move them around the world. A major component of carbon footprint is transport and supply chains."
Karl's Neutral Fuels sources waste in the city where each factory/refinery is built, recycles, and processes the waste locally, and local companies use the biofuel.
"This local-local-local model is the mantra of all sustainable strategies. It's the same with solar. You would not contemplate putting all the world's existing solar panels in the Sahara Desert and then running cables everywhere on the globe. That's mad. The sun is everywhere, just as biofuel feedstock is everywhere," Karl explained.
"IKEA decided that all of their supply chains internationally should use biofuels. They are one of our clients here. For over 10 years now, McDonald's, which has their own logistics fleets of diesel trucks, has been running them solely on biodiesel that we create from their own used cooking oil, rather than on fossil fuels. That's their entire supply chain running on clean, green, renewable net-zero fuel."
He added: "Like most big companies, McDonald's is not interested in solutions that cause them business disruption. The biofuel solution works 365 days a year for them, and without glitches, just as it does for every other customer."
Applications for Biofuels
Karl estimated that there are more than 50 cities within 4 hours of Dubai where the company can viably build a biorefinery that takes local waste and turns it into biofuel.
He said that biofuels are ideal solutions for cars, trucks, and ships.
"We can use biofuels for static power generation, particularly in Africa, which doesn't have a reliable grid."
As for airlines, "Using biofuel for aircraft is a mistake. There aren't enough raw materials. Sustainable aviation fuel, when last I checked, was 6 times the price of jet fuel. I don't see who could pay for that. One cannot sustain this as we can in road transportation. Put research dollars into other areas to solve aviation emissions," Karl advised.
IPO in 2024?
Karl plans to take Neutral Fuels public in 2024.
"The pandemic and the terrible events in Ukraine will have an impact on how markets treat IPOs. I suspect we might delay a year or so as a result of that," Karl said.
"I'm certainly not looking at a special purpose acquisition company (SPAC). The type of due diligence and time needed to take a company public, which takes at least a couple of years, is necessary to protect shareholders, and the fact that SPACs can circumvent a lot of that excludes them from my plans."
As for the location of the listing, Karl is encouraged by the increasing IPO activity taking place in Dubai and Abu Dhabi.
"We are a UAE success story and it makes more sense to list on a local market. The questions will, however, usually revolve around liquidity and valuation. We also see a lot of sustainability IPOs taking place in Oslo, Norway.
Karl closed by saying: "What gets me out of bed every day is the desire to change the world. All I want to do is continue growing the use of biofuels. We have lots of ongoing research and data and the future looks very exciting."