World Password Day falls on the first Thursday of May to increase awareness about good online security habits. Biometrics will make that day obsolete.
Forget the fact that we're making it easy for cyber criminals to decode our many passwords strewed on the ether over a lifetime of elapsed pins, allowing them to pounce on our personal data like the predators that they are.
We just simply can't keep up with the passwords that we once smartly engineered to make us remember them and evade phishing attempts. We not only can't keep track of them but also fail to erase the trail of digital fingerprints that we left behind.
Entrust's Future of Identity report found 88 percent of respondents saying they will choose biometrics at least 50% of the time, with only  6% of respondents believing passwords are the most secure method for authentication.
The GCC biometrics market size reached $361.2 million in 2022. The market is expected to reach $818 million by 2028, an annual growth rate of 14.5%.
Biometrics usage
Biometrics authenticate by measuring and analyzing people's physical or behavioral characteristics and is today utilized in automated teller machines (ATMs), smart cards, laptops and workstations in the GCC region and in sectors like transportation (metros and airports), banking and insurance to facilitate movement and secure sensitive data from hacking.
Read: Middle East's financial sector at risk
Biometrics versus Passwords
Fingerprints are the most commonly used biometrics but what happens when you have dirty or sweaty hands is that your second option goes back to passwords, opening the door for security risks if the password used is not strong or one that is recycled between your important files. Two-factor authentication, like code or security question, offers an additional layer of protection.
Starting May 3, 2023, Google users can choose to secure their accounts using passkeys instead of passwords.
Passkeys allow users to sign in using fingerprint or face biometrics, but also via a device screen lock, such as a local PIN.
When a user signs on a specific device, the passkey verifies that they are in possession of the device and have the ability to unlock it. This reduces the risk of a password being accessed by rogue actors.
Because the sign-in is activated via the private key stored on the device, biometric data does not reach Google.
Apple has been testing passkeys for iPhones since 2021 using cryptographic key pairs safe from server leaks. Passkeys are essentially connected with the app or website they were created for, and as such users can never be deceived into activating their passkeys to access a deceptive app or website.
Google, Apple, Amazon, Visa, Microsoft, Intel and American Express are all supporters of Passkeys.
Most biometric engines will be capable of comparing two images of the same person and classifying them correctly 99% of the time where the error rate is just 1 in a million.
Using performance assessment of presentation attack detection, or PAD, vendors can prevent rogue actors from spoofing user data such as showing a photograph rather than showing a real face, adding a proven liveness detection into their systems.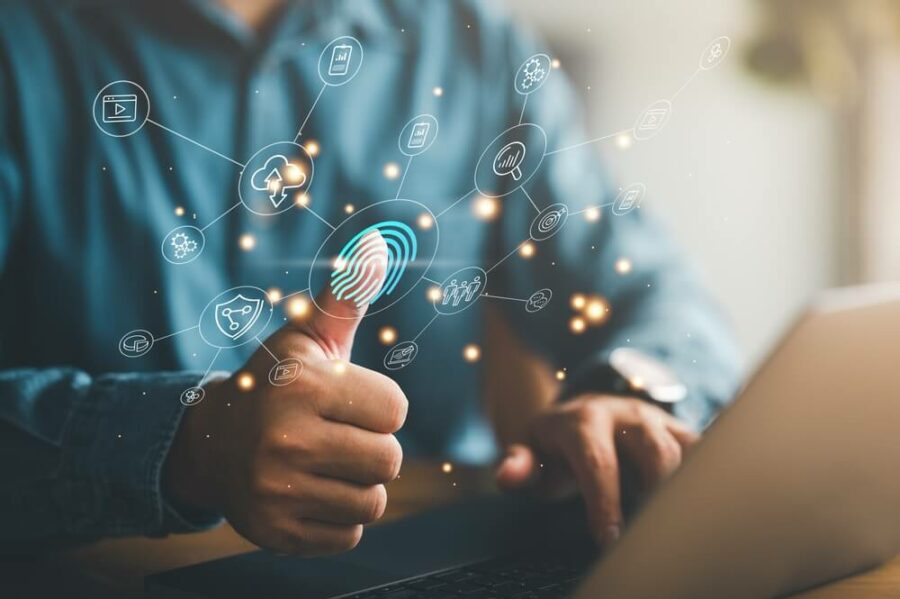 Dubai increasing use of biometrics
The General Directorate of Residency and Foreigners Affairs (GDRFA) in Dubai said ti will offer all its services digitally via face biometric authentication, local media quoted Project Director Fatima Salem Al Mazroui as saying at the recent Gitex Global 2022 event.
Dubai residents will not be required to use a passport or any other document to verify themselves, Fatima said.
Dubai airports had already deployed over 120 biometric smart gates at passenger passport controls in order to streamline entry procedures.
Also, UAE's Al Ansari Exchange pioneered a digital know-your-customer (eKYC) journey in collaboration with the Ministry of Interior (MOI).
The KYC service uses the MOI's digital verification face biometric gateway service to deliver identity validation.
Going the extra mile, 400 smart patrol vehicles will join the Dubai Police fleet over the next 5 years. These will be equipped with facial recognition and license plate recognition (LPR/ANPR) technology, according to published reports.
Saudi Pilgrimage visas
The Saudi Ministry of Hajj and Umrah announced that it has granted permission to register vital features of biometrics on smartphones to issue online Umrah visas for those coming from five countries, a service that includes pilgrims from the United Kingdom, Tunisia, Kuwait, Malaysia, and Bangladesh, according to a ministry statement.
The ministry noted that the registration process will be completed through the Saudi Visa Bio smartphone application by self-registration of vital characteristics from the country of arrival.
Kuwait border security
Kuwait's Interior Ministry recently announced introducing biometric technology at all border crossing points to ensure better application of state security procedures.
All arrivals over 18 years of age would be subject to biometric scanning which includes fingerprints, face recognition and eye scanning, before entering the country.
Read more on passwords here.