Sheikh Mohammed bin Zayed Al Nahyan, President of the UAE, said on Monday that his country will continue to supply oil and gas "for as long as the world needs" it.
Speaking at the opening of the COP 27 UN climate conference he said the UAE is considered a responsible supplier of energy, and that "it will continue to play this role for as long as the world needs oil and gas."
The president's comment came after UN secretary-general Antonio Guterres said the war in Ukraine has "exposed the profound risks of our fossil fuel addiction" and called for an end to dependence on fossil fuels and the building of coal plants.
UAE's President also said that climate change threatens global security, emphasizing the importance of continuing to focus on reducing emissions.
He pointed out that the UAE will declare carbon neutrality in 2050, urging solutions to advance global economic growth.
Bin Zayed stated that the COP28 summit, which will be held in Dubai next year, will include "the completion of the first global assessment of progress in the Paris climate agreement."
Furthermore, he expressed his country's support for Egypt's call to end the Russian-Ukrainian conflict.
Read more: Key themes for COP 27 climate summit unveiled
Guterres
For his part, Antonio Guterres told delegates that the world was on the "highway to climate hell with our foot on the accelerator."
"Climate change is on a different timeline, and a different scale," he said. "It is the defining issue of our age… It is unacceptable, outrageous, and self-defeating to put it on the back burner."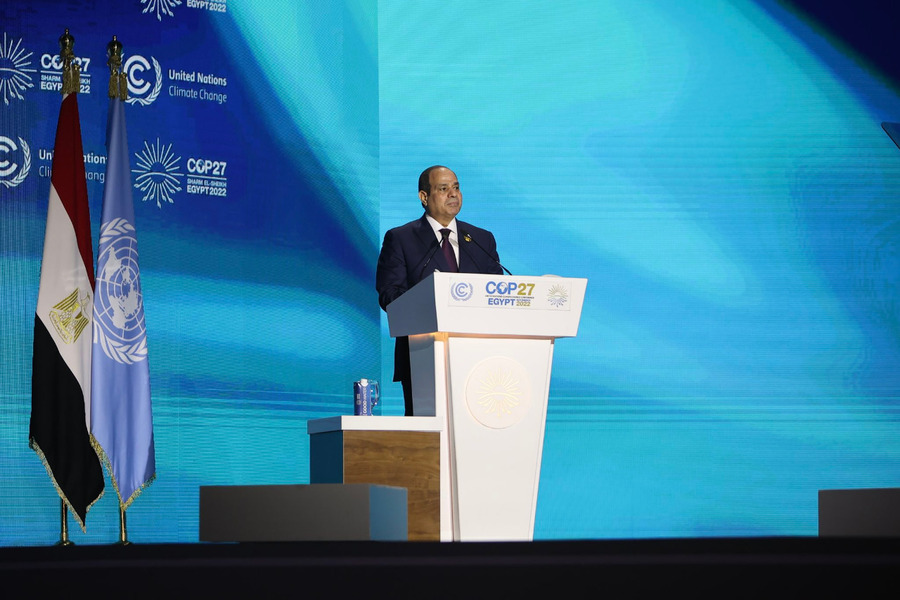 Sisi
Egypt's President Abdel Fattah El- Sisi asked during the COP27 Climate Summit "Are we today closer to achieving our goals than we were a year ago?" Have we been able to shoulder our officials as world leaders over the last year while dealing with the most dangerous and influential issues of the century?
Moreover, Egypt's President urged the world to move to concrete actions and effective implementation on climate and also launches an appeal to end the war between Russia and Ukraine.