Economy Middle East recently had the opportunity to sit down with Eric Anziani, president and COO of Crypto.com, a comprehensive cryptocurrency platform offering a wide range of services including trading, investing, staking, wallets, NFTs, and more.
With a vision to make cryptocurrency accessible to everyone, Crypto.com is on a mission to accelerate the world's transition to digital assets. During our interview on the sidelines of the Investopia event, we discussed the future of finance and the role of crypto, as well as the United Arab Emirates' initiatives to attract global talent to the field.
It's been somewhat of an active year for Crypto. How would you define the global landscape moving forward?
Definitely, 2022 has been a very challenging yet interesting year for the world, including the crypto industry. We have seen massive inflation, the conflict in Ukraine, and supply chain disruption, all coming out of the COVID situation, and those are the things that we dealt with. These macro conditions have had an impact on the financial services sector and the crypto industry.
We've seen some consolidation in the industry as well as some actors who operated a little riskier and faced bankruptcy. It's tough in the short term but I think good and healthy for the global crypto environment as it prepares for the next phase. At Crypto.com, our focus is on identifying new use cases that can help our customers continue to generate value in the current market conditions and beyond. 
Read: The opportunity for cryptos in the wake of the banking collapse
The UAE has fast become a favorable destination for cryptocurrencies. What's the underlying reason for that?
The UAE has been at the forefront of innovation, always forward-looking, which is very important, eyeing new lines of business, studying the next economic opportunities to be built, to grow the country as a hub that benefits all its people. I find the culture here is one that cares about people, which is very close to the philosophy of crypto in terms of building communities and taking care of them. We've seen the government being very supportive in putting in place the right environment for growth in our industry.
Having a regulatory framework that is fit for purpose is essential for companies to succeed in the industry. It provides clarity on how to operate, and we have been working closely with the VARA team. A few weeks ago, they published a very comprehensive regulatory framework that companies can use as a guide, and that's very important.
In addition, the government's economic push recognizes the critical role that digital assets and the future of finance will play. The Dubai Economic Agenda 2033 (D33) and the Abu Dhabi Economic Vision 2030 both support digitization, digital assets, and the future of finance. This supportive government is putting in place the right framework and collaborating with private sector partners to ensure responsible innovation in the space.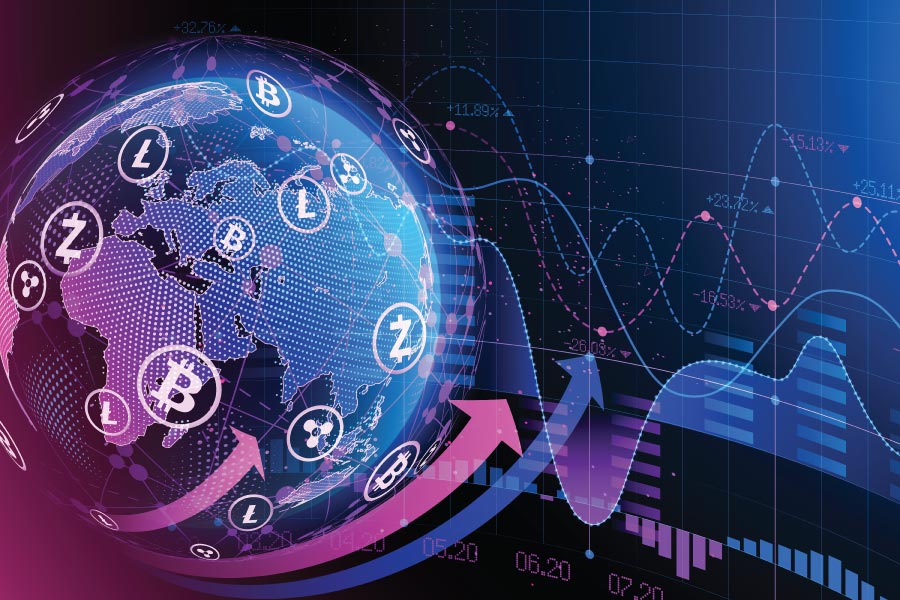 You are a key partner at Investopia. What are some of the key synergies that you share with the organizers?
We are very honored to be the founding partner of Investopia. I was there a year ago with His Excellency Abdullah bin Touq Al Marri, UAE minister of economy, to kick start the event. It's a great platform to bring global leaders to the UAE to look at the challenges and the opportunities arising from them. This enables us to leverage global intelligence and build new opportunities in the UAE. Therefore, we are excited to continue participating in this event.
As a global player, we are committed to bringing to the table our expertise, best practices, and some of the research our teams have published, to address real transactional problems that people face.  Our aim is to lower costs, ensure secure transactions, build new identities in the digital world using NFTs and Web 3.0, and integrate games and crypto. These are all exciting topics that will help bring this space to the mainstream.
Crypto.com secures MVP Preparatory License from Dubai's Virtual Assets Regulatory Authority
Crypto.com has announced that it has received the MVP Preparatory License from Dubai's Virtual Assets Regulatory Authority (VARA), allowing it to fulfill all pre-conditions required to undertake MVP market operations within the VARA regime. The license will enable Crypto.com to extend its range of regulated virtual assets activities, including crypto exchange services, brokerage, margin/leverage trading, and OTC offerings around settlements for institutional investors.
This comes after Crypto.com received its initial provisional approval from VARA in June 2022. The MVP preparatory license was granted after a detailed review of Crypto.com's personnel, governance procedures, best-in-class compliance practices, Anti Money Laundering/Countering the Financing of Terrorism (AML/CFT) capabilities, Know Your Customer (KYC) and Ultimate Beneficial Owner (UBO) policies and procedures, cross-border safety and security measures, and compliance practices.
"We are pleased to welcome Crypto.com to the MVP program preparatory phase," said VARA's CEO Henson Orser. "Participation from credible players like Crypto.com will further our mission of delivering a progressive and future-focused regulatory framework."
Kris Marszalek, CEO of Crypto.com said: "With the MVP Preparatory License, we look forward to continuing to work with regulators in providing customers the most comprehensive and secure crypto experience."
For more crypto news, click here.