Sentiment is one of the strongest motivators for the cryptocurrency market. Time and again behavioral finance theory researchers have shown the significance of market participants' emotions in driving the cryptocurrency market.
The crypto fear and greed index is a trading tool that measures the two primary emotions and charts them in order to enable investors to gauge the overall sentiment of the market. Created by Alternative.me, the Crypto Fear and Greed Index is inspired by its namesake indicator created by CNNMoney for the traditional equity market.
Alternative.me crunches emotions and sentiments from different sources and represents them in a series of graphs to help people make better calls when buying and selling cryptos.
The Crypto Fear and Greed Index analyzes the sentiment currently prevailing in Bitcoin trading and crunches the numbers into a simple meter that ranges from 0 to 100. Higher readings indicate greed in the market with no dearth of buyers, while lower readings suggest that investors are being cautious and the market is overrun by sellers.
The index is measured on a daily basis, and also shows you the measurement from yesterday, last week, and last month. You can also plot the historical values of the index to gauge the trend.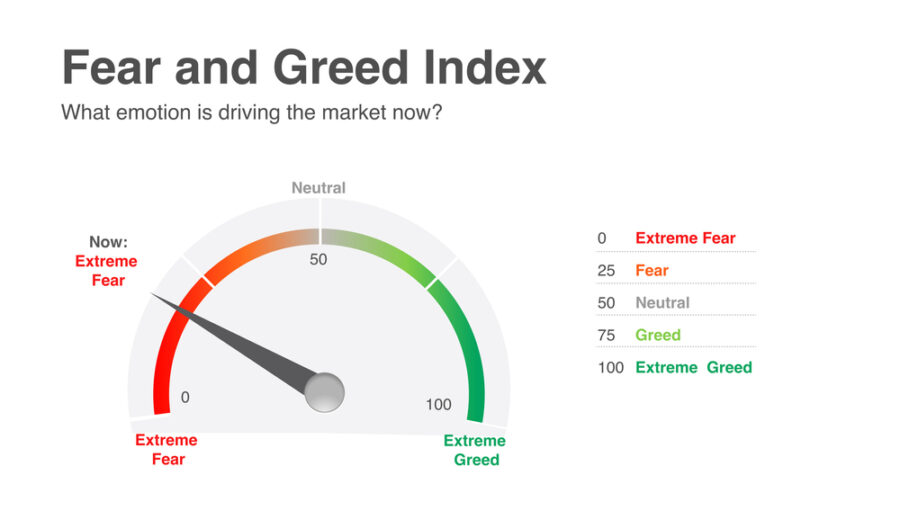 Using the index
The index is based on the logic that excessive fear suggests that the crypto is trading below its intrinsic value, which tends to drive prices down even further. Conversely, too much greed might indicate that the crypto is trading at a price greater than its value, and will most likely continue to push prices upward.
According to Alternative.me, the Crypto Fear and Greed Index gathers data from five sources, including volatility, market momentum/volume, social media, dominance, and trends. Each source is weighted according to its impact on the crypto, with some rated higher than others. For instance, volatility accounts for 25% of the score as Alternative.me argues that unusual volatility could be a strong indicator of a fearful market.
The Crypto Fear and Greed Index has historically been a reliable indicator of a significant change in the crypto markets.
The index was in the "Extreme Greed" zone in November 2021, with a value of 75, but has remained in "fear" territory for most of this year. It dipped to a low of 20 depicting "Extreme Fear" on February 3, 2022, and Bitcoin traded at a low of $36,649 on February 4, 2022. It started moving up on February 5 (33), February 6 (37), February 7 (45), February 8 (48), and February 9 (54), with Bitcoin trading at a high of $44,534 on February 10, 2022.
When it comes to trading, be it in stocks or crypto, the general advice is never to stick to one indicator or index alone. In the same vein, while the fear and greed index is a useful indicator, make sure that it is not the only tool that you use to base all your trading decisions. For instance, a fearful market can sometimes be a good time to buy crypto as the prices sink, while periods of greed could present selling opportunities.