March 6, 2023 12:58 pm
AED200 mn food manufacturing facility to be built at Dubai Industrial City
Fully-automated 1.37 mn sq. ft. facility will create more than 300 jobs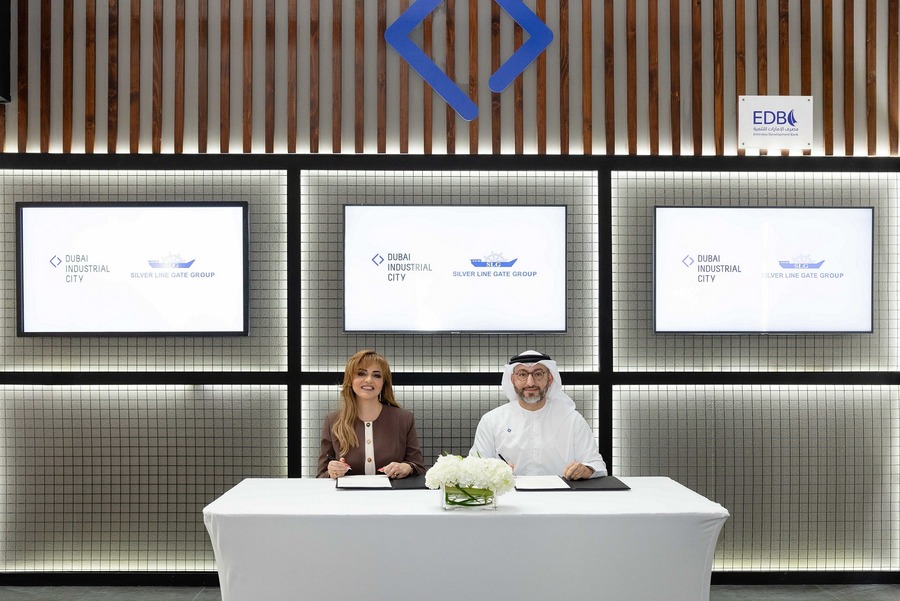 Shereen Saeed and Saud Abu Alshawareb (Photo Credit: Dubai Industrial City)
Bolstering the UAE's commitment to building a self-reliant food security program, Silver Line Gate Group (SLG) is constructing a new manufacturing, warehouse, and corporate offices facility, spanning 1.37 million sq. ft., at Dubai Industrial City, a member of TECOM Group. SLG Group is one of the Middle East's leading suppliers of milk powder, including leading brands such as Lancy, Gardo, Silva, SLG, Sama, Zain, Al Sahem, etc. The AED 200 million manufacturing facility is set to open in Dubai Industrial City in 2025.
SLG Group's manufacturing base joins a growing number of food manufacturers, and processing firms producing and exporting foodstuffs globally from the industrial hub, boosting foreign trade and supporting the Dubai Economic Agenda D33. The new facility will meet the demands of B2B and B2C customers across the GCC, African market, and Southeast Asia, and support the distribution of wholesale bakery products such as butter, whey powder, and vegetable shortening to bakeries, restaurants, ice cream manufacturers, hotels, caterers and other users across the UAE.
Read more: Global food security is in danger.. Beware of famine
Speaking on behalf of Dubai Industrial City, Saud Abu Alshawareb, Executive Vice President of Industrial Leasing – TECOM Group, said: "UAE leadership underscores food security as one of its key priorities. With a growing volume of Dubai-based food manufacturers located in one address, Dubai Industrial City is leading the way for Dubai to cultivate a self-reliant food program. We are pleased to welcome Silver Line Gate Group (SLG) into our growing community of food manufacturers and distributors who ensure people across the UAE, Middle East, and beyond always have access to nutritious food products."
Shereen Saeed, General Manager, at SLG Group, said: "Our business is growing rapidly, fuelled by a growing demand for powdered milk and related products across the region."
"Our ability to cater to this demand, in terms of both output and timely delivery, hinges on our facility. Dubai Industrial City offers us fully equipped industrial infrastructure to easily set up a state-of-the-art manufacturing and logistics centre from which we can better cater to many other markets," she added.
According to Mordor Intelligence, the Middle East and Africa market for dairy ingredients is projected to grow at a compound annual growth rate (CAGR) of 5.7 percent between 2020 and 2025. The popularity of whey proteins, driven by a renewed focus on active lifestyles and fitness, and the growing use of infant milk formula contribute to greater demand for milk products.
SLG Group's new facility is designed to meet the growing market by using advanced technologies with fully automated machinery and equipment and will create more than 300 jobs. Dubai's strategic location, paired with Dubai Industrial City's extensive transport network that includes land, air, sea, and soon Etihad Rail, will provide SLG Group unrivalled and convenient access to key markets.
For more on food security topics, click here.
Exclusives