Despite the Covid-19 pandemic which negatively impacted the world and its vital sectors from trade, to travel and tourism, and services for nearly two years, Dubai received more than 4.88 million visitors during the period extending from January to October 2021, according to Dubai's Economy and Tourism Department (DET).
DET's data showed that the number of Dubai's visitors has exceeded one million by October 2021, "with the highest number of international guests arriving from India at 667K visitors."
Visitors spent around 9.4 million hotel nights, an increase by more than two million nights as opposed to the same pre-pandemic period in 2019, where the number of hotel nights booked stood at about 7 million hotel nights.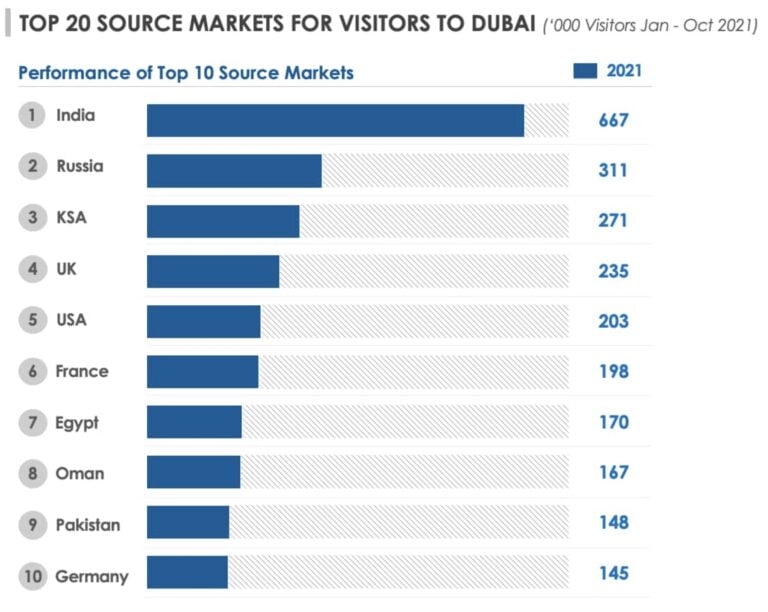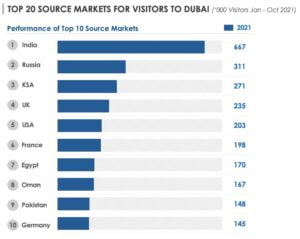 DET attributed the influx to the quick recovery of Dubai's economy from the global pandemic, and the emirate taking strong preventive measures, which all contributed to reassuring travelers and tourists to visit Dubai.
The Dubai Expo2020 event, which is kicked off in Dubai last October and lasts till the end of March 2022, is another factor that attracted and continues to attract visitors to the emirate.
According to data issued by the DET, hotels in Dubai achieved a high occupancy rate of 64% during the first ten months of the year compared to the same period in 2019.
The occupancy of rooms in the first ten months of 2021 versus 2019 increased by 12%, from 4.1 nights to 4.6 nights, as well.