November 10, 2022 5:11 pm
Dubai's DEWA Q3 net profit up 10% to $863 mn
Company's 9-month profits are close to last year's full returns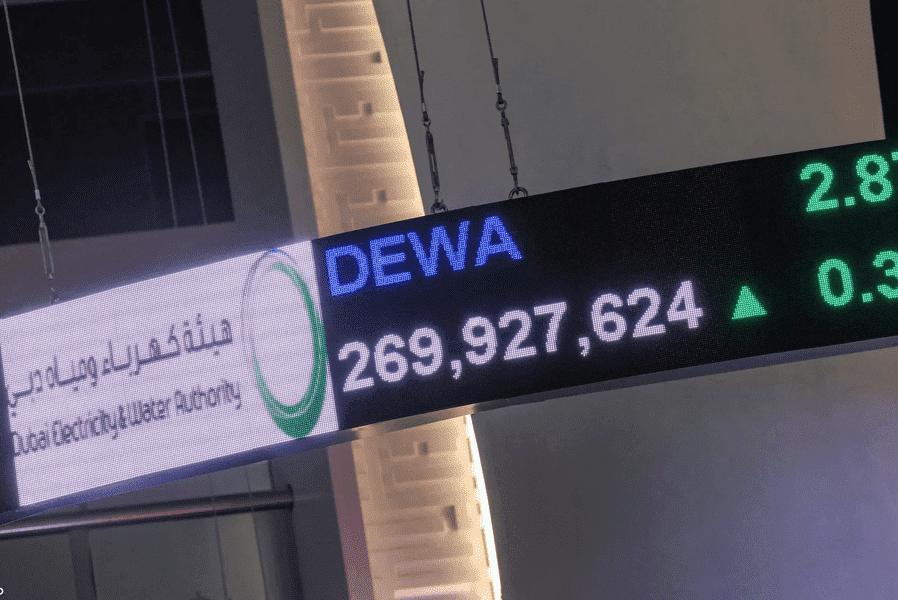 DEWA's stock sign on DFM (Image credit: DFM)
The Dubai Electricity and Water Authority (DEWA) is on track to make a record profit this year, after nearly matching its profits from the previous year in the first nine months of 2022.
The company announced on Thursday that its profits for the first nine months of this year totaled 6.5 billion dirhams, a 20% increase supported by high demand for electricity and water services.
Meanwhile, DEWA witnessed a 10% increase in its net profit during Q3 to 3.17 billion dirhams ($ 863 million), driven by the emirate's high demand for energy and water.
The Authority's electricity production increased by 3.59 percent during the quarter. Water production surged by 6.59 percent.
Read more: DEWA set to distribute cash dividends of AED3.1 bn for H1
DEWA is looking to expand its electricity production capacity, as it announced earlier this week the procedures for establishing a 900-megawatt solar energy project.
DEWA's shares were listed six months ago following a $6.1 billion public offering, one of the largest in the region so far.
Additionally, the Emirates Central Cooling Systems Corporation (Empower) paid DEWA cash profits of 2.03 billion dirhams ($533 million).
According to a previous statement to DFM, DEWA intends to stick to its profit distribution policy by assigning exceptional dividends to its shareholders, amounting to 6.2 billion dirhams annually over the five years extending to 2027.
Exclusives