February 21, 2023 7:53 pm
Dubai's Museum of the Future attracts 1 mn visitors in first year
From 163 countries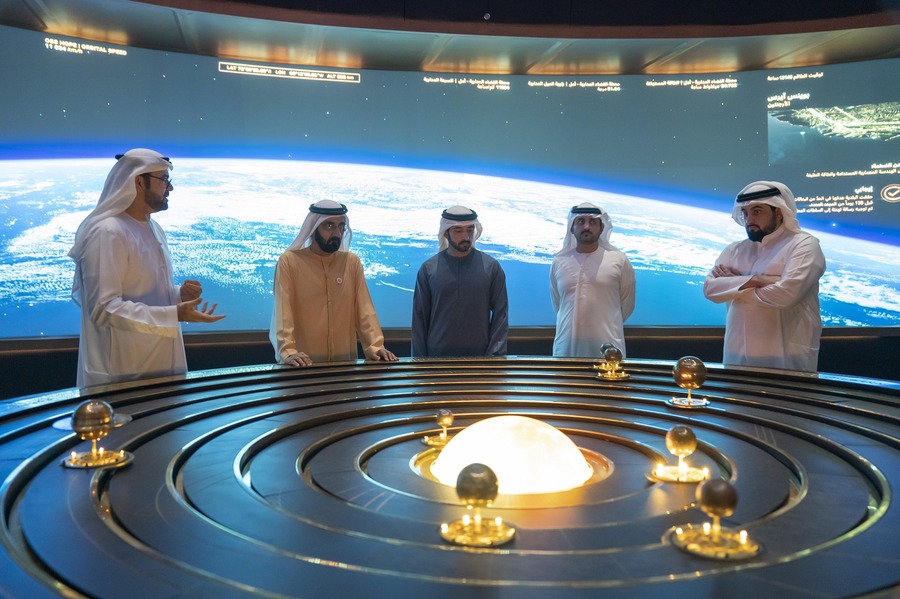 Sheikh Mohammed bin Rashid Al Maktoum standing to the right of Sheikh Hamdan Al Maktoum and to the left of Mohammad Al Gergawi (Photo Credit: Dubai Future Foundation)
Mohammad Al Gergawi, Chairman of the Museum of the Future, announced today that the museum has received more than one million visitors from 163 countries in the year since its official opening, which was in the presence of Sheikh Mohammed bin Rashid Al Maktoum, Vice President and Prime Minister of the UAE and Ruler of Dubai, on February 22, 2022. The one-million mark constitutes a milestone in Dubai and the UAE's path to imagine, inspire and design the future.
Commenting on the landmark visitor count, Al Gergawi said: "We pledged that the museum of the Future would host one million visitors in its first year, and today we celebrate the achievement of this target and the launch of a new year for the museum, during which we will continue to design the future for a better world for all in the coming years and decades."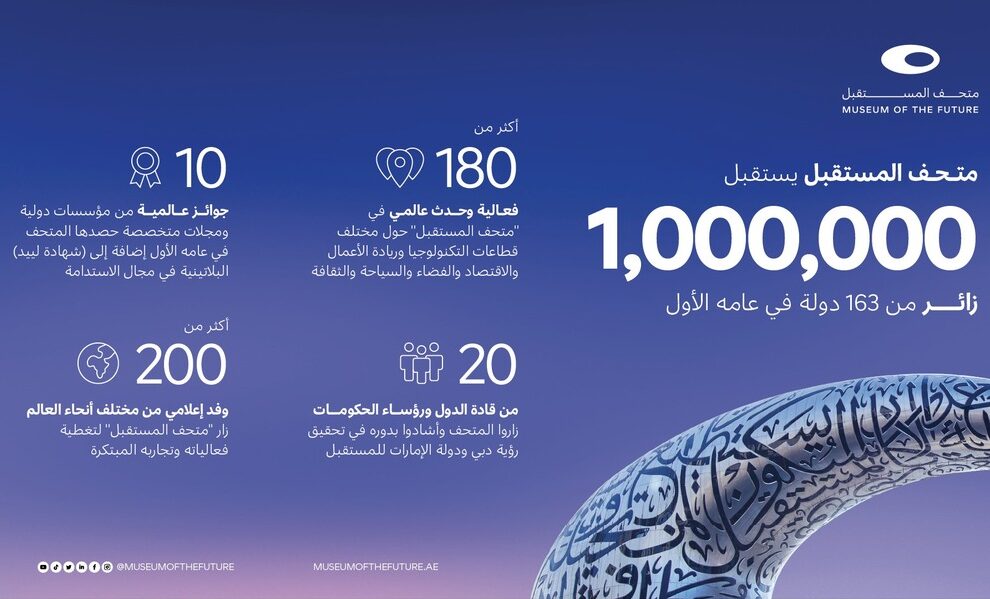 He added: "Mohammed bin Rashid's vision has allowed the Museum of the Future to become home to the world's top experts, scientists, great minds and architects of the future and the most prominent international institutions foreseeing the future."
Al Gergawi further stated that the Museum of the Future has reinforced Dubai's global position as one of the top cities of the future while embodying a successful global model that proves that cities of the future can employ and implement technological transformations to serve their societies.
Read more: The Museum of the Future: A message of hope … a global scientific platform
Landmark achievements
Since opening, the museum – an initiative by the Dubai Future Foundation – has hosted more than 180 local, regional, and global activations, events, conferences, and forums that cover technology, entrepreneurship, economy, space, tourism, culture, and varied futurist-specific sectors, all while receiving more than 200 media delegations from around the world.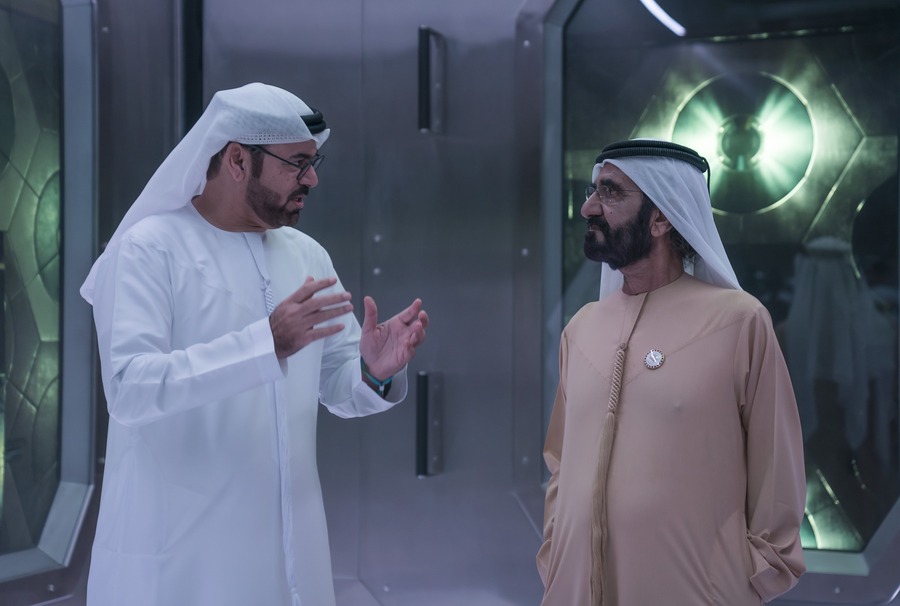 (From the right) Sheikh Mohammed bin Rashid Al Maktoum and UAE Minister Mohammad Al Gergawi (Photo Credit: Dubai Future Foundation)
International awards
Since its inauguration, the Museum of the Future has won ten international awards from global institutions and specialized industry magazines for its museum content quality, future sciences, and architectural design, in addition to attaining the LEED Platinum status certification – the ultimate certificate of recognition a building can obtain for sustainable and environmentally friendly design, construction, and operation.
Read more: Museum of the Future opens new shop with AI-powered audio experience
Global partnerships
As the Museum of the Future sought to enhance its role as a global headquarters for future-shaping institutions around the world, while enhancing collaboration and knowledge exchange between them, during the 2022 edition of the Dubai Future Forum, the Dubai Future Foundation signed cooperation agreements with the World Futures Studies Federation, The Millennium Project, and the Public Sector Foresight Network, among other entities.
Future technologies
The museum employs the latest technologies of the future, such as artificial intelligence, and interaction between humans and machines, to launch meaningful dialogues that motivate visitors to draw their own perceptions about the future.
Exclusives