Despite delaying expansion plans as a result of the economic slowdown caused by COVID-19, Egypt's real estate sector is today witnessing significant growth in the post-pandemic era.
Egypt has long been considered a safe haven for investment, while confidence has proven to be a key factor positively affecting the country's economic growth. These two elements have kindled the influx of foreign investment, from the Gulf in particular, allowing the country to resume expansion plans in the real estate sector.
According to the Ministry of Planning and Economic Development, the Egyptian economy witnessed a robust economic performance during Q2 of the current fiscal year (FY) 2021-2022 which ends on June 30th, 2022.
The economy achieved a growth rate of 8.3 percent during Q2 of the current fiscal year, compared to a growth rate of only 2 percent during last year's FY.
The growth rate is expected to range between 6.2 percent and 6.5 percent by June 30th, marking it the highest ever estimated growth rate.
This year, various sectors have been among the best performing. For instance, the construction sector recorded an improvement of 8.5 percent, contributing to increasing employment rates following the launch of housing and infrastructure projects. In addition, the New Urban Communities Authority pumped a great deal of money into the economy, which promoted new growth.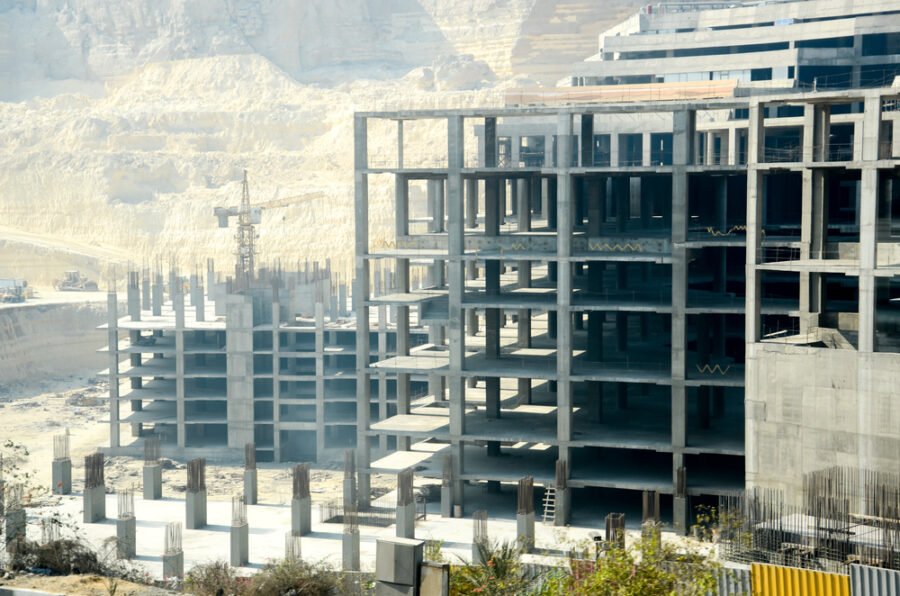 Smart cities
Egypt is part of a short list of countries boasting the world's largest smart cities. This has particularly played a pivotal role in enticing Gulf investors. Also, legislative laws and incentives supporting the sector played their part in attracting potential investors.
Smart cities are estimated to save about 30 percent on maintenance and operational costs.
Many real estate projects are currently adopting innovative solutions, enabling technologies for advanced, smart communication, and networking, as well as smart power and water supply systems management. Top solutions also include waste recycling as well as providing maintenance and management systems for buildings.
This smart concept was first introduced in Egypt in 2000. It heavily relies on the use of advanced technology for the provision and management of multiple services within smart cities and real estate projects. These services cover several areas such as electricity, communications, and transportation.
Sean McCauley, CEO of Devmark Group says that the adoption of real estate technology would impact the entire industry, which in terms of demand, experts expect to experience a significant increase that they estimate at 360 percent. He notes that technology has been critical for real estate companies to maintain their presence in the local and global market during 2021.
Massive Gulf appetite
Smart city development coupled with ongoing political, security, and economic stability have turned the eyes of investors, both Arab and foreign, to Egypt's administrative capital. The city operates as a safe haven for foreign and Gulf countries to invest in, where investments in residential and commercial real estate projects are proving highly profitable.
The continuous focus by the Egyptian government on improving and upgrading smart cities is proving to be fundamental in boosting investors' peace of mind. Moreover, facilities and incentives provided by the government are key to securing a favorable investment climate for all foreign investors.
These services also apply to the communication process and dealings with the General Authority for Free Zones and Investment (GAFI) as well as the Ministry of Housing and other concerned authorities. This comes as part of the country's plan to increase foreign investments to boost economic growth.
In this respect, Saudi and Emirati companies are competing to win prized investment opportunities, amid increased consumer demand, and pandemic-induced global market turmoil.
It goes without saying that Egypt has been one of the most attractive investment destinations for Gulf countries whose products and services there reflect these nations' efforts to diversify investment strategies away from oil dependence.
The ongoing agreements between Egyptian and Gulf governments are promoting Arab investment flows. The joint investment platform launched by the UAE and Egypt at a value of $20 billion is a great example of this.
Gulf interest in the Egyptian real estate market due to continuing increase in demand for housing units represents a positive factor in enhancing the attractiveness of real estate investments.
Also, there is still a large gap in the market between supply and demand, which means that the market needs mega projects to accommodate the growing population.
Good expectations for the property market
By 2025, observers expect the real estate sector in Egypt to witness more high-income targeted, mixed-use projects that include retail sectors in East Cairo, according to a report real estate consultancy firm Savills issued.
According to a report issued by the virtual real estate portal Aqar Map, Saudi, Kuwait, the US, and Canada are among the top countries looking for real estate in Egypt.
The search focuses most especially on areas in the New Administrative Capital, New Cairo, El Gouna, and Ain Sukhna. The report also shows that foreigners make as much as 25 percent of the property bookings, while  Egyptian expats working abroad make up 50 percent.