It remains to be seen how macroeconomic issues in Egypt, including pound devaluation and inflation will impact the real estate market in Egypt, but Property Finder has announced the findings of its latest Egypt Market Watch Report for Q1 2023. It recorded key transaction trends and insights for the country's dynamic real estate sector noting that ongoing projects, new developments, and rising demand for ownership will shape the future of real estate in Egypt.
Inflow of investments in property development
The residential and mixed-use real estate sector recorded 522 ongoing projects, worth $309.9 billion. These accounted for around 50% of the total number of projects and constituted approximately 83% of the total investments.
The ongoing real estate projects in Egypt span across 21 governorates and have reached advanced stages of development, with roughly 52% having surpassed the halfway mark. Key investment destinations included Cairo, which attracted 59% of residential real estate investments, followed by the Giza Governorate with 15%.
Q1 2023 saw eight developers commence construction on nine projects across four governorates with an estimated total cost of $1 billion and is expected to increase to 15 projects in the next quarter.
Naia Development, formerly known as Jumeirah Egypt Real Estate Investment, estimated their investment to be approximately $370 million, representing around 37% of the total investment in Q1. Meanwhile, Times Development had planned investments of around $252 million.
The majority – 44% – of the new projects are located in Cairo, while the Giza Governorate is home to 33%, concentrated in New Zayed City.
During Q1 2023, Egypt witnessed the delivery of 17 projects with a combined value of USD1.304 billion. This represents a 31% increase in volume and a 32% hike in value compared to Q1 2022. Around 24% of these projects are located in Cairo, with New Cairo being the focal point of development, accounting for 50% of the city's delivered projects and contributing an impressive 92% to their total value.
Palm Hills Developments (PHD) emerged as a prominent developer, completing 662 buildings in the Palm Hills-Fera New Cairo project at the cost of $640 million. In addition, Cairo Investment and Real Estate Development (CIRA) invested approximately $200 million in the newly delivered Katameya Dunes Compound in New Cairo.
Giza Governorate is home to 18% of the delivered projects with a total value of $108.5 million. SODIC played a significant role in Q1 2023, completing $44.5 million worth of projects in phase two of The Estates compound in Sheikh Zayed City.
Read: Economic factors may test Egypt's real estate market in 2023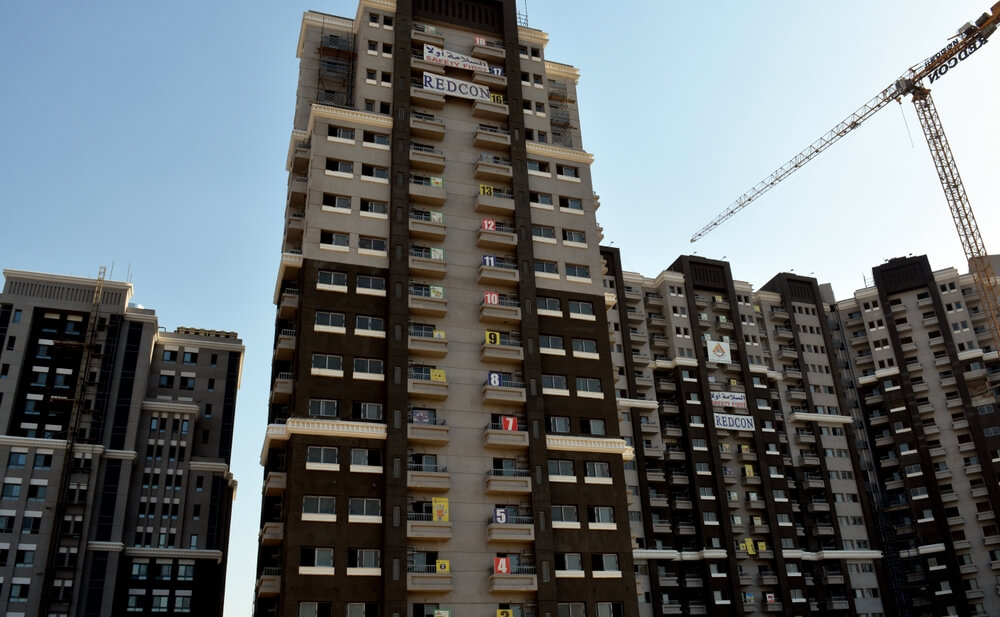 Egypt real estate ownership on the rise
The average asking price for apartments in Q1 2023 surged by 30% compared to Q1 2022, while the average asking price for villas witnessed a 25% hike. The average rent price for apartments and villas was not far behind with a 24% increase over the same period last year.
This upward trajectory can be attributed to the impact of the devaluation of the Egyptian pound and the prevailing high inflation rate on the construction costs in the real estate sector. Developers also experienced changes in profitability. Another notable trend involved buyers rushing to purchase real estate in an attempt to hedge against the drop in value of the local currency against the dollar.
The Property Finder Market Watch Report revealed that New Cairo City, 6 of October City, Hay El Maadi, Hay Sharq, and Nasr City were the top choices for those who wanted to own an apartment. New Cairo City, 6 of October City, Hay El Maadi, Madinaty, and Nasr City were the most popular options among apartment renters. Meanwhile, 6 of October City, Hurghada, Madinaty, New Cairo City, and New Capital City were the preferred areas for villa buyers, either for investment or residential purposes. Villa renters mostly leaned towards 6 of October City, Hay El Maadi, Madinaty, Mokattam, and New Cairo City.
Hay El Maadi, one of the most searched areas for renting one-bedroom apartments, saw the highest return on investment (ROI) of 9.85%. New Cairo City was the most profitable area for three-bedroom villas with an ROI of 8%.
Nervein Magdy, Country Manager of Property Finder Egypt, said: "In Q1 2023 real estate in Egypt was marked by growing investments led by a rise in ownership and property developments. As the property landscape continues to evolve, we see fertile ground for the growth of PropTech, enabling smoother home search journeys and giving home seekers more integrated solutions to get living the life they deserve."   
For more on real estate, click here.