September 26, 2022 5:53 pm
Egypt's gas export revenues up 13-fold in 8 years
108 international agreements signed valued at $22 bn for gas excavation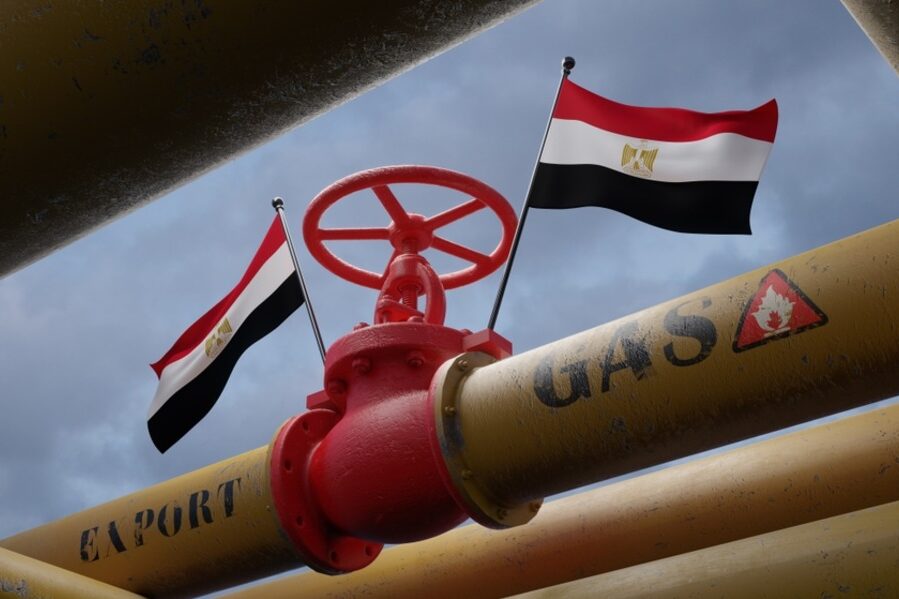 Pipeline with flags Egypt
Egypt has seen an unprecedented leap in its natural gas export revenues, which have increased 13-fold over the past eight years, according to a report issued by the Cabinet's Information and Decision Support Centre (IDSC).
Egypt's natural gas and liquified natural gas (LNG) export revenues reached $8 billion in the fiscal year 2021/2022, up from $0.6 billion in 2013/2014, according to the report.
Egypt has quadrupled its exports of LNG and natural gas over the past eight years from 1.9 million tons to 7.2 million tons.
In the same period, Egypt signed 108 agreements with international companies for the excavation of gas and petrol with a minimum investment value of $22 billion.
Egypt's production reached 69.2 billion cubic meters (BCM) in 2021/2022 compared to 41.6 BCM in 2015/2016, a growth rate of 66.3 percent, the report read.
After achieving self-sufficiency in natural gas in 2018, Egypt plans to use its position on Europe's doorstep to become a major supplier of LNG to the continent, based on recent huge gas discoveries and production.
This comes in light of European countries' desire to diversify their energy sources in order to decrease dependency on Russian gas, which accounted for 45 percent of European imports in 2021, according to the International Energy Agency (IEA). 
Egypt also has the infrastructure for transporting and handling natural gas with a network of 7,000 km in pipelines, a distribution network of 31,000 km, and 29 gas-treatment plants as well as two LNG facilities – the Idku and Damietta plants.
The IDSC report also said that Egypt ranks first worldwide in the percentage of increase in LNG exports.
According to a plan announced in August, Egypt seeks to save 15 percent on local natural gas used for electricity generation in order to increase exports that can bring much-needed foreign currency.
Exclusives