February 22, 2022 1:22 pm
Oman charges ahead with 1st EV production line
The sultanate also shows its prowess in bus manufacturing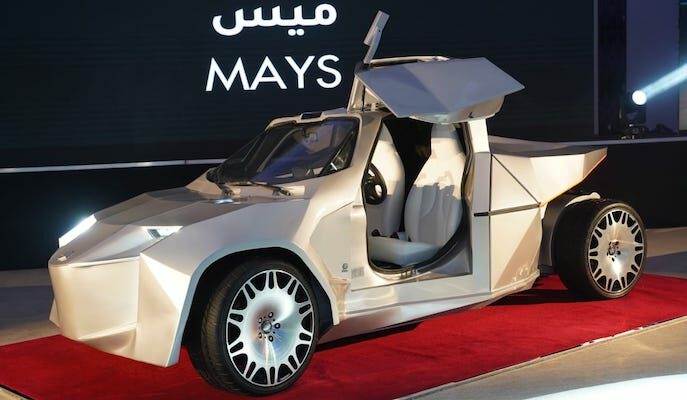 Mays iE1
Oman has launched its first electric car, hoping to become an important competitor in the young EV sector.
Funded by the Oman Technology Fund, Mays Motors showcased Mays iE1 revealing that orders have been placed for 100 vehicles.
The EV's specifications and design expertise
The specs of Mays iE1 said it can go from 0 to 100 km/hr in under 5 seconds, and reach a top speed of 280 km/hr. it features 14.5 cubic feet of storage, and a body completely built from carbon fiber.
The two-seater has a large dash with displays and controls, including door functions. one can charge the battery at home and has a driving range of over 500 km.
Mays claimed it hired designers with 15 years-experience at globally renowned high-performance car brands, including Tesla, BMW, Maserati, and Porsche.
The company is promoting e-vehicles in both Oman and globally.
The EV's price strategy and revenue model
The Mays iE1 is priced at RO25,000 ($65,000).
Haider bin Adnan al Zaabi told Muscat Daily that a factory the company plan to build for the electronic car industry in the sultanate will require $13 million.
Zaabi said that his company visited over 130 automobile factories across Italy, Germany, China, US, and India to help it conceive the Mays iE1.
He added similar cars abroad cost somewhere near $130,000.
He expects to begin production at the end of 2023 with 600 cars in the first five years, while also creating some 800 job opportunities.
Zaabi expects his company to turn over RO20 million for the first 5 years in operation, and the value of the company to increase to RO100 million in the next ten years.
Omani-made buses
While not yet electric, Omani buses manufactured by Karwa Motors in Oman are transporting Omani delegations in, to, and around Expo 2020.
Karwa Motors is a joint venture between Mowasalat Qatar, the state-owned transport company of Qatar, and Oman Investment Authority, Oman's sovereign wealth fund.
Karwa Motors is also manufacturing buses for the FIFA World Cup 2022 in Doha.
Located on a 600,000 sqm site at the Special Economic Zone at Duqm, Oman, the manufacturing facility also creates job opportunities for Omanis.
The joint investment project between Oman and Qatar aims to produce 500 buses annually.
Hisham Al Sheedi, the acting director of Economic Diversification Investments, said, "The Oman Investment Authority invests in such projects to not only support Oman's economic diversification efforts but also move us closer towards realizing our vision of developing Oman's logistics sector and establishing Oman as an industrial hub for the region."
"Moreover, the project will also help us enhance our technical expertise in the automotive sector and develop supplementary industries that will support its growth, including new small and medium-sized businesses," he added.
Exclusives