Yves Giacometti, regional vice president and General Manager at Four Seasons Hotels & Resorts Egypt, anticipates an upcoming bustling season. As tourists from across the globe flock to Egypt, they can expect an unparalleled hospitality experience that seamlessly blends the richness of history and culture with a vibrant contemporary atmosphere.
Egypt is known for its rich history and cultural heritage. How does Four Seasons Hotels & Resorts in Egypt incorporate these elements into the guest experience?
As the cradle of civilization, Egypt is more than just pyramids and temples. It is also home to pristine coral reefs, magnificent sand dunes, unique desert landscapes and a vibrant art scene. From sunset boat rides and iconic pyramids sightseeing to majestic underwater discoveries in the Red Sea and celebrated artistic craftsmanship, Egypt seamlessly blends ancient history with cosmopolitan culture in the 21st century. Here, a rich and storied past merges with a dynamic present, creating a spectacle like no other.
Read: Four Seasons Hotel Riyadh, STA partner to elevate Saudi tourism industry
With an exceptional Four Seasons collection in Egypt, we have established a strong presence in the country. Our beautiful properties in Cairo, Alexandria, and Sharm El Sheikh offer a diverse range of luxury experiences, both in terms of geography and luxury. We are perfectly positioned to leverage this interest through a variety of extraordinary, authentic, and diverse experiences curated by the unique savior faire and delivered with the genuine heart of Four Seasons.
In Cairo, Four Seasons Hotel Cairo at Nile Plaza, opens the door to discovering the vibrant and modern city of Cairo. Situated along the prime Nile riverside, our hotel provides the perfect base to explore the timeless wonders of the past with the guidance of our expert concierge team. Four Seasons Resort Sharm El Sheikh, a beachfront sanctuary, immerses you in the wonders of the Red Sea and desert adventures through our team of experts. Four Seasons Alexandria at San Stefano offers two distinct experiences in one captivating location. Whether you seek a relaxing seaside city break during the winter months or a rejuvenating beach resort getaway in the summer, our resort provides majestic scenery and a haven of serenity.
In terms of guest satisfaction, what key factors do you prioritize to ensure an exceptional stay for visitors?
A Four Seasons experience is defined by our guests themselves; everything is possible with our genuine approach to hospitality. People are the cornerstone of our achievements, and we constantly strive to empower our team members to provide the best possible stay experience for guests.
At Four Seasons Egypt, we offer highly personalized care by carefully selecting and training friendly, warm, and knowledgeable staff. Our commitment to delivering exceptional service is the result of recognizing each guest and paying attention to the important small details. By creating a personalized stay at any of our Four Seasons Egypt destinations, we ensure guest satisfaction and create memorable experiences.
Can you share any insights about guest demographics at Four Seasons Hotels & Resorts in Egypt? How do you cater to the needs and preferences of different types of guests?
Our guests encompass a wide range of individuals, including families, couples, honeymooners, short-breakers, divers, water sport and culture enthusiasts, as well as celebrities, originating from various international markets. Each guest type possesses distinct preferences. For instance, honeymooners seek solitude, romance, and entertainment. To cater to these guests, we provide tailored services such as romantic set-ups in restaurants, couples spa therapies, in-room arrangements, and romantic tours.
Families, on the other hand, benefit from dedicated amenities like easily accessible swimming pools for children and our "The Kids for All Seasons" program, which offers child entertainment to allow parents some personal time, along with babysitting services. We offer a variety of accommodation options, a wide array of activities, and facilities that cater to all needs and fulfil the guests' requests. At Four Seasons, hospitality, luxury, and breath-taking views are always guaranteed.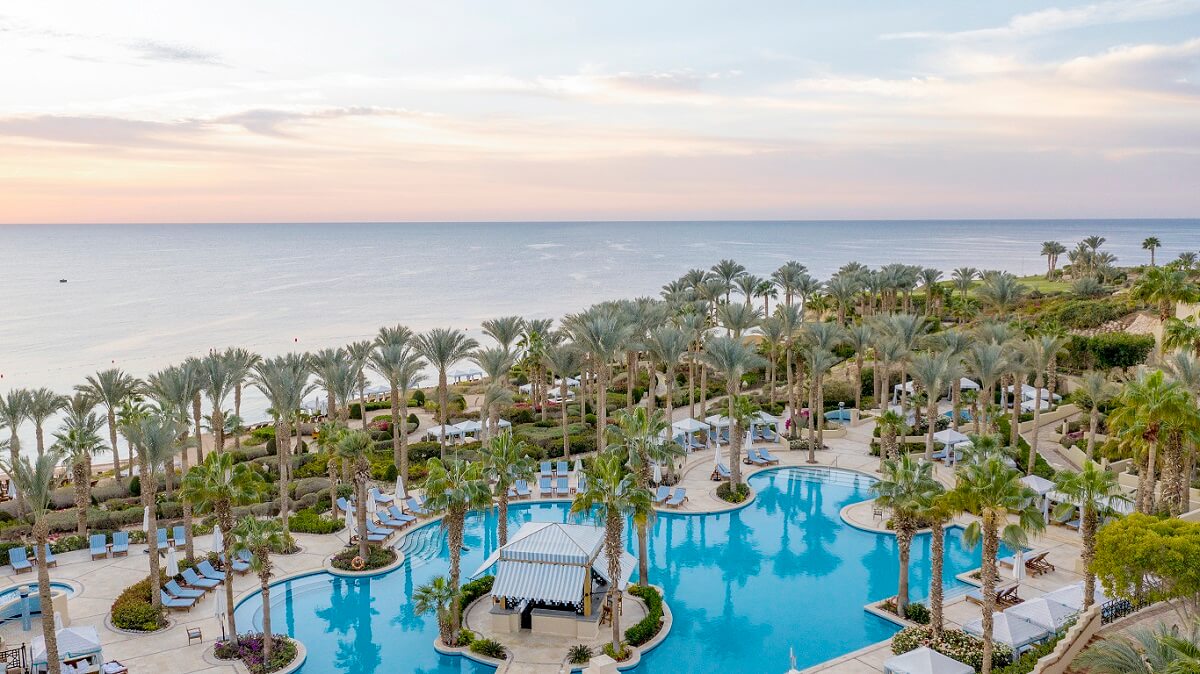 In your opinion, what makes Egypt an attractive destination for luxury travelers? How do you capitalize on these attractions?
Egypt is poised to revive its luxury tourism sector in anticipation of the grand unveiling of the "New Wonder in the Making, Grand Egyptian Museum (GEM)" in Cairo. After a silent soft launch, the museum is currently in a trial special operations period, with plans for all 12 exhibition halls to open fully later in 2023. Taking specific cities into account, Cairo, known as the "city that never sleeps," offers renowned nightlife, a vibrant art scene, and centuries-old landmarks for sightseeing. Alexandria, often referred to as "the pearl of the Mediterranean," boasts its own unique charm, while Sharm El Sheikh stands out as a rare sea-and-desert destination, showcasing stunning underwater wonders. Additionally, Luxor and Aswan collectively house one-third of the world's monuments. With such exceptional attractions, Egypt is unquestionably a must-visit destination for any traveler.
For those seeking luxury experiences, Four Seasons Egypt Hotels and Resorts provide unparalleled offerings. In Cairo, guests have the opportunity to embark on a desert adventure, immersing themselves in Egypt's 7,000-year-old history while marveling at the legendary pyramids. Illuminated by majestic colors beneath a starlit sky, the pyramids showcase the grandeur of the ancient pharaohs. Guests can enjoy this spectacle from the comfort of their private suite, accompanied by the Four Seasons chef and culinary team catering to their epicurean desires.
In Sharm El Sheikh, guests are treated to one of the world's most awe-inspiring diving destinations, boasting crystal-clear waters, vibrant reefs, abundant marine life, and notable shipwrecks that have captivated researchers and historians, including Jacques Cousteau, for decades. The Dive Centre at Four Seasons Resort Sharm El Sheikh offers a unique Red Sea dive experience at the historic resting place of the WW2 SS Thistlegorm, a British munitions ship.
In Alexandria, guests can indulge in a private evening at the 19th-century Royal Jewellery Museum, followed by a delightful dinner in the palace's Royal Gardens, prepared by the hotel chef and accompanied by live musicians.
As a leader in the hospitality industry, what trends do you see for the future of luxury travel and hospitality in Egypt?
Egypt is experiencing a surge in demand for the destination, as it is increasingly regarded as a viable choice. The summer season proves to be thriving for the leisure market in Cairo, Alexandria, and Sharm El Sheikh. Additionally, there is a growing demand from corporate and group segments, primarily originating from the GCC, Europe, and the US markets. In the upcoming year, we anticipate a sustained revival of tourism, leading to a robust and even more prosperous business environment that will contribute to the stabilization of the economic situation.
For more hospitality news, click here.