January 30, 2023 12:57 pm
GCC markets end week with mixed results on earnings
Fed meeting outcomes will play an important part in guiding markets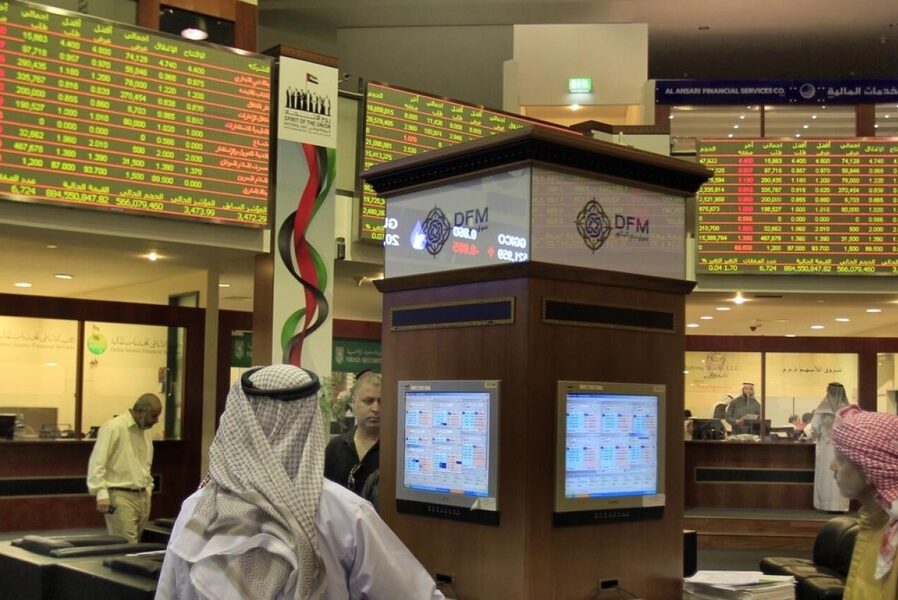 Dubai Financial Market (Image Credit: DFM)
GCC markets ended last week with mixed results. Qatar (+2.8%) advanced the most, lifted by its banking stocks, according to investor relations consulting firm Iridium Advisors.
Saudi Arabia (+1.3%) recouped its previous week's loss as the IEA and OPEC sounded optimistic that easing COVID restrictions in China will boost global energy demand.
Kuwait (+0.8%) strengthened for a third week, while Bahrain (+0.0%) closed flat.
However, Dubai (-0.7%) slipped, partly dragged down by Empower, which fell the most on January 27 since its debut. Oman (-1.0%) edged lower for a second consecutive week.
Abu Dhabi (-4.6%) was mainly dragged down by FAB, which posted lower-than-expected 4Q22 net profit and lowered its dividend for 2022.
In the US, while the Nasdaq Composite (+4.3%) advanced for a fourth straight week, the S&P 500 (+2.5%) and Dow Jones (+1.8%) recovered their past week's loss, the report said.
The strength on Wall Street was led by some upbeat economic data, which eased recession fears, though concerns remained about the interest rate outlook. Earnings also supported the markets. In Europe, all but the FTSE100 (-0.1%), STOXX 600 (+0.7%), DAX (+0.8%), and CAC 40 (+1.4%) recouped their prior week's loss.
Regional activity this week
This week, apart from earnings, the US Fed policy meeting outcomes will play an important part in guiding the markets. In addition, equity market participants will keep tabs on the OPEC+ Joint Ministerial Monitoring Committee on February 1.
In terms of corporate activity, ADIB, ADCB, Mashreq Bank, DFM, Borouge, NCT&H, National Marine Dredging, Mabanee, and AUB, among others, are expected to hold board meetings and publish 4Q 2022 financial results. Separately, Saudi Paper Manufacturing Company will seek shareholders' approval for a buyback of 1 million shares and keep them as treasury shares, whereas shareholders of Aman will vote on transforming the company's activity into an investment company.
The FED
In the US, investors will keep a keen eye out for Federal Open Market Committee (FOMC) decisions as well as nonfarm payroll reports, Iridium observed. The industry expects the Fed to continue slowing its pace of rate hikes. In spite of the recent layoffs, the nonfarm payroll report is expected to show job growth. In the EU, the highlight will be the ECB meeting, as everyone will wait for the rate decision along with the GDP and inflation numbers. While in the UK, the Bank of England (BoE) will be making interest rate announcements as well. The industry expects the BoE to raise rates by 50 bps.
For more stock market news, click here
Exclusives