Economic relations between Gulf Cooperation Council (GCC) countries and China have seen a significant improvement in the last few years, with Hong Kong as a major trade corridor. The city, which is also a Special Administrative Region (SAR) in China, recently hosted the 8th Belt and Road Initiative (BRI) Summit, and the event prominently underscored its rising economic role. 
Connecting China and the GCC
For the first time, China's economic initiative saw sessions dedicated to the GCC. This reflects the continuously warming China-Arab ties. In addition, it underlines Hong Kong's pivotal part in connecting such major economic players. 
One of the sessions was a policy dialogue that focused on advancing investments, financial services, and developmental strategies between Belt and Road nations and the Middle East. The BRI, first unveiled by China in 2013, aims to create new trade routes to foster economic growth. Currently, nearly 150 countries have joined the initiative. GCC nations such as the United Arab Emirates (UAE) and Saudi Arabia are among the members. 
During his remarks, Fahd bin Abdulmohsan Al-Rasheed, advisor in the General Secretariat of the Council of Ministers of Saudi Arabia, discussed the country's ambitious Vision 2030 project. According to him, "a key part of Vision 2030 [is] the innovative city of NEOM, a technology-focused metropolis being built from scratch, stretching inland from the Red Sea coast in the northwest of the country."
"The Middle East and Saudi Arabia had a lot to contribute to the Belt and Road. The Red Sea, which runs along the Kingdom's west coast, carried 30 percent of the world's shipping," he continued.
Saudi Arabia
In 2022, Saudi Arabia served as China's largest trading partner in the Middle East, with bilateral trade reaching $106 bn.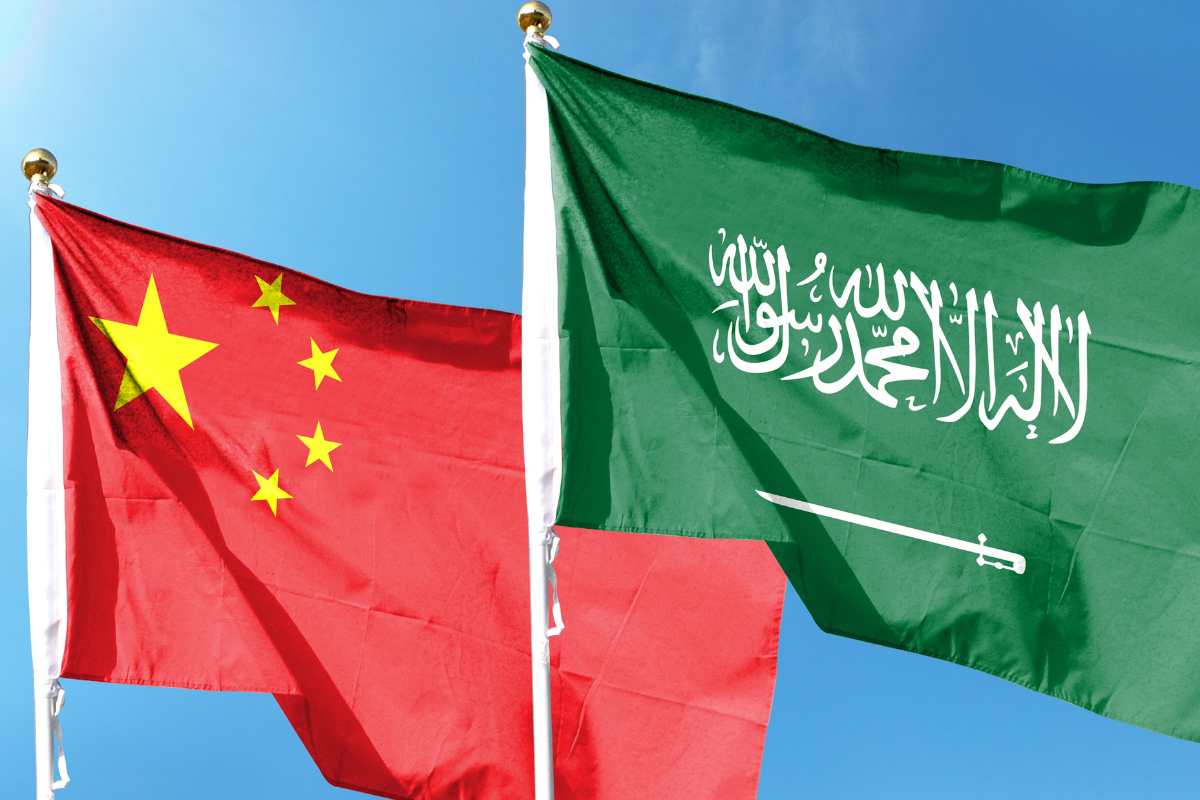 Building on its ties with China, Saudi has also seen its relations with Hong Kong flourish this year. In fact, during a visit by Hong Kong Chief Executive John Lee to Saudi Arabia in February, key agreements were reached. Collectively, the aim is to explore more collaboration opportunities between the two. 
Notably, the Hong Kong Stock Exchange and Saudi Tadawul, the country's stock exchange, signed an agreement to delve into several areas. These cover fintech, initiatives related to Environmental, Social, and Governance criteria, and cross-listings. This endeavor could offer ways for Chinese investors to fund Arabian companies, and vice versa.
Moreover, Hong Kong's Hutchison Ports also entered into a concession agreement for the management and operation of the dry port and bonded logistics zone within Saudi Arabia's King Salman Energy Park (SPARK), further expanding trade growth. 
Trade and technology
At the BRI summit, this growing partnership saw another landmark development. At the event, the Saudi Arabia-China Entrepreneurs Association (SCEA) inked a Memorandum of Understanding (MoU) with the Hong Kong Trade Development Council. The goal is to strengthen trade and business ties between the two territories.
SCEA, a non-profit initiative by venture capital firm eWTP Arabia Capital, has actively facilitated collaborations between Saudi and Hong Kong. These include MOUs with companies from mainland China and Hong Kong. They also played a role during the July visit of Abdullah Al-Swaha to the city. Al-Swaha is the Saudi minister of communications and information technology.
"Hong Kong and Saudi Arabia are going through very promising transformations, where both economies are financial hubs in their own regions. We have an opportunity to build an innovation bridge, to leapfrog into the future with an innovation-based economy," said Al-Swaha.
According to him, the broader goal is to leverage the city as a gateway to tap into mainland China's capabilities. He specifically lauded the territory's cutting-edge digital prowess. The minister identified various areas of cooperation, including technological entrepreneurship and venture capital funding.
Read: Saudi, UAE, among 6 countries agreeing to join BRICS
The United Arab Emirates
Saudi Arabia is not the only Middle Eastern country benefiting from Hong Kong's role as a link to China. 
Based on 2021 figures, UAE exports to Hong Kong hit $10.7 bn. This number is higher than the country's $9 bn worth of exports to mainland China. In an interview with AGBI, Redmond Wong, a Saxo Bank analyst based in the city, said that "this underscores Hong Kong's role in re-exporting UAE imports to mainland China."
The following year, the UAE also emerged as Hong Kong's biggest trading partner in the Middle East. Non-oil trade alone reached $11.7 bn. 
Juma Al-Kait, assistant undersecretary for International Trade Affairs at the UAE Ministry of Economy, already voiced the same observation as Wong's in a previous statement. He stressed that "Hong Kong is a major re-exporter into mainland China."
"As such, will continue to play a major part in enabling UAE businesses to explore opportunities in not just the Guangdong-Hong Kong-Macao Greater Bay Area, but also the whole country," he continued. Additionally, he cited that there is an "enormous amount of untapped potential in a market of 1.4 bn people."
What sets Hong Kong apart as a linchpin in fostering economic integration between China and the GCC is its strategic location. It serves as an "entrepôt" between the two, as described by Wong.
Amid this burgeoning trade landscape, over 420 Hong Kong enterprises have also successfully established a presence in the UAE. These include major companies such as Cathay Pacific and Hutchison Ports. Meanwhile, the SAR also inaugurated its Economic and Trade Office in Dubai back in 2021. In a reciprocal move, Dubai Chambers announced the opening of an office in Hong Kong in February. 
More partnerships
Most recently, at the Hong Kong-hosted BRI summit, Chinese Vice President Han Zheng held a meeting with Saqr Ghubash. Ghubash serves as the speaker of the Federal National Council, the UAE's elected consultative body.
Ghubash expressed the country's intentions to solidify cooperation with China in various fields. These encompass bilateral economic trade, investment, cultural exchanges, and the development of smart cities. 
With more potential partnerships on the horizon, the city's role in bridging, the UAE, Saudi Arabia — and the rest of the GCC — to China will only be more prominent. 
For more economic news, click here.