Investopedia's second annual conference in Abu Dhabi has further solidified the event's global reputation as a forum for experts to discuss global issues, shape emerging sectors in the economy, and identify opportunities, particularly during times of change.
The launch
On March 2nd, H.E. Abdulla Bin Touq Al Marri, the Minister of Economy and Chairman of Investopia, launched the second edition of Investopia, a global investment platform that brought together over 2,000 investors, government officials, thought leaders, and entrepreneurs.
These participants engaged in 35 sessions and roundtables, where more than 100 speakers – including investors, thought leaders, and decision-makers – discussed various topics such as institutional asset allocation, AI, emerging markets, venture investing, digital assets, mobility, biotechnology, and more.
Of the Investopia participants, 56 percent were from the UAE while 44 percent represented more than 100 nationalities from abroad. Among them, 75 percent were from the private sector, 13 percent from the public sector, 6 percent from academia and students, and 6 percent from other international organizations and diplomatic missions.
Read: International companies enter the UAE market through Investopia
Bin Touq stated, "The UAE is now focused on doubling economic growth, increasing foreign direct investment, and investment outflows. The recent 100 percent foreign ownership policy has led to a significant increase in demand from international companies to operate in the UAE, which is expected to generate revenue of AED 2.2 trillion."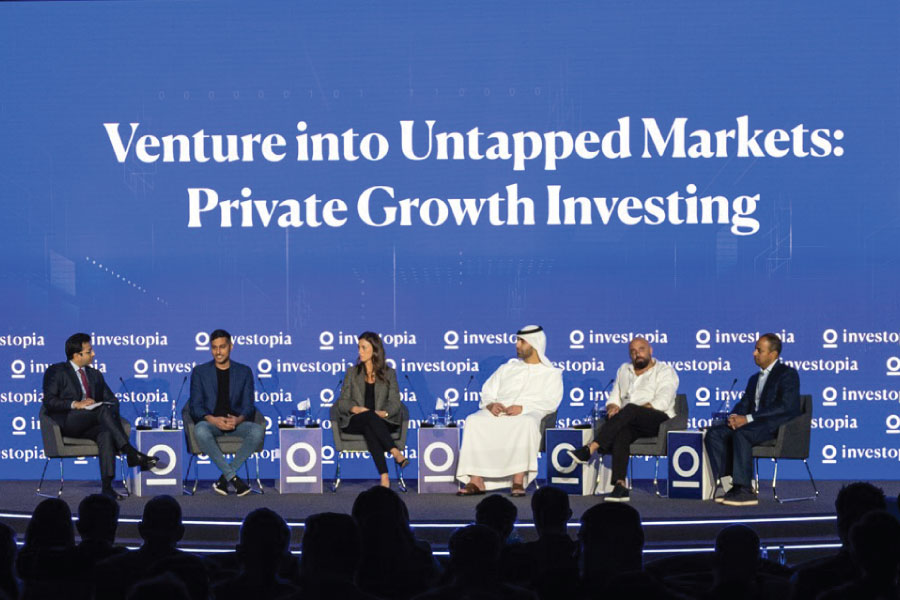 Anthony Scaramucci, the founder and chairman of SALT and Investopia's strategic partner, praised the UAE's efforts in investing in and attracting fintech talent through its effective balance between common-sense regulation and innovation. He noted that "the global financial sector has the largest market capitalization of any industry in the world, and financial technology threatens to upend the status quo."
H.E. Ahmed Jasim Al Zaabi, the Chairman of the Abu Dhabi Department of Economic Development (ADDED), said: "Over the past years, Abu Dhabi has undergone a remarkable journey of phenomenal transformation, fueled by the ambition of economic diversification, and today we are experiencing our golden era – what we are seeing is the rise of a Falcon Economy."
The "Marketplace": An innovative investment platform
Investopia has launched its "Marketplace" investment platform to establish the UAE as a top global investment destination, with a focus on attracting more foreign investments in various economic and commercial sectors, particularly in the emerging new economy sectors.
In this regard, Bin Touq emphasized that the UAE has implemented competitive and flexible investment policies that have played a crucial role in enhancing the investment climate and positioning the country as a prominent player on the global investment map.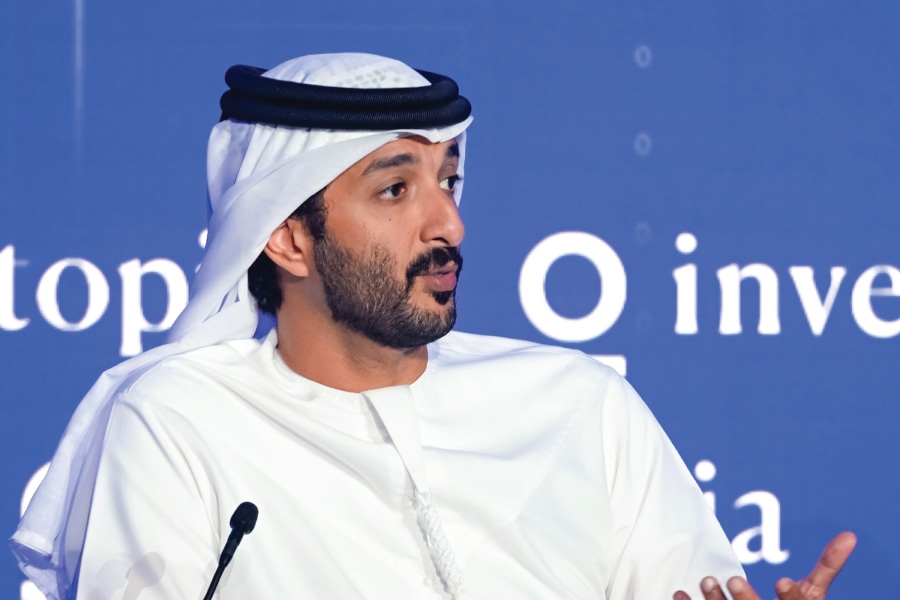 He further noted that the "Marketplace" platform aligns with the UAE's ambitious vision, "We the UAE 2031," which seeks to position the country as a leading global partner and a desirable and influential economic center.
The platform provides new investment opportunities and resources to businesses through a single portal, enhancing the country's attractiveness to potential investors and supporting the national goal of doubling the gross domestic product to reach AED 3 trillion by 2031.
The Marketplace is accessible to members of the Investopia community, including local, regional, and global partners, venture capitalists, angel investors, institutional investors, large investment funds, sovereign wealth funds, family investment offices, and banks.
The platform offers investment opportunities in all promising sectors of the new economy, such as renewable energy, healthcare, transportation, logistics, agricultural and financial technology, and other emerging sectors.
Investopia will collaborate closely with its strategic partners and industry leaders, such as the International Finance Corporation (IFC), SALT, Crypto.com, and iConnections, to develop this newly launched platform. Further details will be announced soon.
The platform functions by allowing companies, institutions, and governments to present their investment projects and opportunities, including sectors, locations, stages, goals, and required capital. The Investopia community of investors and partners then evaluates projects and selects those that fit their portfolios and investment strategies.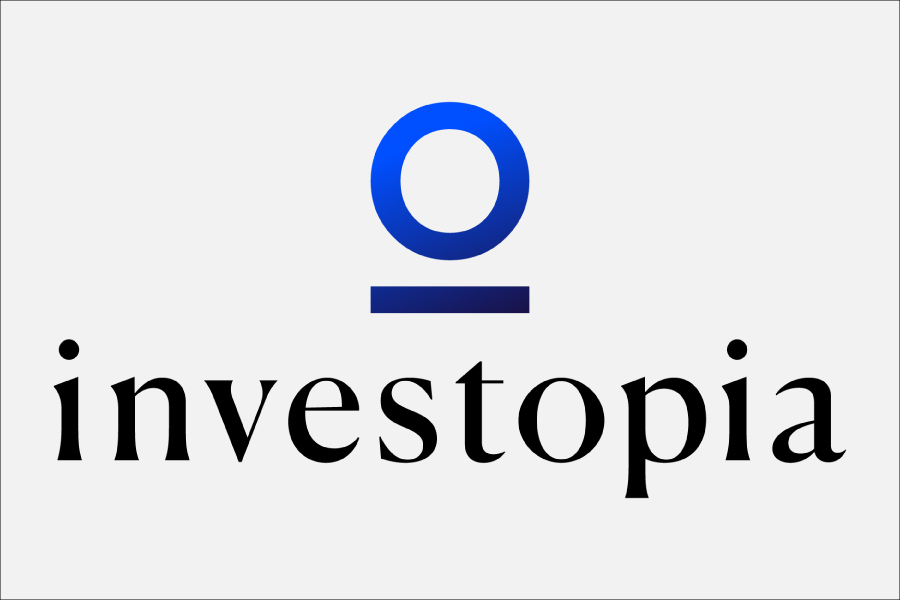 The "Marketplace" currently offers a diverse range of investment projects proposed by various countries around the world, with a particular focus on the energy sector, including hydropower projects from various countries, as well as agricultural projects from Kyrgyzstan. Additionally, there are energy and electricity projects from Romania and other sectors represented.
Investopia has set an ambitious target of accelerating the pace of investment attraction in the country to AED 550 billion by 2031 and AED 1 trillion by 2051. The UAE has already attracted FDI worth $20.7 billion in 2021, with a growth rate of 4 percent from the previous year, positioning the UAE in first place in West Asia, the Middle East and North Africa.
According to a report issued by the Institute of International Finance, foreign direct investment inflows to the country are expected to reach $22 billion in 2022, representing 4.3 percent of the gross domestic product.
 The first Council for fintech leaders in MENA
The MENA Fintech Association has launched "The Council" at Investopia, which is the first exclusive gathering of influential fintech leaders and experts in the MENA region. The Council will have strong participation from the leading countries and financial companies in the region's fintech landscape.
According to Nameer Khan, the Chairman of the MENA Fintech Association, the fintech industry is playing a crucial role in driving economic growth and shaping the economic future of the region. The Council will provide a platform for industry leaders to collaborate and drive the industry forward.
The agenda for the Council will focus on various topics, including economic diversification, inflation, emerging risks, scenarios, regulations, and climate change. The Council will meet quarterly, and attendance will be by invitation only.
Investopia recently hosted a session on the "Fintech Revolution," where industry leaders discussed the UAE's role in fintech innovation, the use of cryptocurrencies and the benefits of blockchain technology in revolutionizing financial infrastructure centers. Various programs, such as Abu Dhabi's Development Accelerators Program "Ghadan 21," are aimed at revolutionizing banking in the region.
The UAE is currently leading the fintech market in the MENA region, with a record-high of $2.5 billion in 2022, according to a report by Mordor Intelligence.
UAE's commitment to sustainability and global trade
Industry leaders in trade and investment from around the world gathered at Investopia for a session titled "Beyond Borders: Harnessing the Power of Global Trade for Investment & Growth," highlighting UAE's role in global trade, investment, and growth.
H.E. Dr. Thani Al Zeyoudi, Minister of State for Foreign Trade in UAE, mentioned the country's impressive 78 percent year-on-year growth in trade figures and pointed out that the global reshuffling of economic gravity presents an opportunity for the UAE to position itself as a key player in the global value chain.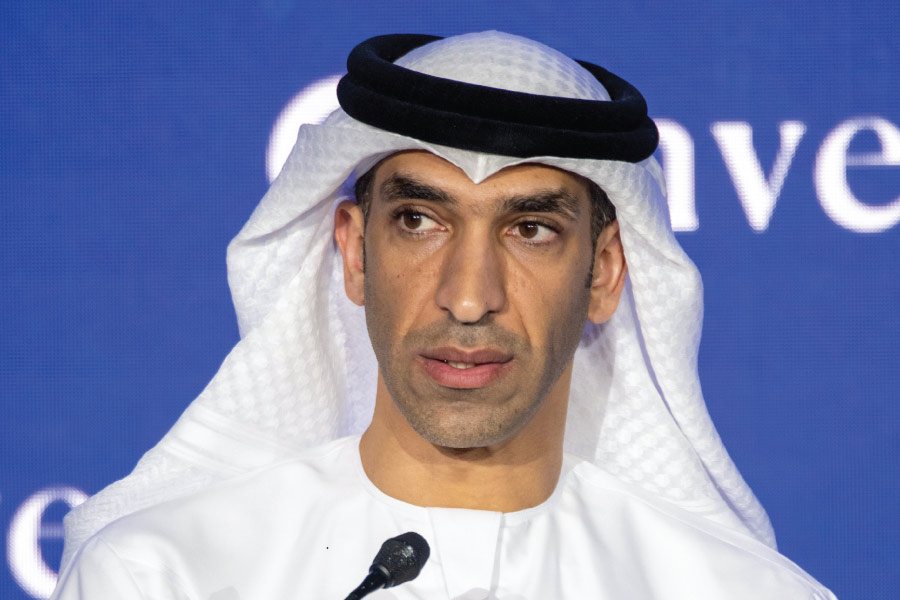 Al Zeyoudi also highlighted that in 2021, the UAE achieved an impressive 17 percent growth in trade figures, with a total of 2.3 trillion dirhams. He also emphasized the UAE's commitment to sustainability, noting that 25 percent of the country's power comes from clean energy sources, while 75 percent is generated from one of the cleanest conventional sources of energy available.
Meanwhile, Samaila Zubairu, CEO of the Africa Finance Corporation, highlighted the growth of the electric mobility market, which is geared to reach $50 billion by 2050, and the need for 2.5 million tons of minerals and metals for electric vehicles and batteries, many of which are located in Africa. He emphasized the need to bring voluntary carbon markets to life during COP28.
Chris Cox, Global Head of Trade and Working Capital Solutions at Citi, spoke about the challenges of the global supply chain and emphasized the importance of digitization and logistics incentives as trade remains fragmented.
Women's role in the investment community
This year at Investopia, distinguished female entrepreneurs from around the world convened to discuss initiatives that promote businesses based on ethical principles.
Research has shown that women entrepreneurs launch businesses at a rate 1.5 times higher than their male counterparts, addressing some of the world's most significant challenges and driving innovations that will shape the future.
However, investment firms led by women receive only 2 percent of all venture capital, with a disproportionate amount being invested in funds that focus on consumer goods.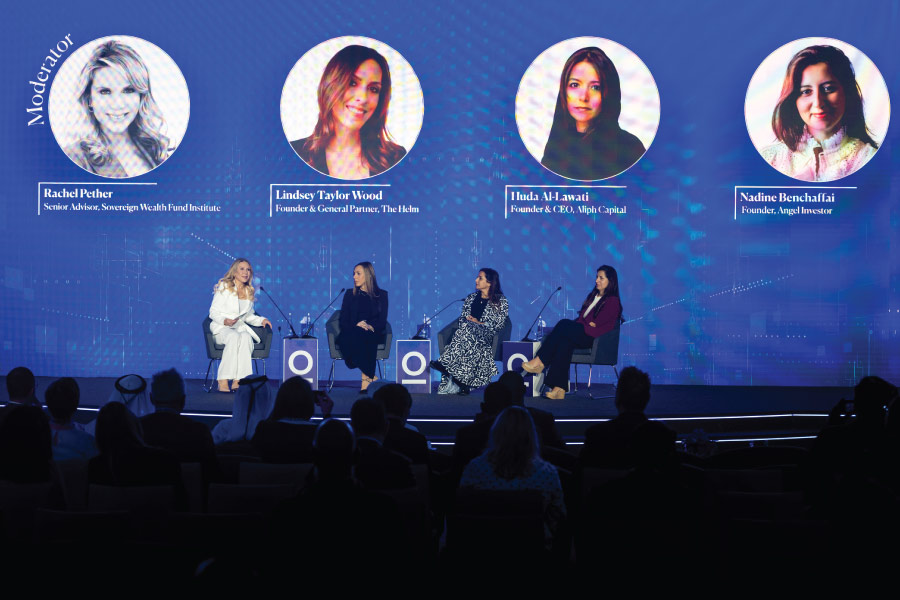 Lindsey Taylor Wood, Founder & General Partner at The Helm, emphasized that data from multiple institutions and resources over the past decade clearly demonstrates that women-led businesses perform better, and yet this data is being ignored. She highlighted that women-founded companies perform 63 percent better and report 35 percent higher returns.
Huda Al Lawati, Founder & CEO at Aliph Capital, emphasized that the investment community should avoid bias in their assessment and be open-minded to listen to people, regardless of their gender.
Nadine Benchaffa, founder of Angel Investor, said that having more women on the investors' side can help to eliminate bias and rebalance investments.
Wood emphasized that women with wealth have the power to bring about change. By investing in good businesses irrespective of gender and refocusing on good business, women can create a more diverse and inclusive business landscape.
Quantum computing & AI
At Investopia's session titled "Quantum Leap: Transforming Industry Through Quantum Computing & AI," speakers discussed the integration of technology into every aspect of work to create opportunities and solve shared problems.
Jan Goetz, CEO and Co-Founder of IQM Quantum Computers, highlighted the potential of quantum technology in the application of AI, enabling faster problem-solving. He explained that with a normal computer, simulating a molecule takes millions of years, but with quantum technology, it takes days or even minutes. This disruptive technology has the potential to solve problems in all industries, particularly in optimization and supply chain realms.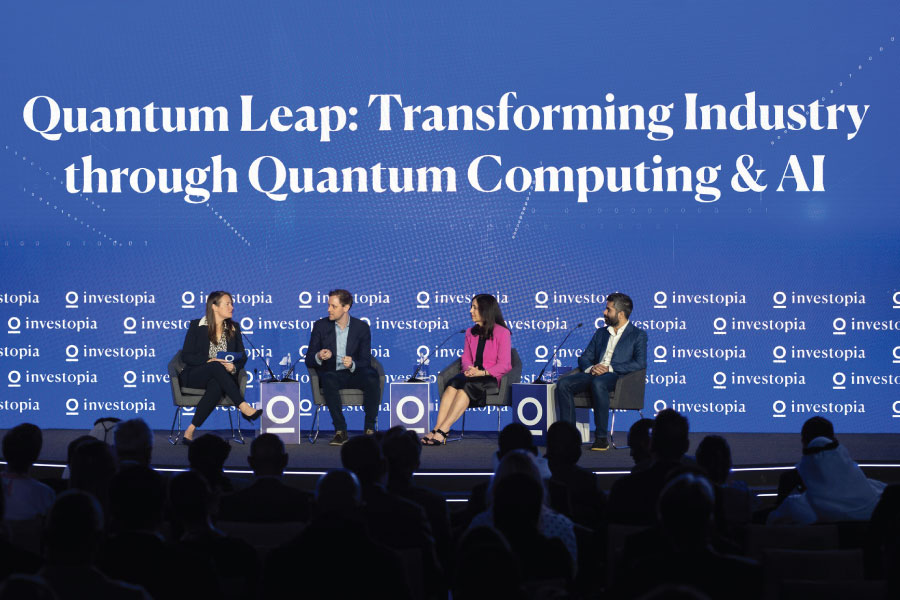 Goetz also emphasized that we are at the beginning of the development of this emerging technology, and there are vast opportunities for building the industry together. Investment in quantum computing is expected to be the new economy for the next two years.
Joanna Shields, CEO of BenevolentAI, discussed the increasing use of large language models, like ChatGPT, in AI and the potential ethical issues that come with it. She highlighted the exciting development of these models for specific purposes, such as deciphering complex diseases, and the ability to combine data from various sources for better decision-making.
Shields emphasized the importance of putting AI technology in the hands of thousands of scientists to have a broader impact on society by advancing disease biology research.
Meanwhile, Herman Narula, CEO & Co-Founder of Improbable, talked about the potential of the Metaverse and its applications in various industries, such as sports, music, gaming, and defense.  
Opportunities in untapped markets
At Investopia, global leaders discussed unique strategies for investing in untapped markets in a session titled 'Venture into Untapped Markets: Private Growth Investing'.
Arjun Sethi, Co-Founder & CEO of Tribe Capital, emphasized the importance of quantitative analysis in capitalizing on investment waves but also noted the need for experienced investors to focus on the long-term durability of companies. He argued that venture capital's short-term focus detracts from long-term durability, which is crucial for success.
Ravi Viswanathan, Founder & Managing Partner of NewView Capital, suggested firms should prioritize high-velocity profit-making and prepare for long periods of downturn by managing reserves effectively.
Noor Sweid, Managing Partner of Global Ventures, highlighted the significant growth of the region's ecosystem in the last five years, although it is still in its infancy compared to other regions. The company is betting on two industries – supply chain tech and agritech – to be completely different in the next five years.
Ahmed Al Nowais, Founder & CEO of Annex Investments, mentioned that many startups in the region struggle to find the right talent, leading to failure.
Ron Daniel, Founder & CEO of Liquidity Group, emphasized the need for new methodologies to keep pace with the fast-moving market. He suggested a hybrid approach of human and machine learning for critical decisions rather than relying solely on machines.
For more on Investopia, click here.