February 6, 2023 6:16 pm
Investopia signs new partnership with EDB
To drive industrial transformation in the new economies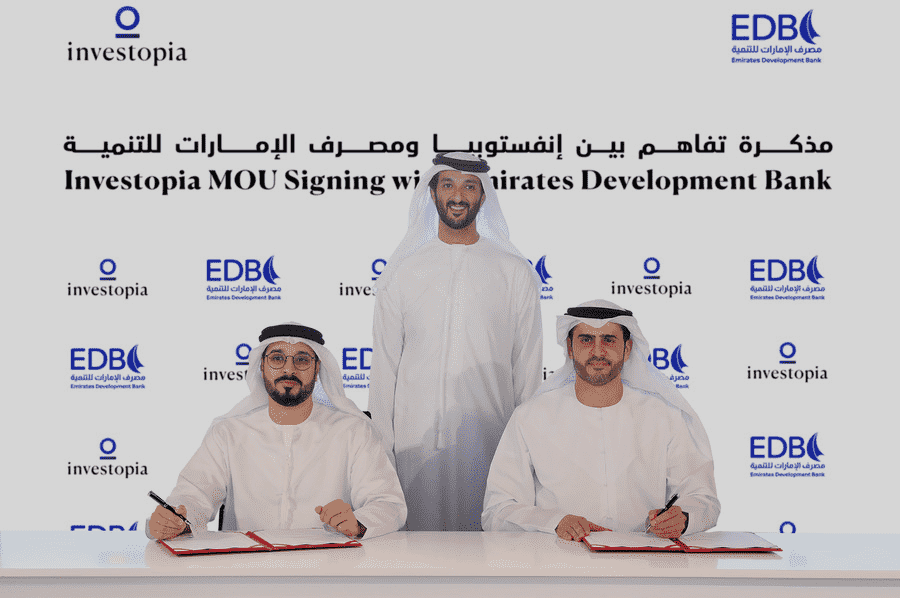 (Standing) Abdulla Bin Touq Al Marri, UAE Minister of Economy and Chairman of Investopia; (Sitting from right) Mohamed Naser Al Zaabi, CEO of Investopia, and Ahmed Mohamed Al Naqbi, Chief Executive Officer at Emirates Development Bank (Photo Credit: Investopia)
Investopia, the global investment platform launched by the UAE Government in September 2021, announced a new partnership by signing a Memorandum of Understanding (MoU) with the Emirates Development Bank (EDB), one of the key financial engines for the economic development and industrial advancement of the UAE.
Abdulla Bin Touq Al Marri, UAE Minister of Economy and Chairman of Investopia, witnessed the MoU signing during a ceremony held in Dubai on 6 February 2023. The agreement was signed by Mohamed Naser Al Zaabi, CEO of Investopia, and Ahmed Mohamed Al Naqbi, Chief Executive Officer at Emirates Development Bank.
Read more: Investopia partners with fintech platform iConnections
Under the terms of the MoU, this partnership establishes the foundation for a joint collaboration between Investopia and Emirates Development Bank, which will see both entities leverage their core capabilities, to drive forward economic growth, diversification, and industrial transformation in the new economies, in their capacities, as a leading financial institution, and as a global thought leadership and investment platform connecting opportunity with capital, respectively.
Commenting on the partnership, Mohamed Naser Al Zaabi, CEO of Investopia said: "Through this partnership, Investopia and EDB will collaborate to enrich the discussions in the new economies, mainly during Investopia annual conference in March 2023. There are many similar areas and sectors that both Investopia and EDB are focusing on such as technology and healthcare, and this would help Investopia's investment community discuss and identify investment opportunities in vital sectors".
Ahmed Mohamed Al Naqbi, Chief Executive Officer at Emirates Development Bank said: "Our mission is to drive growth in a sustainable economy while also forming partnerships that will contribute to the economic growth and industrial advancement of the nation."
For more economic news, click here
Exclusives