May 16, 2022 12:38 pm
Issam Kazim on Dubai and the Future of International Travel
The secrets behind Dubai's successes revealed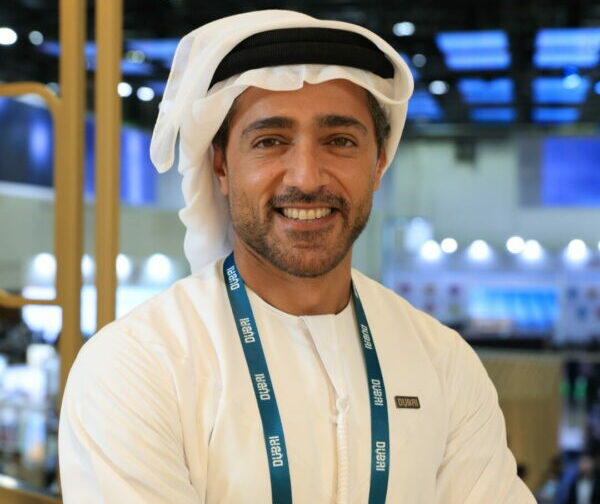 Issam Kazim, CEO of Dubai Corporation for Tourism and Commerce Marketing
One of the busiest Arabian Travel Markets ever recorded proves global travel is well and truly on the mend.
Economy Middle East speaks to Issam Kazim, CEO of Dubai Corporation for Tourism and Commerce Marketing, about the secrets behind Dubai's successes and what the future holds for the industry.
Dubai came out of the Pandemic as one of the strongest and safest destinations. What was your strategy throughout, and the lessons learned?
It all goes back to the decisive leadership, and their decisions. Safety and security were the most important things from the start. We wanted to always make sure people realize how safe Dubai is as a destination.
2019 was a very successful year,  with 16.73 million tourists visiting Dubai, which are record numbers for us. We reached the No.4  position globally in terms of international visitations. We started off January and February 2020 with a 4.2% growth year on year, then came March. Dubai was one of the first destinations to shut down completely, with a proper curfew land ockdowns. Swiftly, the government launched an app that controlled movement, yet allowed people access to essentials.
As a department, instead of encouraging tourists to come to Dubai, we relayed the message, "Until we meet again," stay put, stay at home, stay safe. We saw this resonating and searches for Dubai increased immediately. A couple of weeks later, we continued becoming more tongue and cheek in our approach, to stir up excitement about traveling. Our ads showed people practicing arranging their living rooms, and contrasting that with an empty, yet perfectly manicured golf course in Dubai, saying, "Ready when you are". We saw real engagement.
Back in the office, work never stopped, engaged in virtual meetings, putting together new processes, and launched Dubai Assured. This would give stamps of approval to institutions that adhered to the new safety and security guidelines. Come May 2020, we opened for domestic tourism with much stricter guidelines than needed, monitoring the pandemic and adjusting as we went on.
This included everything from how people register at an event, how the queuing system works, safe distancing, and sanitization. And the same applied for F&B establishments. With all this in place, we opened international by July 2020 and never looked back. 2021 numbers show we had 7.28 million tourists, which is not big compared to 2019, but big considering where the world was at that point in time. In Q1 of 2022, we recorded close to four million tourists coming to Dubai.
How has Dubai capitalized on remote and hybrid work trends, from tourism and commerce perspectives?
After the first lockdown, tourists and guests were not able to go back due to of border closures. In response, the leadership decided to extend visas. And by winter, it looked like people didn't want to go back, thanks to the Dubai sun, sand, sea, and of course the way our city functioned during these difficult times. Many took the decision to work from home, but from Dubai.
We launched a campaign encouraging people to come and work from home, from Dubai. This was followed by a new visa program, 'Remote Working Visa'. Then came the 'Freelance Visa', which encourages multinationals that are set up over here to bring in specific expertise working out of Dubai for specific periods of time. Then came the 'Retirement Visa' for those residing in Dubai who want to live here permanently. Finally, came the 'Golden Visa'. This is to encourage people of different professions, be it athletes, celebrities, doctors, engineers, or architects, to choose Dubai as a place to work and live. It also applies to students who have scored high GPAs. We see that a lot of multinationals and high-net-worth individuals are moving their family offices to Dubai, which makes us a prime location to recruit all these amazing talents.
What does the end of Expo 2020 mean for Dubai?
With Expo, the idea was always about what it will leave behind. We had 192 pavilions and countries participating in a six-month event. It's the largest country participation in Expo history. We got 24 million visits to the Expo site, where many business deals were concluded. Let's bear in mind that Dubai is home to 200 different nationalities, which make up about 80% of the population. Every day is an Expo, in Dubai. With Expo, we were, one more time, able to show how Dubai conducts itself, how the business level decisions are made, quickly as well as how agile and nimble the city is.
As for the site, we're looking at the venue, the location, and the destination as a place for businesses to still come in and set up. There are plans for a new tech hub for R&D, to bring in all the new talents from around the world, and to have start-ups set up shop within that space. It'll be a young, vibrant heart of that part of the city to take us into the future, working towards the 2040 urban master plan of the city.
Do you see MICE and the events industry coming back in full force?
As we set out the measures for coming back and opening-up in May 2020 for domestic tourism, and then July for international tourism, we continued to have international events, many in hybrid format. That being 50-50, virtual and physical attendance. Very quickly, we started focusing more and more on physical visitations. The 2021 Arabian Travel Market was the first travel trade event that took place globally during the pandemic. I remember before the pandemic people talking about how meetings and conferences are a thing of the past, but the minute physical events re-started, we saw how inaccurate the presumption was. Now we know, virtual will not replace physical presence, however, hybrid might be the way forward if people cannot make it for whatever reason.
Going forward, it's all about ensuring events are growing in Dubai. We don't leave it to chance. We work with every single stakeholder and partner, to see how the government of Dubai can bring in other government and private sector stakeholders together. It's imperative they get the full support, so we win more bids collectively. We also support the industry to keep growing their attendance, their visitation, and their experiences, and the aim is for every single one who comes to Dubai extends their stay, or comes back again and again.
What does the future of international Travel and Tourism hold?
I think the pandemic taught us to enjoy life, and to travel more. Leisure travel, in some cases, might increase throughout the year, but become less in terms of destinations per year for the individuals. For the traveling party, longer periods of time and stay, where they are likely to explore and experience things more than they would have in the past. With that in mind, when people travel for business, I think the business & leisure combination will become more and more important going forward.
Now, there's group travel that was a big share of the traveling market in the past. I think FIT (flexible independent travel) will become a lot more important going forward because people seek their own trips, which will certainly have an impact.
In terms of information about destinations, trends show a move towards digital. Whether it's key opinion leaders, or certain platforms, the flow of information is from digital sources. We make sure that Dubai is ever-present in these spaces, and is able to deliver the message in the best way possible.
A lot of people are talking about the Metaverse. Dubai will be involved in this space. From a travel and tourism perspective, it's still new, but that doesn't mean we're going to ignore it. You'll see us there soon, we'll be working with the best of the best within this space to understand how Dubai as a destination can be present. The way that I see it, it's a good way to introduce people who've never considered Dubai in the past and give them a flavor of what Dubai is all about. This is going to be a big focus.
Another vertical we've been focusing on as part of our strategy for a while is gastronomy. The food scene in Dubai is something that everyone has been talking about. Every tourist that comes to Dubai is pleasantly surprised by the offering. This reflects the 200 nationalities that live in the city. We've got authentic restaurants from different nationalities, amazing fusions, high quality of service, and maximum levels of hygiene measures in place. I can confidently encourage anyone to eat anywhere in Dubai, with total peace of mind. In March we announced that Michelin is going to be here. And in June 2022 there will be the first Michelin guide in the region, a Dubai guide. We're all eagerly waiting for this.
Exclusives