According to Oxford Business Group's 'Report: Kuwait 2022', Kuwait is on the verge of major economic diversification and project completion efforts that will drive policy changes and infrastructure projects. 
Helped by increased oil revenues and augmented economic activity post-COVID-19, Kuwait managed to narrow its budget deficit for FY 2021/22 year and record GDP growth of over 8% in 2022. This reflects a strong recovery after growth contracted by roughly 8.9% in 2020 due to the challenges posed by the pandemic.
The country has a project pipeline approximated at more than $170 billion across various sectors, ranging from oil and gas, to innovation-driven ICT. 
Budget, debt, and growth
In fiscal year (FY) 2020/21, Kuwait recorded a budget deficit of $35.5 billion, where a public sector wage bill took up 75% of the total, according to OBG.
In the budget for FY 2022/23, adjusted in November 2022 by Kuwait-based financial advisory firm AlShall Consulting, total revenue would reach $104.7 billion by the end of the fiscal year in March 2023. Around $62 billion was initially forecast. 
A recently elected government will be tasked with implementing a value-added tax (VAT) and, potentially, a selective excise tax of 10-25% on tobacco products, carbonated and sweetened drinks, and also luxury goods such as jewelry, luxury cars, and yachts. Most foreign companies pay a corporate income tax of 15%, but the country has no wage tax.
Kuwait is keen to do away with current obstacles to a new debt law that would permit the issuance of international bonds to finance budget deficits. Government debt remains relatively small as a proportion of GDP, at 7.1% in 2022, and is forecast to drop to 6.9% in 2023.
Up till now, any additional financing needs are drawn from the  General Reserve Fund (GRF), a multibillion-dollar oil export fund overseen by the Kuwait Investment Authority (KIA), which also manages the Future Generations Fund (FGF), a portfolio with over $700 billion created to preserve oil wealth for future generations. 
Kuwait's crude oil reserves total nearly 101.5 billion barrels and the hydrocarbons industry accounts for over 50% of GDP and 85% of government revenues.
The World Bank's October 2022 "Gulf Economic Update" report expected GDP growth to be 8.5% in 2022 and 2.5% in 2023, and inflation at 4% in 2022, dropping to 2.5% in 2023.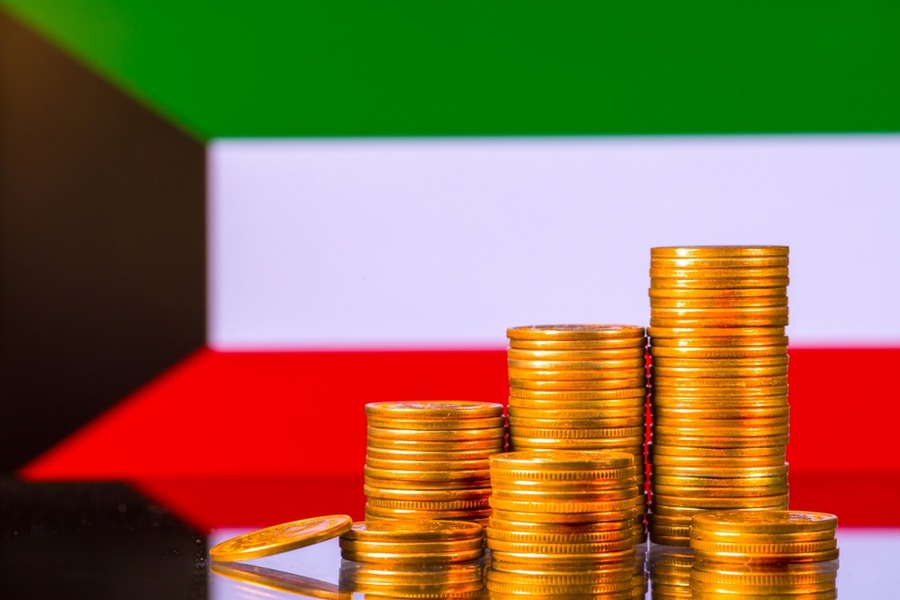 Banking modernization
In February 2022, the Central Bank of Kuwait (CBK) issued new guidelines for establishing digital banks in order to modernize practices and attract new business.  
The country has 11 local banks split evenly between conventional entities and Islamic ones plus one specialized investment bank, along with 11 foreign bank branches, reported OBG.  
NBK, Kuwait Finance House (KFH), and Burgan Bank are the top three by asset base, but together with Gulf Bank, the Commercial Bank of Kuwait, Al Ahli Bank of Kuwait, and the Industrial Bank of Kuwait, these 7  were listed in the world's 1000 largest banks published by The Banker in July 2022. 
According to the Union of Arab Banks, as of August 2022, the total core capital of these seven reached around $29.8 billion, with total assets under management of $272.4 billion. 
Following an $11.6 billion merger with Ahli United Bank, Islamic bank KFH is the Gulf region's seventh-largest bank and offers services in 12 countries, with some $118 billion in assets under management.  
By end of H1, 2022, Islamic banking institutions accounted for 45.5% of the banking sector's total assets.
Read more: Kuwait's economy likely to bank USD23 bn surplus in current FY
The CBK raised its key policy rate to 3.5% in December 2022.
"As rates increase and borrowing becomes more expensive and therefore less attractive, growth is expected to slow while remaining positive. Although this development might affect the banking sector, the agile nature of Kuwaiti banks means they could capitalize on other revenue streams," Basel Al Haroon, Governor of the Central Bank of Kuwait, told OBG.
Retail banking leads the sector in Kuwait, with personal facilities accounting for $59.6 billion of balances in local banks out of a total of $168.8 billion, as of August 2022. 
When it comes to the distribution of bank balances by business sector, real estate is the country's largest segment, accounting for $31.3 billion followed by trade at $11.2 billion, industry at $9.5 billion, crude oil and gas at $9.2 billion, and construction at $6.9 billion.
Finally, Kuwaiti legislators are mulling approving a proposed bill to purchase Kuwaiti citizen loans estimated at $46 billion.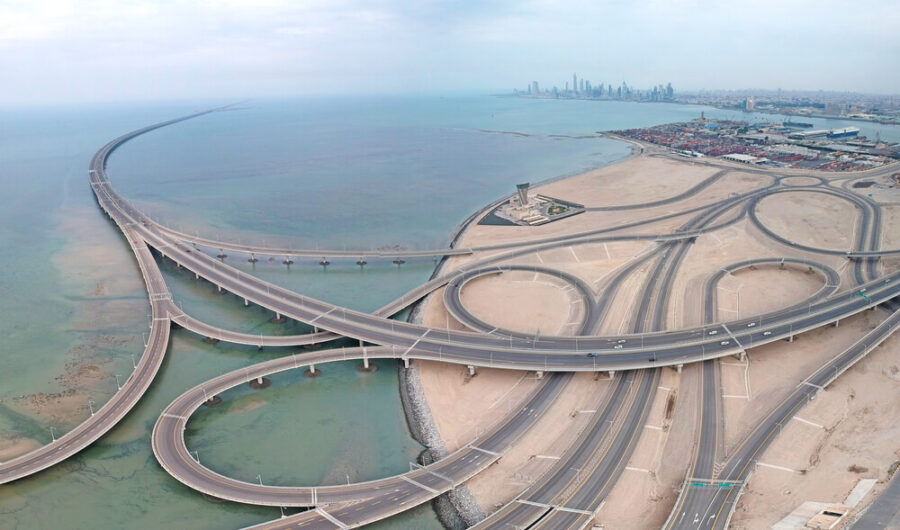 Infrastructure development plans
Kuwait is in the midst of the Kuwait National Development Plan (KNDP) 2020-25, aiming to become a diversified, sustainable, knowledge-based, and private-sector-led economy. 
In 2021 the government allocated $65 billion for infrastructure, health, environment, and power projects for FY 2021/22.
Key infrastructure projects include the 250 km2 free zone and Silk City mega-development, seeking improved trade and transport links with China, Iran, and Iraq. five islands and a northern territory will be linked to the capital by the $2.3 billion Sheikh Jaber Al Ahmad Al Sabah Causeway.  
Another mega-project is the Al Zour refinery, which will have a capacity of 615,000 BPD of crude. The first of three phases became operational as of September 2022, with the rest expected to follow in 2023.
Kuwait aims to raise its oil production from 3.2 million BPD in mid-2022 to 4.8 million BPD by 2040.
In June 2022, Kuwait also announced that work on the $4 billion Terminal 2 project at Kuwait International Airport, helping accommodate an additional 25 million passengers annually, was 61.8% complete. 
The building of the Kuwait Metro and a national railway network are slated for 2024 and 2026, respectively. 
Kuwait has also vast solar resources and can explore mostly untapped 63 trillion cubic feet of natural gas reserves within its borders.   
Kuwaitization
The number of expatriates in 2022 was 11.4% less than it was in 2019,   which reduced unemployment among Kuwaitis to 5.2%. 
The government has prioritized Kuwaitisation and in 2021, Kuwaitis made up 78.3% of the public and 4.7% of the private sector workforce, up from 76.6% and 4.3%, respectively, in 2020. The Silk City project is set to create 200,000 private-sector jobs.