October 14, 2022 1:42 pm
Market value of Arab stock markets increases to $4.27 tn: AMF
In tandem with the rise in global oil prices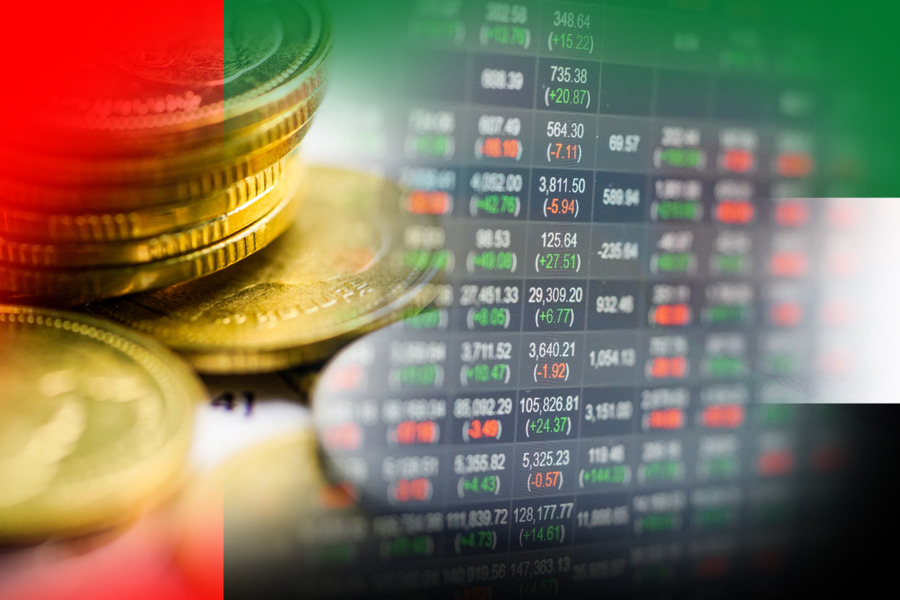 Stock market, UAE flag
The Arab Monetary Fund (AMF) reported a 1.38% increase in the market value of Arab stock exchanges at the end of trading last week, equating to approximately $58 billion.
According to the fund's weekly bulletin of Arab capital markets, 13 Arab stock markets, rose to more than $4.27 trillion at the end of last week, up from about $4.2 the previous week.
The Abu Dhabi Securities Exchange (ADX) gained the most market capitalization, going from $600.6 billion to $611.12 billion, a 1.75% increase. Meanwhile, the Dubai Financial Market (DFM) gained $992.6 million, increasing its market capitalization from $156.6 billion to $157.6 billion, a 0.63% increase.
In addition, Saudi's Tadawul reached $2.926 trillion, up $38.34 billion, or 1.33%, while Qatar Stock Exchange recorded gains of $199.45 billion, up $5.68 billion. Also, Kuwait Stock Exchange posted profits of $150.2 billion, up $1.56 billion, while Muscat Stock Exchange's gains reached $60.2 billion, up $145.7 million.
On the other hand, Egypt's stock exchange's market value amounted to approximately $35.29 billion, with gains of $308.9 million, while the Bahrain recorded gains of 16.5 million, resulting in a market value of approximately $30.05 billion.
Moreover, the report observed that most Arab stock markets saw an increase in performance indicators last week, which was consistent with increases seen in most global financial markets and gains recorded in a number of emerging stock exchanges as well, in tandem with the rise in global oil prices.
Exclusives