May 25, 2022 7:45 am
COVID helped increase medical waste, threatening people and planet 
GCC countries have measures in place to treat and dispose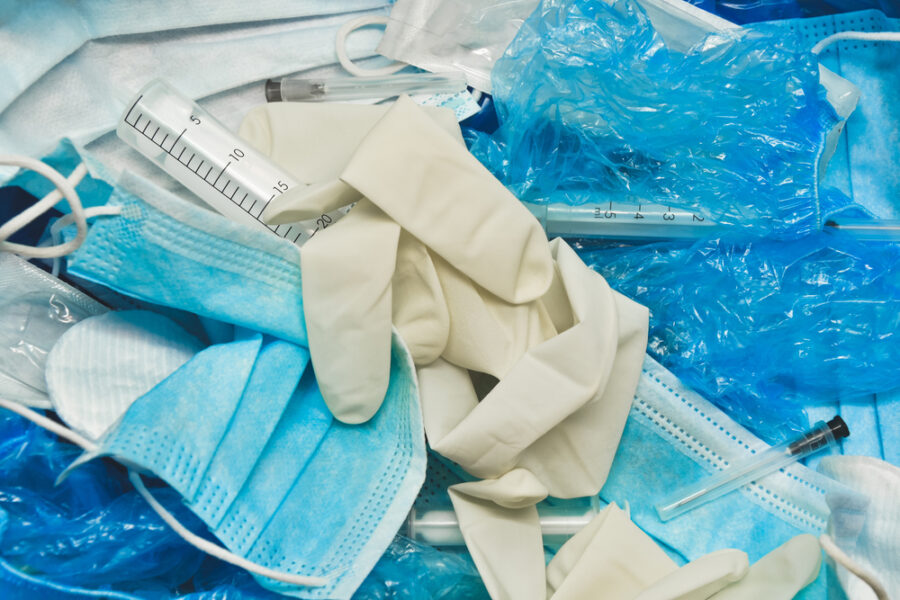 Medical waste
Earth is facing many factors that threaten its survival, including medical waste, a time bomb that threatens to blow up the entire planet.
The crisis emanating from the accumulation of these types of waste is old – new, but the issue has emerged more significantly with the spread of COVID-19.
The globe faces the accumulation of tens of thousands of tons of medical waste around the world, which threatens human health and the environment, according to what the World Health Organization revealed.
Meanwhile, COVID-19 testing kits generated an additional 2,600 tons of waste and 731,000 liters of chemical waste.
In addition, billions of vaccines used to fight the pandemic left behind at least 144,000 tons of syringes and collection containers.
As for single-use plastic masks, they have caused land and water pollution, especially in countries with less developed waste management practices.
One study revealed that in 2020 alone, 3.4 billion masks for personal use were discarded daily in the world.
All this has caused an increase in waste in healthcare facilities by 3 to 4 times since the beginning of the pandemic, according to the official in charge of the "Water and Disinfection" section of the World Health Organization.
Gulf Efforts
In contrast to the countries that failed to manage these wastes, the UAE emerged as a pioneer in this field.
For example, Abu Dhabi adhered to a careful policy for the destruction of this waste, as it was transported in sealed red plastic bags, in secure boxes, via sterilized trucks designated for transporting such medical waste.
After the incineration process is certified and safely completed, the resulting ash residue is safe and biodegradable and can be transported to landfills without harming the land.
As for Dubai, it had its own experience in this field, after it established controls for waste management in health facilities.
The Health Authority requested the provision of an independent storage area in designated refrigerated containers with temperature controls, having containers designated for waste disposal, in addition to properly ventilate the area.
Saudi Arabia, for its part, has succeeded in managing this sensitive area, using safe disposal of health care waste in sustainable ways to protect public health, and in cooperation with all companies committed to achieving required technical and environmental standards.
Medical waste data
In addition to COVID, the increased development of the healthcare sector in the GCC will lead to additional waste being generated by laboratories, clinics, and hospitals.
This means that the health waste management market will continue to grow, and the global medical waste management market is expected to be worth $21 billion by 2024.
Recent figures indicate that the GCC countries produce around 150 tons of medical waste per day, with Saudi Arabia alone producing 80 tons.
The UAE is the second-largest producer of healthcare waste, generating around 21.5 tons of medical waste every day. Abu Dhabi alone produces 12 tons per day.
Figures indicate that between 15-25 percent of the total amount of medical waste that originates in the Middle East is considered hazardous or infectious.
Dangers of medical waste
Turning to the damages of these wastes, there are many harmful effects resulting from the lack of safe management and treatment, as they contain large quantities of infectious hazardous materials with harmful health effects for working individuals and those around them.
Sharp waste such as needles, or other contaminated medical tools such as scalpels, are considered some of the most dangerous due to the easy introduction of viruses into the body through pricking or cutting directly into the bloodstream.
For example, exposure to needlestick injuries causes many cases of hepatitis B and C infections each year
In addition, exposure to drugs used in chemotherapy when they are prepared or given to patients or when they are disposed of may cause harm to health workers.
In addition to the health damage caused by this waste, the environmental damage is also worrisome as there are risks when burning waste, especially plastic ones, which can lead to the release of dioxins and carcinogens.
In addition to all of this, medical waste attracts rodents and insects and can pollute groundwater.
Unified law
In order to protect communities, the governments of the GCC have come together to support the implementation of the unified law for the management of medical waste.
This law aims to develop proper storage, transportation, treatment, and disposal of hazardous waste, in addition to developing various methods for treating medical waste in a way that preserves public health and prevents environmental pollution.
Exclusives