The Murex D'or  International Committee held its annual conference, launching the first edition in Dubai under the slogan "A Journey of Success from Beirut to Dubai" (2000-2022)", at Atlantis the Palm's Conference Center in Dubai, followed by a dinner party at "Ayamna" Restaurant, and was attended by the jury, media partners, and media personalities.
The Murex d'Or International Celebrity Awards ceremony will take place on Sunday, March 20th, at Atlantis the Palm in Dubai, and will be aired live on Dubai TV, Egypt's 10TV, as well as the Lebanese stations MTV and One.
Dr. Zahi Helou, Murex D'or
Dr. Zahi Helou, founder and chairman of the Murex D'or Awards Committee began the conference by saying: "We are very happy to be in the United Arab Emirates today, this ancient Arab country, a country of hospitality and generosity, a country of openness and culture, specifically in the Emirate of Dubai, the crossroads of civilizations, and the global center for festivals, exhibitions and innovations. We are also honored that we are cooperating with the "Atlantis – The Palm" resort to host this big party."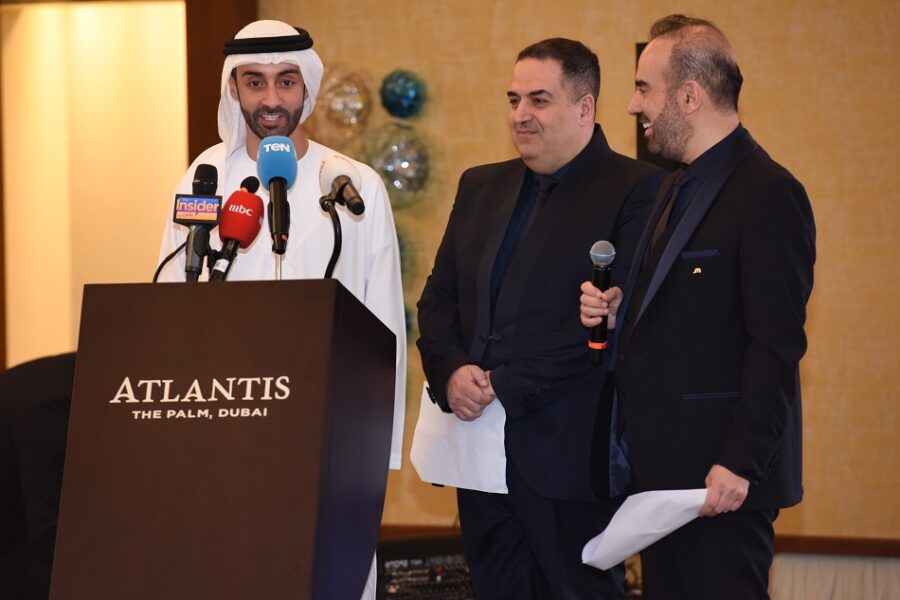 Dr. Fadi El-Helou, Murex D'Or
Dr. Zahi's brother and co-founder of the Murex D'or Awards Committee, Dr. Fadi El-Helou, added: "After a history of 20 editions, Murex D'or had to transcend borders and go global, and it was natural to choose Dubai, the city of hopes and dreams to host the first edition of Murex D'or International. We are aiming for a good outcome, which will constitute a pivotal transitional station in the history of the "Murex D'or", and will open new horizons, knowing that the Lebanese version which had lasted 20 editions, is still continuing, awaiting the appropriate conditions".
Joe Chidiac, JC media Group
While Mr. Joe Chidiac, Founder & CEO of JC Media Group, the "Murex D'or International" representative, and partner in Dubai, in turn, declared: "The ceremony of Murex d'Or International will be exceptional and on a whole different level, especially as it is the largest honorary ceremony in the Arab world, where it honored the brightest Arab and international stars and maintained its level for 20 years".
Mr. Chidiac mentioned the importance of organizing such a ceremony in Dubai, which is the city that hosts talents, arts and diversity of cultures, while he thanked His Highness Sheikh Mohammed bin Rashid Al Maktoum, for his continuous support of culture.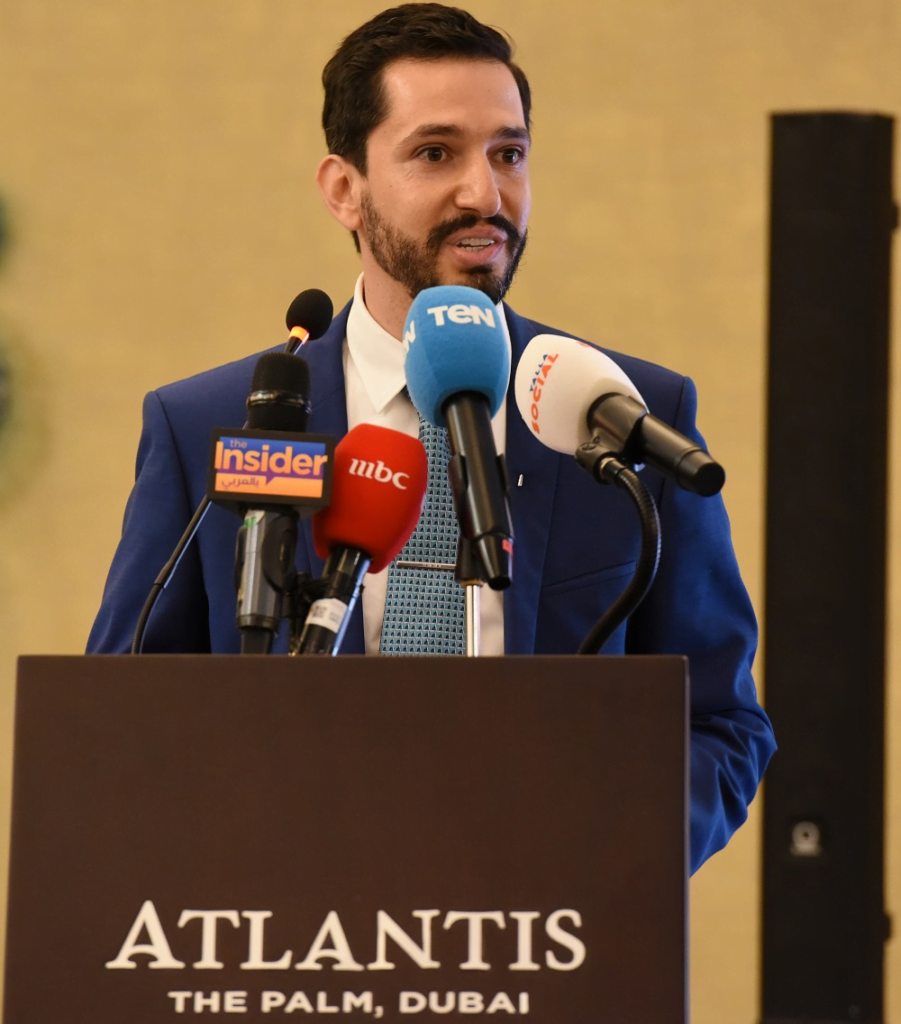 Linda Abdel Hay, Atlantis
As for Linda Abdel Hay, Senior Director of PR and Communications at Atlantis the Palm Resort in Dubai, she indicated, "We are pleased to host the first edition of the Murex D'or International Awards at Atlantis, The Palm, the leading destination for local, regional and international festivals alike. Hosting such a remarkable event constitutes an addition to the resort's plan in attracting festivals that honor art and media personalities. We are also honored and pleased that the resort is the organizers' first choice after Beirut city, and the 20-year journey of success and accomplishments. We have harnessed all logistical resources in the resort to support the success of the ceremony, in the presence of a group of international, Arab and Gulf artists, content creators and media personalities."
The jury
The names of the jury were announced, bringing together a selection of specialized art and media personalities, and they are in alphabetical order as follows:
Ayman Al-Zyoud, Founder and Chairman of Charisma Group, Ibrahim Estadi, media personality and artist; Arwa, artist and presenter; Osama Alfa, a journalist and critic; director Bassem Christo; media personality Bossi Shalaby; Dr. Hanin Omar, a screenwriter, poet, novelist, physician and researcher in art and cultures; Khaled Agha, a media personality and marketing expert; Khalil Abu Obeid, a singer and composer; Dana Abu Laban, a presenter and producer; Raya Abi Rached, a media personality; Susi Wartanian, editor-in-chief; Sobhi Otri, writer and journalist; Adnan AlKateb, editor-in-chief; Katia Dabaghy, journalist and owner of KmediaLB, a media services company; journalist Loujain Omran,; director Mohammed Saeed Harib; Mohammed Abdul Jalil, Head of Art and Variety at El Sharq News channel; Marwa Mohammed, an artist and presenter; Nada Al-Shaibani a  broadcaster and media personality; Dr. Nada Jaber, a writer and researcher in international media; director Nahla Al-Fahad; Yasser Algergawi, Chairman of Dubai National Theater.
This year's ceremony
This year's ceremony will honor artistic and dramatic works broadcasted from January 1, 2021, till December 31, 2021, with the exception of the Gulf cinematic films for 2020 and 2021. As for the categories, they include Best Gulf Female Singer, Best Gulf Male Singer, Best Gulf Song, Best Gulf Actress, Best Gulf Actor, Best Gulf Series, Best Gulf Movie, Best Arab Female Singer, Best Arab Male Singer, Best Arab Song, Best Arab Actress, Best Arab Actor, and Best Arab Series. In addition, the ceremony encompasses special honorary awards for Arab and International stars. As for the "Arab Awards" they include the non-Gulf Arab countries, like Egypt, Lebanon, Iraq, Jordan, Syria, Morocco, Algeria, Tunisia, etc.
The "Murex D'or" is a yearly award ceremony that started back in 2000 in Beirut, with a history of 20 editions. The committee has honored hundreds of exceptional Arab and international personalities. The "Murex D'Or", an event marked by heartfelt moments and memorable gatherings, was an annual artistic and cultural ceremony, awaited by many and attended by renowned Arab and international stars.