February 15, 2023 2:37 pm
WGS: Musk reveals long-term vision for a better Twitter
Addresses disinformation, ChatGT, and AI safety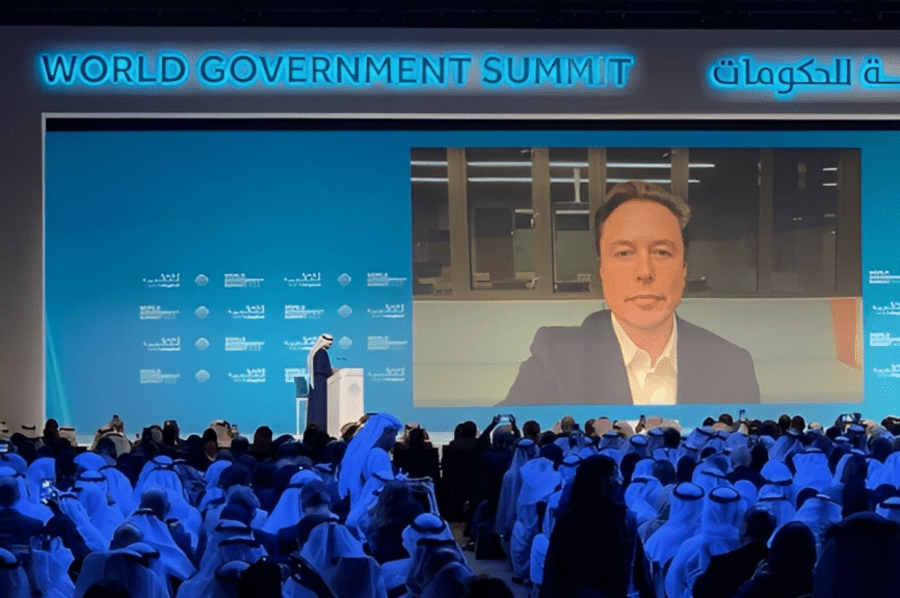 Musk speaking at WGS during a session moderated by Mohammed Al Gergawi, the UAE Minister of Cabinet Affairs and chairman of WGS (Photo Credit: WGS Twitter)
Billionaire Twitter CEO Elon Musk said at Dubai's World Government Summit (WGS) on Wednesday he has a long-term vision for the social media platform.
"Be as useful as possible and be as entertaining as possible and also be a source of truth," he said. "Twitter is an acceleration of that maximally useful app."
Mohammed Al Gergawi, the UAE Minister of Cabinet Affairs and chairman of WGS asked Musk about disinformation on the platform.
Musk said that Twitter is working on something called 'community notes' to access the truth of information on the social media platform.
Read more: Sheikh Hamdan at WGS: Meta deal to generate AED100 bn annually
Musk said his focus was on having as many companies and people who are legitimate as possible to ensure Twitter is a platform of trust and credibility.
He said Twitter was good for allowing people "to speak in their voice" as opposed to how they should.
"So, I would like to encourage CEOs and companies and legislators and ministers and so forth to speak (on Twitter) authentically."
He said while this might invite criticism, he acknowledged that "I am constantly attacked on Twitter and frankly I don't mind."
The founder of Tesla and Space X said he "needs to stabilize' Twitter but probably towards the end of the year would find someone else to run the company.
Separately, Twitter should be able, according to Musk, to facilitate payments and will offer financial services five years from now.
ChatGPT
Addressing artificial intelligence (AI), Musk highlighted that governments may need to put a stop to AI in order for it to be safely regulated.
"Artificial intelligence is something we need to be quite concerned about," he told the audience.
"ChatGPT has illustrated to people just how advanced AI has become. It has been advanced for a while, it just didn't have a user interface that was accessible to most people. And there are much more advanced versions that are coming out."
For more on WGS, click here.
Exclusives