June 24, 2022 11:24 am
NFTs have their list of young millionaires. Get to know some of them!
Adults struggle to understand the value of NFTs, not youth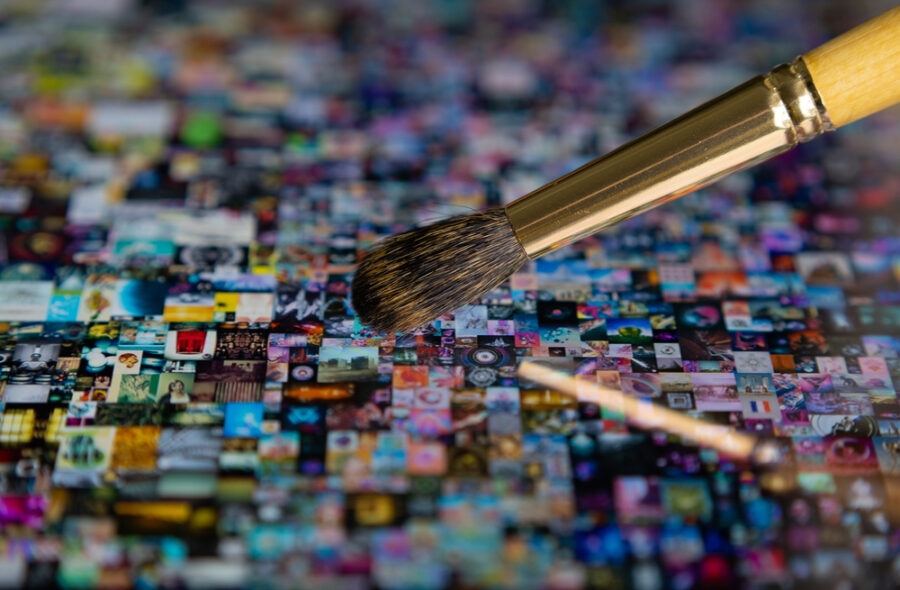 NFT token creation
The non-fungible tokens (NFTs) field has a list of millionaires, some of whom are not even 18 years old yet.
As a reminder, NFTs are unique digital assets that are bought and sold online using cryptocurrencies, and their popularity has skyrocketed in recent months.
And they can be artwork, GIFs, music, and more, and no two are alike.
So, as adults and businessmen struggle to understand the value of these symbols or this "new thing", some young people have emerged and succeeded in penetrating this world. These include:
Benyamin Ahmed (12 years old)
British student Benjamin Ahmed has made more than £3 million after he became, at the age of 12, an expert in trading NFTs.
Benjamin learned the process of coding from his father when he was only 5 years old and developed a passion for this sector and became addicted to it.
He released his own collection of NFT's "Whales", which are unique digital artworks that can be bought and sold.
The first bargain of spotted colored whales sold in a matter of hours for over £110,000.
His fortune increased to £750,000 within months, in addition to other projects, bringing his total to $5 million.
He says in press statements that he decided to create his first NFT collection after spending many hours playing "Minecraft", noting that he created the artwork and coded everything himself.
After buying and selling a few, he launched his own series of NFTs called Weird Whales in July 2021, initially selling them for $60 each, from a collection of 3,350 whales.
Today, he plans to eventually convert his money from cryptocurrency to pounds and start his own business.
Nyla Hayes (13 years old)
At the age of 13, young Nella Hayes became a multimillionaire when she began offering her artworks for sale as NFTs.
Hayes' drawings depict iconic women like Ruth Bader Ginsburg and Lucille Ball, as well as ordinary women.
And what the young woman does is that when she finishes making one painting, Hayes publishes it on the NFT website, where anyone can buy it with cryptocurrency.
What distinguishes Hayes' drawings is that she draws her models with a rectangular neck, a characteristic that appears in all 3,000 paintings in her collection.
She explains that this trait stems from her childhood, when she was younger, as Hayes was in love with the dinosaur, Brontosaurus.
Erin Beesley (15 years old)
Erin Beasley is a 15-year-old artist from North Carolina.
Erin learned about NFTs through an online game called Cryptokitties.
Being an artist since she was a little girl, she then learned how to code in 2019 and combined the two skills.
Most of her business was sold and she earned more than $400,000.
Jaiden Stipp (16 years old)
Jayden is a 16-year-old young artist who is considered one of the most prolific young artists in the NFT space, since the beginning of 2021.
He converted his astronaut animations to NFTs, auctioned them off, and became a top-notch artist overnight.
According to CryptoArt, the piece earned him over a million dollars.
also invests in the work of other young artists who want to bypass the traditional art market to find a group of enthusiastic buyers in the world of NFTs. 
Sultan Gustaf Al Ghozali (22 years old)
The Indonesian student has made a fortune by converting his photos into NFTs used in the comics industry.
The young Sultan Gustav Al-Ghazali has been photographing himself almost every day for 5 years, and every photo is almost the same, showing him staring at the camera with an expressionless look on his face.
The idea behind the project was to create a time-lapse video to record changes that occur slowly over time, apparently for use when he graduated.
However, the 22-year-old has managed to turn it into a money-making scheme as people race to collect thousands of them.
He succeeded in obtaining a certificate for his photos and began selling them for only $3, and quickly the price of the photos jumped to more than 12,000 dollars each.
Currently, the young man's photos are being sold through OpenSea, an online marketplace for NFTs-certified photos and products, for 4 ETH.
According to reports, the entire collection, titled "Yazuli Every Day", is worth "374 ETH", equivalent to $1.2 million.
Sultan plans to use his newfound wealth to invest in setting up his own animation studio.
Exclusives