New York University (NYU) Abu Dhabi (NYUAD) hosted its tenth Commencement ceremony to honor the Class of 2023, the largest to date. A total of 455 undergraduate, graduate, and post-graduate students representing over 80 countries who collectively speak 65 languages participated in the largest graduating class that NYUAD has held since its inception in 2011.
In attendance were His Highness Sheikh Al Murr Bin Maktoum bin Juma Al Maktoum; His Excellency Dr Mugheer Khamis Al Khaili, Chairman of the Department of Community Development; His Excellency Jassem Mohammed Buatabh Al Zaabi, Chairman of Abu Dhabi Finance Department; William R. Berkley, Chairman of the New York University Board of Trustees; and Rima Al Mokarrab, NYU Trustee, among other guests. NYUAD Vice Chancellor Mariët Westermann officiated the ceremony at the University's campus, along with NYU President Andrew Hamilton.
Her Excellency Razan Khalifa Al Mubarak, president of the International Union for Conservation of Nature (IUCN) and UN Climate Change High-Level Champion for the leadership team of the 2023 UN Climate Change Conference (COP28) in the UAE, delivered the keynote speech.
Read more: UAE launches program to empower best talents and leaders
"As you transition from this esteemed university to your next adventure, carry this vision with you. Use your talents, passion, and creativity to make a real impact," said Her Excellency Razan Khalifa Al Mubarak. "Advocate for and support environmentally conscious policies. Empower and inspire others to adopt sustainable practices. Lead in your respective fields with sustainability and equity at the forefront. Dear graduates, as you embark on this exciting new journey, remember that you are not just the inheritors of our world as it stands, but also the architects of the world as it could be. Through your actions, you have the power to transform the narrative of climate change and the loss of nature from one of despair into one of hope, resilience, and restoration."
The Commencement ceremony included the presentation of awards and accolades, including the Alfred H. Bloom Scholarship for Global Liberal Arts, NYUAD's Piano Prize, the Global Leadership Award, and the Distinguished Alumni Award, and the Ceremony of the Torch.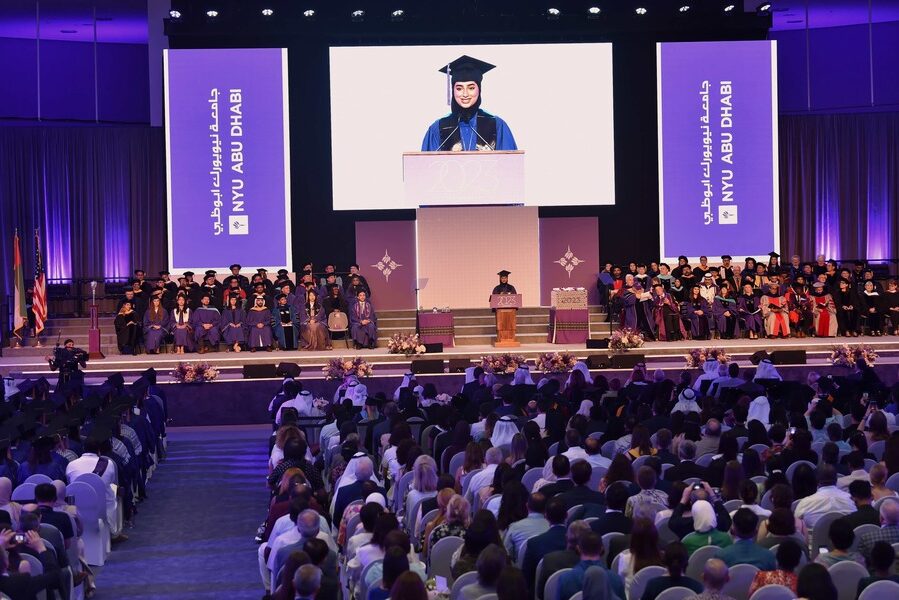 Andrew Hamilton
Hamilton said: "As NYU Abu Dhabi students, you are united by your sense of adventure, your willingness to say 'yes' to a college education unlike any other. You are united by your strong foundation in the liberal arts, which will serve you in whatever field you choose. You are united in your global outlook, a way of approaching the world that many people aspire to but that you have fully lived. You are united in your desire to make a lasting, positive impact in the lives of others."
Westermann added: "Class of 2023, you are ready! You are ready to do good on your onward journeys. And if you need a word of encouragement or a helping hand, remember that your NYUAD community will always be here for you. You are prepared for lives of purpose, and we, your teachers, your family, your friends, stand in the light that you radiate. You will be beacons around our ever-changing earth. We are so proud of you, and can't wait to see how you will make the world better."
Class of 2023 student Seo-Hee Hong spoke on behalf of the graduating class, and Ghaya Mohammed Alshamsi from the class offered welcome remarks.
From its inception, NYUAD has been one of the most selective higher education institutions in the world. Recruited from high schools around the world, NYUAD's current student body consists of some 2,100 students from diverse backgrounds. Nearly four percent of those who applied to be a part of the Class of 2023 were accepted for admission, and the standardized test profile of the Class of 2023 matched those of the most elite higher education institutions in the US.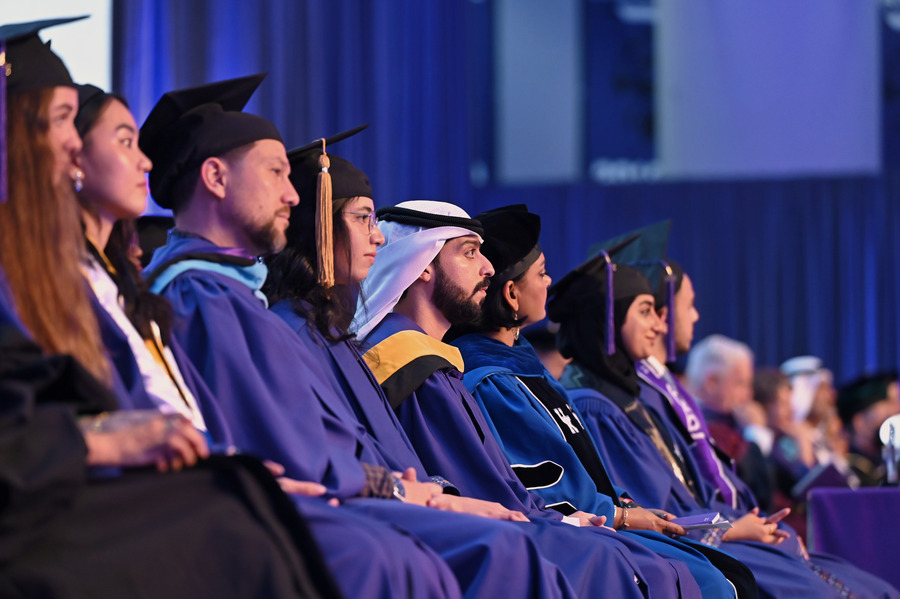 During their four years, the Class of 2023 has excelled in both academic and extracurricular pursuits. It has participated in student clubs, athletic groups, and built ties with the Abu Dhabi community. Eighty Seven percent of the graduating class held at least one internship during their academic career in some of the world's most respected organizations such as United Nations Development Program, Mubadala, Microsoft, United States Congress, and Cleveland Clinic Abu Dhabi, among others.
Students have also received graduate school offers from a range of institutions, including Boston University, Oxford University, Peking University, and Columbia University, among others.
NYUAD opened in 2011 with an ambitious vision to be one of the world's great research universities addressing complex challenges of local and global significance. Since then, the University has established more than 80 faculty labs and projects, and 20 distinctive research centers led by accomplished thought leaders. NYU ranks 24th globally in the Times Higher Education World University rankings for 2023, and 39th in the QS Graduate Employability rankings for 2023. All rankings are based on enrollment and programs throughout all campuses of New York University, including NYUAD.
Click here for more news on innovation.