Can you imagine that after using single-use plastic bags and discarding them later, about 100,000 marine animals and hundreds of camels die? This is not compound news, but a fact.
According to figures, there are 500 billion plastic bags used all over the world annually. Because it has a high risk to the environment and health, about 127 countries in the world have decided to prohibit or prohibit its use to some extent.
The UAE followed the same path and decided to ban the use of plastic bags. It is a measure in line with its vision to promote sustainable living and is based on the integrated policy on single-use plastics.
The UAE annually consumes 11 billion plastic bags per year according to a report submitted to the World Government Summit in February 2019, which is equivalent to 1,184 plastic bags per capita per year compared to the global average of 307 plastic bags per capita per year.
Abu Dhabi will ban, as of June 1, the use of single-use plastic bags, as part of the plan launched by the Environment Agency in Abu Dhabi in 2020. It also plans to completely eliminate disposable polystyrene cups, plates, and food containers, by 2024.
Fees enforced to reduce the use of single-use plastic bags
Dubai preceded Abu Dhabi in announcing this procedure. In February, it announced plans to charge a fee of 25 fils (about $0.06), effective July 1, on single-use plastic bags in retail, apparel, restaurants, and pharmacies, as well as in e-commerce orders.
Dubai believes that reducing plastic bags comes within the framework of its policy to promote sustainability in all economic, environmental and social fields, build a sustainable system to preserve natural resources, support a low-carbon green economy, as well as achieve its waste management strategy 2041, and the 17 sustainable development goals announced by the United Nations for 2030.
The experiment will be evaluated in stages until the use of these bags is completely prohibited within two years of application, and changes in the behavior of community members are studied, as sustainability has now become an imperative at the global level.
Ras Al Khaimah, in turn, has joined the path of preserving natural resources. Its Environmental Protection and Development Authority launched the "Ras Al Khaimah Plastic Free" initiative to replace non-biodegradable plastic bags with environmentally friendly materials.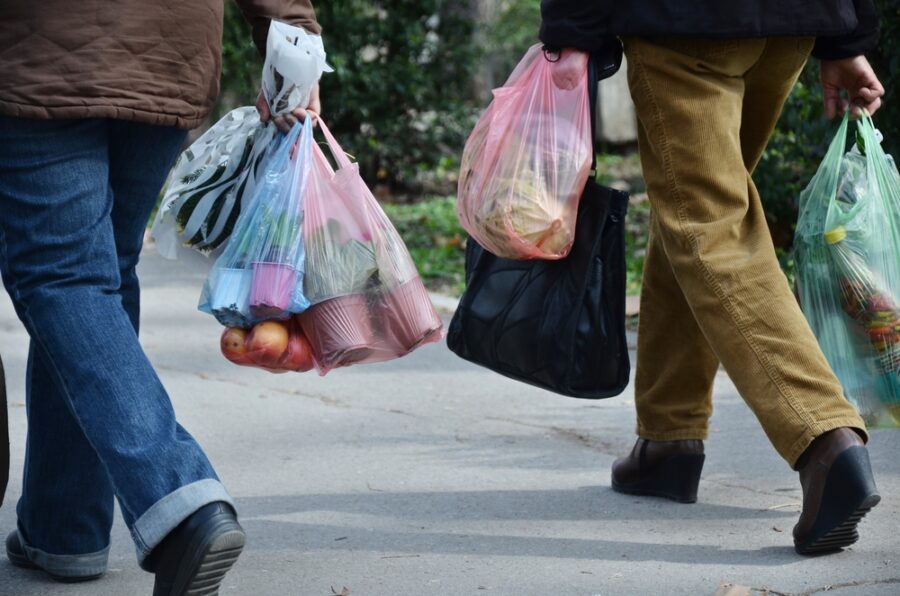 The rate of bans varies from country to country
Among the countries that have taken measures, such as taxing or banning plastic bags to some extent, there are about 32 of them that strictly prohibit the use of these materials, such as Africa, which considers these bags to be considered high risk because they increase the number of malaria cases.
For its part, Kenya has strict laws, and anyone who manufactures, sells, or imports plastic bags will face a stiff fine of around $19,000 and can also face 4 years in prison.
Plastic bags are bad for our planet
Plastic bags are very bad for our planet. Not only are they made of brittle plastic that seeps into water and soil, they also contain non-biodegradable and toxic materials that often end up in landfills or in the ocean, killing about 100,000 marine animals every year, says Plastic Collector on its site.
Plastics are the cause behind hundreds of camels dying
A study conducted last year revealed that hundreds of camels in the UAE have died over the past decade due to plastic consumption.
Of the 30,000 camels that have been analyzed since 2008 by staff from the Central Veterinary Research Laboratory in Dubai, about 300 have died due to the indigestible substances in the plastic.
This means that one death in every 100 camels in the UAE is caused by the consumption of plastic waste left by people camped in the desert or thrown in the garbage.
Only 9 percent of all plastics are recycled
According to figures from the United Nations Environment Program, only 9 percent of all plastics produced are recycled, and the rest ends up in landfills or in nature.
The United Nations has estimated that if current trends in plastic consumption continue, the ocean may contain more plastic than fish by 2050.