On the 50th anniversary of Porshe Design, Economy Middle East's Alp Sarper, Editor-at-large, Automotive & Lifestyle, sat with Dr. Jan Becker, CEO of the Porsche Lifestyle Group.
In this exclusive interview, we dig deep into the philosophy of a car brand synonymous with power and luxury lifestyle. The following questions were asked: 
What is the Porsche lifestyle group?
"The Porsche Lifestyle Group is responsible for all things related to luxury lifestyle outside of the automotive business. We have a design studio in Austria celebrating 50 years. It was the brainchild of Ferdinand Alexander Porsche, the grandson of Ferdinand Porsche the founder and designer of the 911.
Porsche Design is based on the philosophy of a balance between design and functionality.
With a wide range including watches, luggage, electronics, appeal, and sunglasses, all our products share two things in common, they are well designed and functional. Our target is affluent male customers, with a limited unisex range. Some are Porsche drivers, some are aspirational customers and some simply have nothing to do with automotive but like our timeless products that are impeccably designed."
What are some of the synergies and how do the Lifestyle and Automotive groups work together?
"There are various synergies, first and foremost product development. We use materials that are used in the racing department of Porsche. For example, all our watches are made from titanium, which is a material that is used in our race car business. Our weekender luggage is made of carbon fiber that has been developed together with our colleagues from the research and development center.
Another area is our watches, which is a core business of ours. Our watches are made in Switzerland. Since 2014 we have our own manufacturing company in Schaffhausen and pride ourselves in being the only brand that produces our own watches in-house. There is a special limited edition which you can only buy if you have bought the car. As part of our custom-built Timepieces program, you can configure your watch with such fine details as the same leather tone as in your car or even get the VIN number of the car engraved on the back of the watch.
We also have retail synergies with the automotive business that revolve around the shop-in-shop concept, where Porsche Design shops in central locations will often have cars displayed in-store, with specialized automotive sales staff. For example, our store in Costa Mesa, California has a footfall of around a thousand people a day. This store generates between 50 and 100 car leads a month, which is a great synergy example."
What are some of the innovative approaches Covid-19 brought to the company?
"In terms of product, we create timeless pieces and weren't influenced by the pandemic, we see it as a short-term trend. As a business, however, I'd say keeping the offline retail profitable has been the biggest challenge, important to note we have around one hundred stores worldwide. We've largely compensated with a strong online presence and reported huge growth in that part of the business."
What do the next five years look like?
"We certainly want to develop into other areas of the life of our customers and do not want to limit ourselves with only physical products. A good example is our newly launched hotel brand in partnership with Steigenberger, called the Steigenberger Porsche Design Hotels. We also have two real estate projects, Porsche Design Towers that are under construction. One is in Germany and another in Miami.
There is a third project which is coming up in North America. Furthermore, electronics is an area we want to expand to."
How do you see the Porsche Lifestyle Group fitting into the NFT trend?
"While I can't be very specific, I can assure you we are working on something very special which is directly related to functional tokens. When it comes to anything we do, including NFTs', we want to make sure we combine design and function. It must be of value to the customer."
Where do the UAE and GCC rank within your overall business?
"With the offline business, we find that the Middle East clientele still prefers physical shopping at the big malls. The UAE is important to us from a historical point of view, some of the stores have been among the first that were ever opened. Dubai Airport being a major travel hub is a very significant part of our offline business. We also have presence around the globe at airports in Asia, the US, and Germany."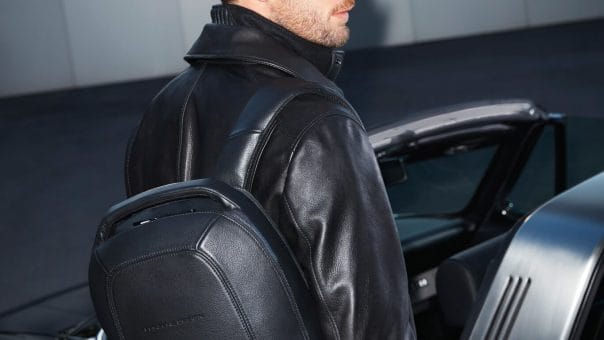 What are your top Porsche Design products?
"That would be a fair mixture of products. The black watch launched in 1972 which we relaunched with a limited to 500 pieces is certainly one. Then sunglasses with the interchangeable lenses and of course our luggage series."