Private jet travel in the Middle East has experienced a significant surge in demand in recent times. This trend is attributable to a multitude of factors, primarily centered around the region's increasing economic activities.
A growing number of business executives are taking to private jet travel to facilitate easy movement throughout the region and beyond, to full business commitments, while ensuring the utmost in comfort and convenience.
Benefits of private jet travel for executives
Efficiency. Private jet travel significantly reduces travel time. It eliminates long check-in lines, layovers, and flight delays, ensuring an efficient journey.
Drive-in, drive-out. Executives can simply drive up to the aircraft, board the jet, and be on their way. This convenience saves precious time, which is vital in today's fast-paced business world.
Productivity. Private jets offer a conducive environment for work. With onboard Wi-Fi and quieter cabins, executives can have meetings, develop strategies, or even negotiate deals while traveling.
Flexibility. With private jet travel, it is possible to travel on your time. Additionally, this allows executives to adjust flight schedules according to their meetings or to accommodate sudden changes in plans.
Privacy and comfort. Private jets ensure a much higher level of privacy compared to commercial flights. Similarly, they ensure a comfortable and relaxed environment, allowing executives to arrive at their destination refreshed and ready for action.
Types of private jets suitable for busy executives
Private jet travel encompasses a diverse range of jets tailored to meet various needs, offering solutions for busy executives in the Middle East.
For instance, light jets are an ideal choice for executives who prioritize speed and efficiency. Although smaller in size, these jets impress with their swift performance, making them perfect for short-haul flights. They can access smaller airports, further reducing travel times.
Meanwhile, midsize jets offer a balance between comfort and performance. These aircraft are perfectly designed for medium-range flights, providing more cabin space for work or relaxation. Similarly, their range and speed make them excellent for regional travel.
For those seeking more spacious and luxurious interiors, large-cabin jets are the way to go. They provide a more comfortable and private environment, coupled with the capacity to carry more passengers. This makes long-haul flights more comfortable and productive.
Finally, ultra-long-range jets are the epitome of luxury and comfort in private jet travel. These aircraft are typically chosen for their capacity to travel vast distances without the need for refueling stops, ensuring uninterrupted travel. Furthermore, the cabin space is enormous, which provides a home-like environment in the sky.
Read: New study reveals UAE travelers now embracing 'affordable luxury'
Private jet travel options
The industry has expanded to offer a diverse range of options to meet busy executives' unique travel preferences and requirements.
On-demand charters
Many private aviation companies in the Middle East offer on-demand charter services. Executives can charter aircrafts based on their specific requirements, such as preferred timing, type of aircraft, and destination.
Jet membership programs
A variety of jet membership programs or jet cards are available in the Middle East. These programs typically require a prepaid deposit and offer members the ability to book flights with short notice, guaranteed availability, and fixed rates.
Full ownership
For busy executives who travel very frequently or require specific customization in their aircraft, full ownership of a private jet may be the ideal solution.
Aircraft leasing
Aircraft leasing is an alternative to full ownership. With this, executives can have use of the aircraft for an agreed period without any large upfront capital expenditure. It offers similar benefits as full ownership but without the risks associated with asset depreciation.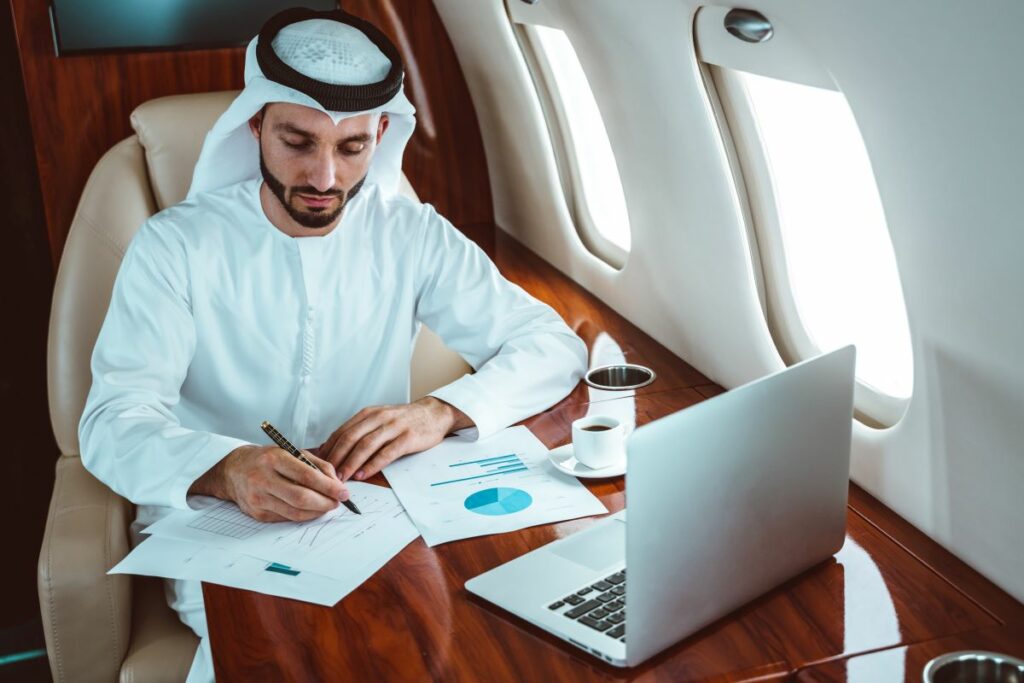 How much does it cost?
Private jet travel is a luxurious and convenient way to reach your destinations. The cost of these services varies greatly depending on different factors. Here are a few cost indications:
Medium-distance travel (e.g., Dubai to Sharm El Sheikh, Egypt):

Small jet (6 seats): Approximately $34,000

Medium-sized jet (13 seats): Approximately $45,000

Large jet (19 seats): Approximately $61,000

Short commutes (e.g., Dubai to Doha):

Small jet (6 seats): Approximately $18,400

Medium-sized jet (8–10 seats): Approximately $22,900

Long-distance travel (e.g., Dubai to Istanbul):

Small jet (6 seats): Approximately $39,000

Medium-sized jet (13 seats): Approximately $49,500

Large jet (19 seats): Approximately $67,000

Short-distance travel with large groups (e.g., Dubai to Riyadh):

13-seater jets: fares range from $24,250 to $31,450

18+ seater jets: Cost around $47,450
Frequently Asked Questions
Q: What is the cost of purchasing a private jet in the Middle East?
The cost of a private jet depends on the size and amenities of the aircraft. Particularly, light jets can run from $2 mn to $2.8 mn, while midsize models will set you back around $13.9 mn. On the other hand, large-cabin jets are the most expensive and can reach prices in excess of $66.5 mn.
Q: Can private jet hire be cost-effective for businesses?
While private jet hire can be expensive, for businesses that value time, flexibility, and convenience, it can prove to be cost-effective. Given the time saved by avoiding queues, potential overnight stays, and the productivity gained, private jet travel can significantly increase overall business productivity for busy executives.
For more stories on hospitality and tourism, click here.