The lifestyle of Muslims during the holy month of Ramadan differs from the daily life of the rest of the months. Perhaps the most important aspect of this holy month is fasting, and therefore it is self-evident that many stores and restaurants will witness an increase in their sales, but this is offset by a decline in GDP growth. So, how does the blessed month of Ramadan affect the economy in the GCC?
Productivity
There is no doubt that the long fasting hours and the decline in working hours are two factors that affect productivity growth, which relatively declines during Ramadan. This could lessen demand for labor, but only in specific areas, that is, as for those who work in institutions, their productivity declines significantly, but those who run their own businesses, usually increase their productivity.
zakat
Zakat funds allocated for the month of Ramadan contribute to moving the economy because they improve the living conditions of many groups in societies, and thus contribute to reducing the level of poverty and accelerating economic development.
For this purpose, some countries have established Zakat institutions, such as in Libya, Malaysia, Pakistan, Saudi Arabia, Sudan, and Yemen.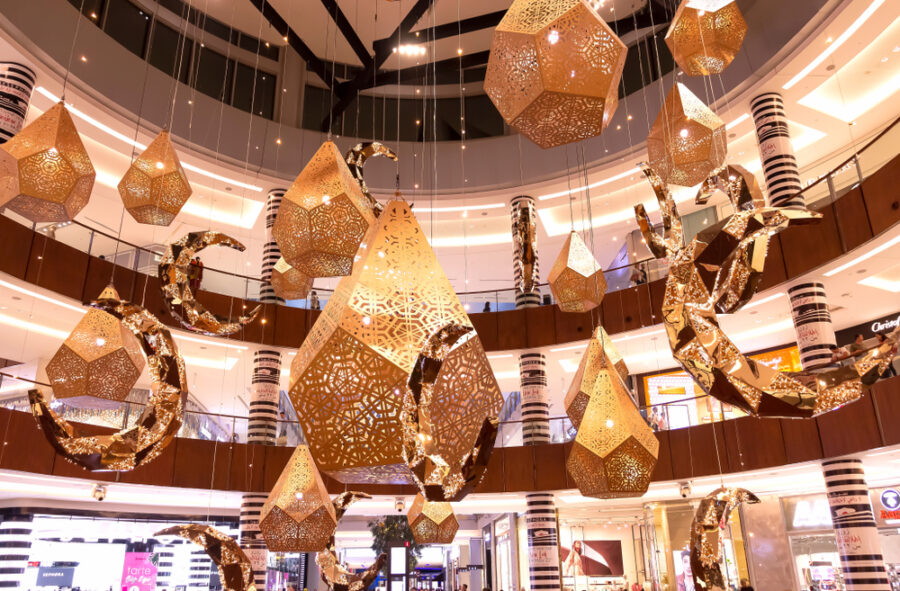 Consumer behavior
Ramadan is a month where abundant consumption takes place, and despite governments' attempts at regulating consumer prices, price hikes are usually the norm and this is expected to increase, especially in light of the Russian-Ukrainian war. Therefore, merchant profits are expected to also increase.
In addition, the number of customers in cafes and restaurants during Iftar, and supermarkets surges during the month of Ramadan.
With the coming of the holy month, the focus is on consumers' preferences in terms of shopping, and for this purpose, AdColony conducted research with independent research firm Global Webindex.
According to the research, 67 percent of users in the UAE follow food ads, followed by 53 percent looking at clothing, 44% searching for household products. These are the categories that occupied the top three positions.
Research indicated that 45 percent of consumers in the UAE will visit stores to buy groceries during Ramadan, while 46 percent will shop online and use home delivery.
And 66 percent of consumers in the UAE say they will mostly cook at home during Ramadan, while 19 percent will mostly order takeout.
Meanwhile, 47 percent say they are waiting for Ramadan offers to buy a car, evidence that car buying is also expected to increase that month.
The research also notes that spending on women's cosmetics increases, with the top focus being on perfumes at 42 percent, skincare at 35 percent, followed by haircare at 34 percent.
Sixty-six percent of respondents said they would travel abroad during Ramadan, while 18 percent of UAE mobile gamers prefer to buy travel tickets online.
In a related context, Amazon.ae announced the launch of new discounts during the holy month of Ramadan, starting from midnight on March 18 until March 27. The new sales include a wide range of product categories.
Ramadan date
The countdown to the blessed month of Ramadan has begun, and the watching of the crescent is expected to begin at the start of April this year.