November 28, 2022 6:48 pm
Saudi Arabia sponsors $1bn economic reform in Yemen
Deal aims to establish a comprehensive economic reform program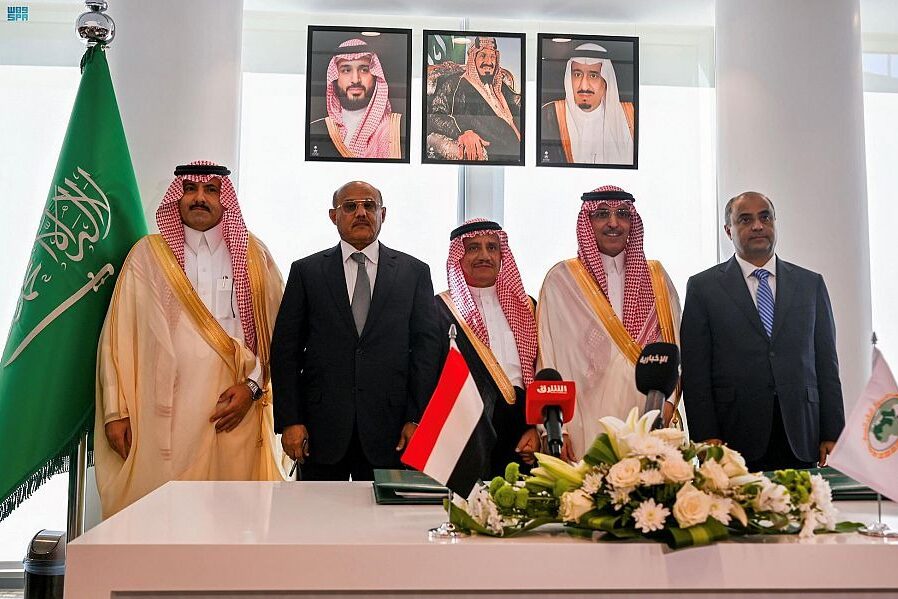 Second from right: Saudi Finance Minister Mohammed Al Jadaan with (second from left) AMF chairman Abdulrahman al-Hamidy (Photo credit: SPA)
The Arab Monetary Fund (AMF) has signed a $1 billion agreement with the Yemeni government to revitalize the country's flagging economy, with Saudi Arabia as a sponsor.
The deal, signed in Riyadh, aims to establish a comprehensive economic, financial, and monetary reform program to improve governance and transparency, expand and diversify production, and reduce unemployment and poverty.
Read more: Saudi, UAE pledge $3 billion to Yemen
The program, according to Saudi Finance Minister Mohammed Al-Jadaan, will develop Yemen's financial and banking sectors, strengthen the role of the private sector, and promote long-term economic development, Saudi Press Agency (SPA) reported.
The government's reform priorities include developing public resources, controlling and rationalizing government spending, improving efficiency, and rehabilitating critical infrastructure in the power, water, and transportation sectors.
Additionally, priorities for the financial and banking sectors include developing a supervision system to improve transparency and accountability, as well as expanding services for small and medium-sized businesses, as well as rural youth and women. It will also strive to increase digitalization and payment method versatility.
Saudi Arabia's sponsorship of the agreement is an extension of the country's economic support for Yemen. The Kingdom provided the Central Bank of Yemen with $1 billion in 2012 and $2 billion in 2018 to cover basic food commodity imports.
Moreover, Saudi led the list of donor countries to Yemen from 2001 to 2022, providing 30 percent of total support.
Exclusives