October 12, 2022 10:00 am
Sheikh Mohammed bin Rashid Al Maktoum tours GITEX Global 2022
"Dubai will continue to be the primary meeting place for future leaders"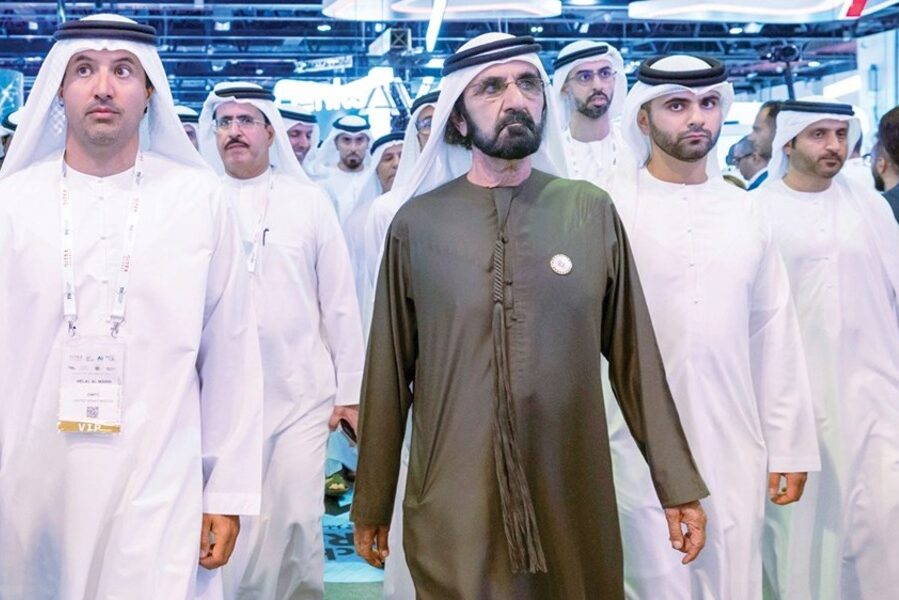 During Sheikh Mohammed bin Rashid's visit to GITEX GLOBAL 2022 (Image credit: WAM)
Sheikh Mohammed bin Rashid Al Maktoum, Vice President and Prime Minister of the UAE and Ruler of Dubai, emphasized that technology represents a rapid bridge to the future and that Dubai's organization of the world's largest event for tech makers and developers reflects the UAE's eagerness to support every thought and action that promotes opportunities for growth and prosperity in the world.
This came during Sheikh Mohammed bin Rashid Al Maktoum's visit to the GITEX Global 2022 exhibition, which opened its 42nd edition yesterday, Monday, at the Dubai World Trade Center, with over 5,000 exhibiting companies from 90 countries, including 35 start-ups.
Sheikh Mohammed bin Rashid Al Maktoum highlighted the strong and growing performance of Dubai's exhibitions and conferences sector, and the impact of this in supporting the global economy's movement and enabling its institutions to resume their activities strongly and restore growth rates during the pre-pandemic period, but also beyond it.
He stated: "The largest edition in GITEX history demonstrates Dubai's positive contribution to reviving global technology markets and assisting in the discovery of new paths for the growth and diversification of its companies' business volumes. Dubai will continue to be the primary meeting place for future leaders and the ideal starting point for those with broad ambitions seeking leadership positions."
"We have strong partnerships with the world's leading technology developers that we are proud of and are working to document in line with our development projects and serve to accelerate the implementation of our strategic goals," he said, referring to Dubai's fruitful collaboration with the global technology community.
Moreover, Sheikh Mohammed bin Rashid Al Maktoum stressed that the UAE and Dubai's rapid transformation to a digital environment is proof of the success of development strategies and the adoption and employment of the latest, most efficient, and dependable technologies, noting the country's eagerness to share the ingredients of this success with all brotherly and friendly countries.
Exclusives