January 17, 2023 4:51 pm
Sheikh Mohammed bin Rashid meets the President of South Korea
Meeting explores enhancing strategic cooperation between the two countries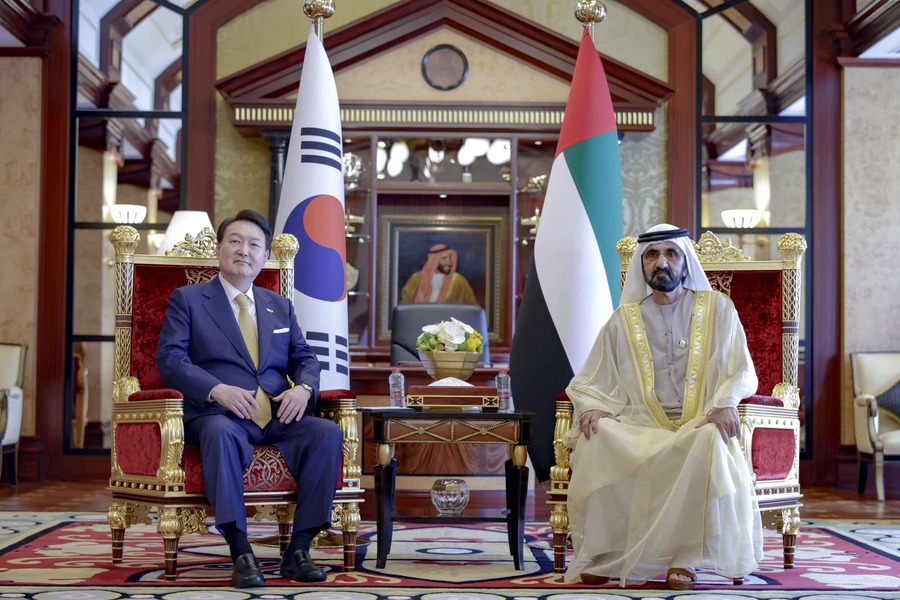 Sheikh Mohammed bin Rashid Al Maktoum, Ruler of Dubai, and Yoon Suk Yeol, President of South Korea (Photo Credit: Dubai Media Office)
Sheikh Mohammed bin Rashid Al Maktoum, Vice President and Prime Minister of the UAE and Ruler of Dubai, today met with His Excellency Yoon Suk Yeol, President of South Korea, who is on his first state visit since assuming office as President.
The meeting, held at the Za'abeel Palace, discussed the strong strategic partnership between the two countries and explored new opportunities to expand ties in various spheres.
Read: UAE decides to invest USD30 bn in South Korea
The meeting also discussed regional and global issues and ways to expand cooperation to support the development goals of both nations, especially in the fields of investment, economy, science, culture, advanced technology, space exploration, and renewable energy.
Sheikh Mohammed expressed the hope that the South Korean President's visit to the UAE would further deepen the scope of strategic cooperation between the two countries across various areas of common interest.
Expressing his happiness at visiting the UAE, the South Korean President highlighted the growing ties between the two countries based on mutual understanding and respect and shared values.
The President of South Korea expressed the hope that relations between the UAE and his country would continue to grow in ways that serve the interests of the people of the two nations.
The meeting was attended by Sheikh Ahmed bin Saeed Al Maktoum, President of the Dubai Civil Aviation Authority and Chairman and Chief Executive of Emirates Airline and Group; Sheikh Ahmed bin Mohammed bin Rashid Al Maktoum, Chairman of the Dubai Media Council; Sheikh Mansoor bin Mohammed bin Rashid Al Maktoum, Chairman of the Dubai Sports Council; Reem Al Hashimy, Minister of State for International Cooperation; Mohamed Al Shaibani, Director General of The Ruler's Court of Dubai; Khalifa Saeed Sulaiman, Chairman of Protocols for the Vice President and Prime Minister of the UAE; and Abdullah Saif Ali Al Nuaimi, UAE Ambassador to South Korea.
To read more economic news, click here.
Exclusives