January 25, 2023 5:47 pm
Telecom Egypt positions country on global map via submarine cables
Company invested $500 million to develop international infrastructure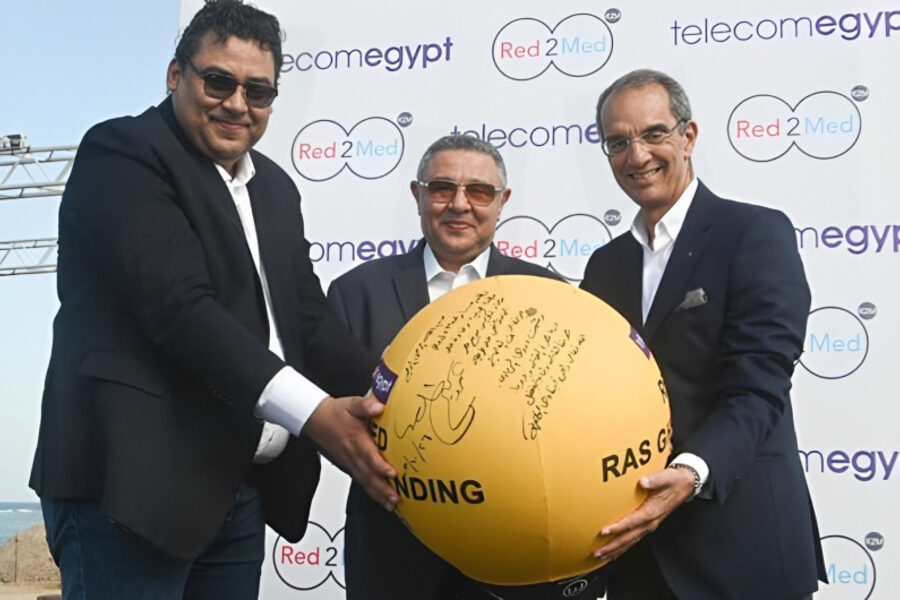 (From right) ICT Minister Amr Talaat inaugurating Red2Med cable with the Red Sea Governor Amr Hanafi, and Telecom Egypt's CEP Adel Hamed (Photo Credit: Telecom Review)
Telecom Egypt made great strides over the past years toward developing its international and local infrastructure to retain its leading position in the African continent telecommunications market.
Investing heavily to provide the shortest and most reliable path to connect Asia, Africa, and Europe, the company seeks to leverage Egypt's unique geographic location, reinforce its strategic standing as a regional and global focal point for data traffic, and strengthen its position as a hub connecting Africa and the Middle East to Europe, thus making Egypt a promising market for the ever-growing data center industry.
Read more: stc launches "Saudi Vision Cable", the 1st high-capacity submarine cable in the Red Sea
Over the past ten years, Telecom Egypt invested about $500 million to strengthen and develop the international infrastructure, including landing stations and land routes connecting them. The company also invested another $500 million within the same period to expand its network geographically by becoming a member of international alliances owning submarine cables crossing Egypt.
Starting with Red2Med, the newly launched submarine cable runs from Ras Ghareb landing point in the Red Sea through the Suez Canal to the landing station in Port Said in the Mediterranean Sea through the Internet Corridor of Egypt (ICE), the golden route in Morshedeen Road. The cable is the shortest, fastest, and most secure way to transfer data between East and West.
Additionally, the cable represents the shortest and fastest data transmission paths between East and West and the continents of Africa, Europe, and Asia.
Egypt's Minister of Communications and Information Technology (MCIT) Amr Talaat inaugurated the Red2Med new submarine cable of Telecom Egypt. He was accompanied by Red Sea Governor Amr Hanafi and Telecom Egypt CEO and Managing Director Adel Hamed.
Talaat noted that MCIT seeks to leverage Egypt's exceptional geographic location, a major strategic advantage for the country, as more than 90 percent of the data passing between East and West cross the Egyptian lands.
For his part, Hamed stated that launching Red2Med is a remarkable achievement and a breakthrough in the submarine cables industry, as it cements Egypt's position as a regional data hub. He added that the new cable system, which serves a brand-new optical path, will encourage and support better international connectivity.
EMIC-1
In June, Telecom Egypt signed a crossing and landing agreement for the Europe Middle-East India Connect 1 (EMIC-1) subsea cable in Egypt. Under the agreement, Telecom Egypt provided EMIC-1, which is a new intercontinental subsea cable and terrestrial fiber system, a seamless optical path between East Africa, Asia, and Europe. This is the first modern cable along this route, connecting up to 3 billion people to the internet and accommodating the growing demand for data in the world's fastest-growing region
For more telecom news, click here
Exclusives