When it comes to breaking barriers, the Middle East has certainly made its remarkable mark in the Guinness World Records. For 2023 alone, the region has emerged as an exceptional participant, with 50 records on the world stage out of 40,000 applicants globally.
Here, we identify some of the amazing Guinness World Records set in the Middle East.
World records in the Middle East
Saudi Arabia's impressive feats
Among the many marvels from Saudi Arabia, we witness an array of unusual feats and creations. Noteworthy accomplishments include:
Largest LED Structure and Brightest Suspended Ornament by Noor Riyadh Festival

Largest Lego Brick Formula 1 Car by Saudi Arabia Motor Federation

Most LED Lights in a Display by MDLBEAST

Most Simultaneous Pepper's Ghost Illusions of a Person by Riyadh Season and General Entertainment Authority, featuring pan-Arab celebrity singer Mohammed Abdo

Largest Mirrored Building for Maraya by The Royal Commission for AlUla

Largest Clock Face by Makkah Clock Tower

Tallest Lighthouse by Jeddah Port Control Tower

Largest Geodesic Dome by Jeddah Superdome
UAE's record-setting achievements
Furthermore, the UAE enlightened the world with its humanitarian world records in the Middle East. Its contributory efforts range from:
Longest Live-Stream (video) by Mohammed Bin Rashid Al Maktoum Global Initiatives and pan Arab influencer Hassan Suleiman (AboFlah)

Largest Donation For A Patient's Medical Treatment by Emirates Red Crescent

Most Awareness Ribbons Made In One Hour (team) by Emirates Oncology Society

First 3D-printed Laboratory by Dubai Electricity and Water Authority (DEWA)

Largest Synchronized Car Dance by Sony PlayStation Middle East

Most Contributions To A Color By Numbers by Farah Experiences for Ferrari World Abu Dhabi

Largest Inflatable Aqua Park by Aqua Fun

Tallest Building for Burj Khalifa

Longest Zip Wire by RAK Tourism Authority for Toro Verde

Deepest Swimming Pool For Diving by Deep Dive Dubai

Tallest Hotel for Gevora Hotel
Read: 19.28-metre Hatta Sign breaks Guinness World Records™ title for 'The Tallest Landmark Sign'
Unique records across Egypt and Iraq
Meanwhile, Egypt and Iraq have set their own unique world records, making it clear that talent and creativity know no borders.
Egypt
Mohamed Shehata for the widest arm span on a living person (male) and the widest hand span on a living person (male)

Mahmoud Ayoub for one of his 30+ records for the most fingertip pushups (one arm) in one minute

Al Ahly Sporting Club for the most wins of the CAF Champions League

Heaviest chandelier by Asfour Crystal International S.A.E.
Iraq
Largest pin-and-thread art by Saeed Howidi

Most eggs balanced on the back of hand (18 eggs)

Tallest stack of M&M's by Ibrahim Sadeq
A showcase of talent from Kuwait to Lebanon
Similarly, Kuwait showcased its unique talents, with LOOPZ achieving the record for the longest indoor slide. Additionally, Yousef Al Refaie accomplished another impressive feat as the youngest person to climb the Seven Volcanic Summits.
In Jordan, another record was broken in the para-sports sector, with Abdelkareem Khatab performing the heaviest powerlift. Further, in Morocco, Ayoub Taoube rightfully earned his title for the most single-leg backward somersaults in 30 seconds.
Moving on to Lebanon, we find Dareen Barbar, a resilient Lebanese athlete who lost her leg at the age of 15. Despite this, Barbar achieved the world record in the Middle East for the longest Samson's chair or static wall sit.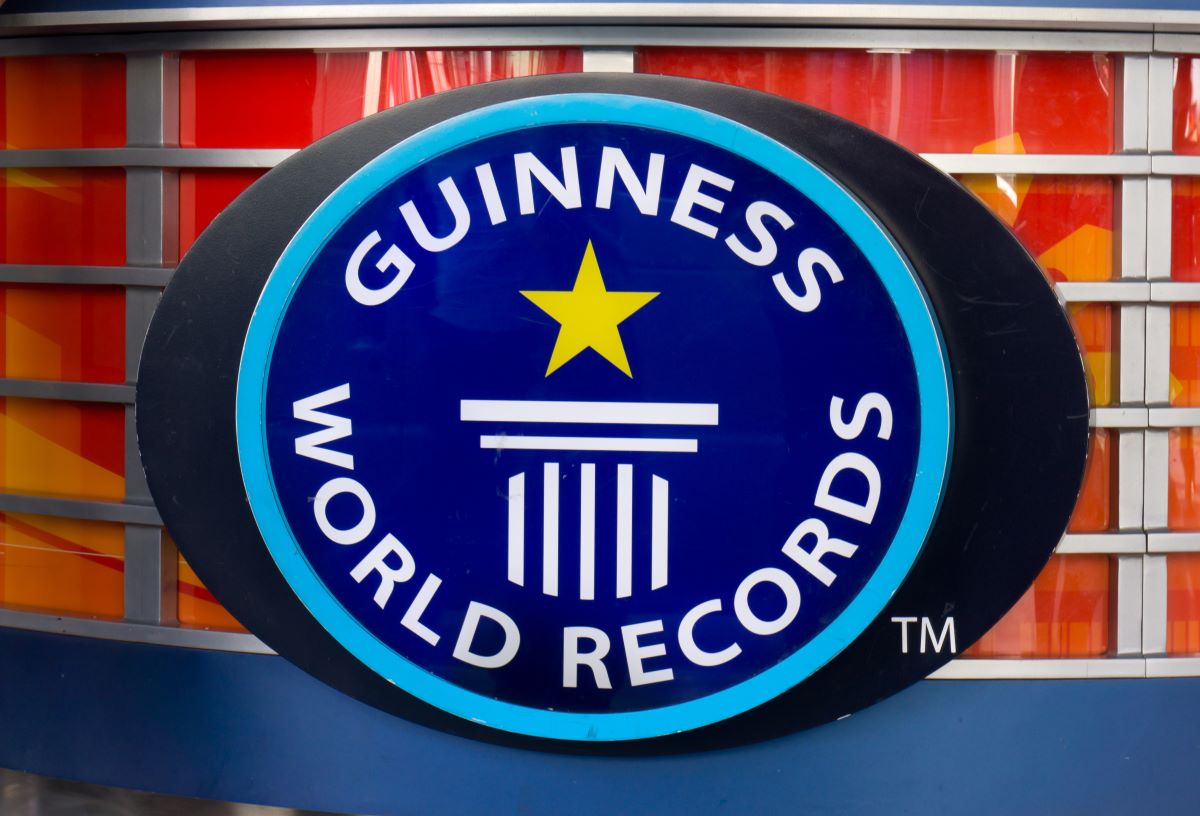 Triumphs from Qatar to Syria
In Qatar, incredible feats were achieved on multiple fronts:
Ahmed Al Shahrani set the world record for the fastest crossing of Qatar by wheelchair

Doha Oasis Quest amazed with its EpiQ, the world's tallest indoor rollercoaster

The Embassy of India in Qatar united people from all over the world by organizing a yoga lesson that broke the record for the most nationalities in a single yoga session
These records from Qatar reiterate the country's commitment to inclusivity and overcoming adversity, staying true to the essence of the world-record Middle East achievements.
Meanwhile, all the way in Syria, we find determination personified in the achievement of Mohhamad Feido. This record-breaker executed the most knuckle push-ups while carrying a 40-lb pack in just three minutes—an inspiring testament to his physical strength and tenacity.
From food to the faithful in Algeria
Moving westward, we discover the incredible achievements of Algeria. The International Fair of Algiers birthed the world's largest Bowl of Couscous, showcasing the nation's rich cultural heritage.
Adding a spiritual dimension to the world record Middle East landscape, Djamaa el Djazair achieved one for the tallest minaret. It is an iconic symbol of faith, which now stands as another feather in the Algerian World Record cap.
Striking features from Bahrain to Sudan
Heading south, Bahrain beckons with an intriguing record of its own. Adam Saeed, in a true test of geographical knowledge, clinched the record for identifying the most countries by their outline. This achievement broadened the scope of the world record Middle East phenomenon, demonstrating the intellectual prowess that the region harbors.
Symmetrically resonating with Bahrain's brainy record, Sudan steps up to the plate with the intriguing achievement of Ramdan Rahma. Accordingly, he made an extraordinary record in the impairment classification records for the most penalty kicks achieved in a single hour.
Final thoughts
These fascinating accomplishments not only present individual brilliance but also paint a vivid picture of the devotion, tenacity, and unity that bind the Middle East.
With each world record in the Middle East, these nations inspire people worldwide and prove that talent and creativity know no boundaries.
For more stories on the economy, click here.