During India's Prime Minister (PM) Narendra Modi's recent visit to Abu Dhabi, the UAE and India signed a groundbreaking agreement to utilize a rupee-dirham payment mechanism for cross-border trade. This marks the first agreement of its kind between the two countries. Additionally, they signed an agreement to connect their fast payment systems – India's Unified Payments Interface (UPI) and the UAE's Instant Payment Platform (IPP).
Read more: UAE-India AEO agreements fast-track customs
PM Modi witnessed in Abu Dhabi the signing of two memoranda of understanding (MoUs) between the central banks of India and the UAE. These MoUs were signed in the presence of UAE President Shiekh Mohamed bin Zayed Al Nahyan.
According to a statement from the Reserve Bank of India (RBI), the MoU signed between the central banks of India and the UAE aims to establish a framework for the usage of local currencies in transactions between both countries. The statement clarified that the objective is to create a Local Currency Settlement (LCS) system that will facilitate bilateral transactions using the Indian rupee (INR) and the UAE Dirham (AED).
RBI further stated that the MoU encompasses all current account transactions as well as permitted capital account transactions.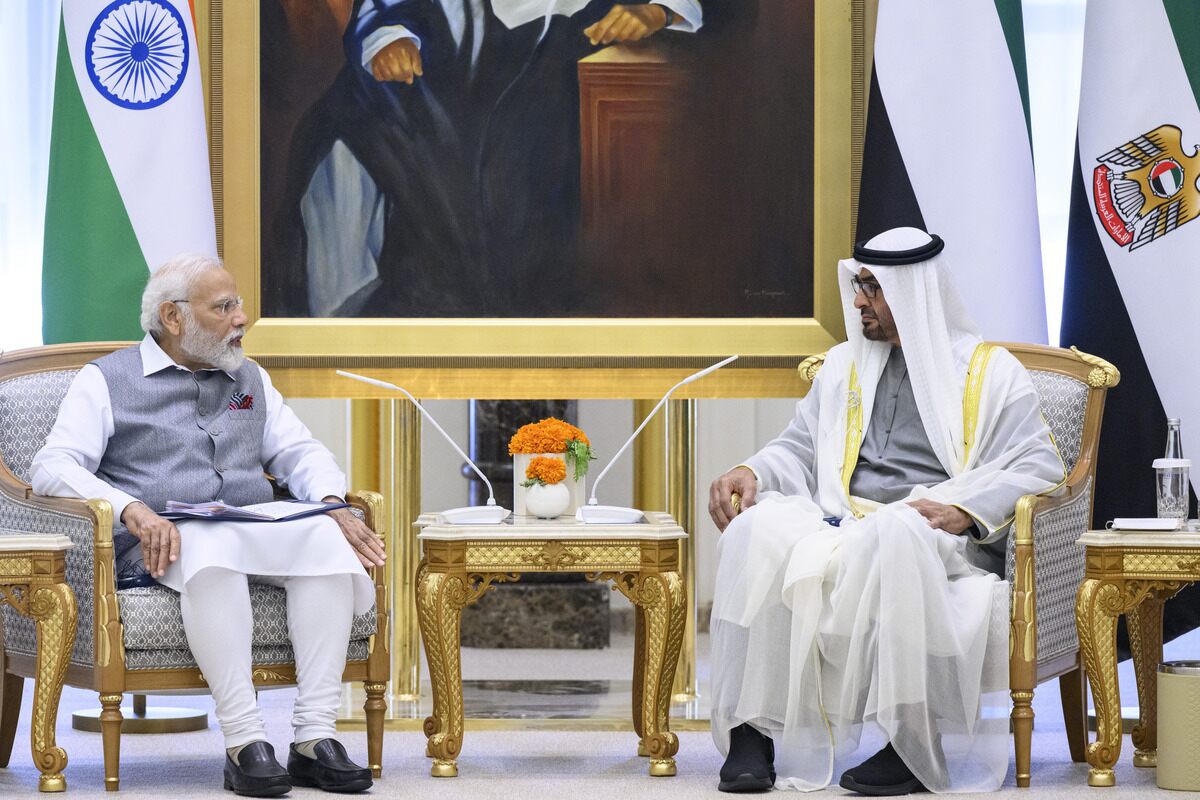 Bilateral trade
During the period from April 2022 to March 2023, the bilateral trade between the two countries amounted to $84.5 billion.
The recently reported increase in the volume of non-oil trade between the UAE and India is seen as a positive outcome of the Comprehensive Economic Partnership Agreement (CEPA), which has been in effect for over a year. This progress is expected to aid in achieving the goal of $100 billion in non-oil trade annually over the next five years, as stated in a report published by the Emirates news agency (WAM).
According to data released by the UAE's Federal Competitiveness and Statistics Centre (FCSC), the volume of non-oil trade between the two countries surged by 84 percent during 2020-2022, from 102.5 billion dirhams (AED) to AED188.8 billion the previous year.
Over the period from 2013-2022, the growth rate of trade between the two countries was 18.2 percent, rising from AED159.72 billion to AED188.8 billion, and reaching a total of AED1.41 trillion in a decade.
For more news on logistics, click here.