October 18, 2022 5:08 pm
UAE real estate market continues to flourish in Q3
Average residential prices in Q3 grew by 9% year-on-year in Dubai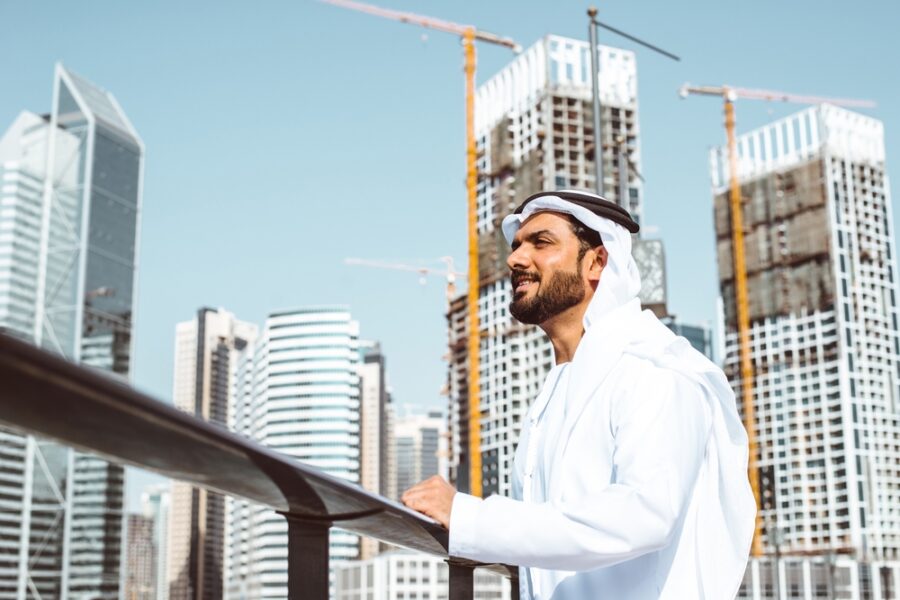 Arabic businessman looking at the skyline in Dubai
The UAE continued to witness a positive trajectory across the residential, office, retail, and hospitality sectors in the third quarter of this year, JLL highlighted in its latest UAE Real Estate Market Report.
Overall, average residential prices in Q3 grew by 9% year-on-year in Dubai, while average rental rates saw a 25% year-on-year increase, with both sales and rentals being bolstered by stronger demand and increased buyer activity. Meanwhile, sale prices in the capital grew by 4% year-on-year, while average rents rose by 2% year-on-year. Abu Dhabi is seeing increased demand for new developments located within investment zones – especially for townhouses and villas. 
The quarterly report suggests around 6,600 residential units were handed over in Dubai in Q3, raising total stock to 672,000 units, while an additional 20,000 units are scheduled for completion by year-end. In Abu Dhabi, approximately 1,900 units were delivered in Q3, bringing the Emirate's total dwellings to roughly 278,000 units.
Office space
Dubai's Central Business District (CBD) office rents saw a 24% year-on-year increase in Q3, caused by continued scarcity of good quality stock and no new office completions across the city. The emirate anticipates the addition of approximately 53,000 square meters of office space ready for handover by year-end.
Retail
While the third quarter saw no new retail projects completed in either Dubai or Abu Dhabi, the sector's Q4 activity looks set to welcome around 154,000 sq. m. of new retail space in Dubai and 197,000 sq. m. in the capital.
Hospitality
Dubai's occupancy levels reached 70% between January and August 2022, a notable jump compared to the same period in 2021 (58%). The average daily rate (ADR) reached $181 and revenue per available room (RevPAR) surged to $ 127. In Abu Dhabi, occupancy levels reached 68%, compared to 63% last year, while ADR and RevPAR rose to $105 and $71, respectively.
Exclusives