January 5, 2023 6:03 pm
Ultimate Motors, the new authorised distributor for Automobili Lamborghini
The UAE based company will handle all sales, after sales and customer service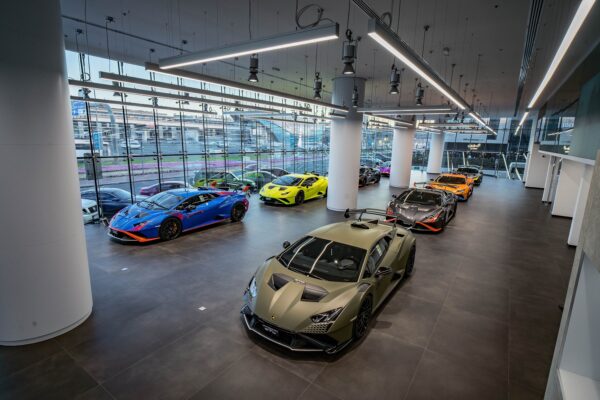 Ultimate Motors, Dubai
At an exclusive launch event at the iconic flagship showroom on Dubai's Sheikh Zayed Road, for the inauguration of Ultimate Motors as the authorized distributor for Automobili Lamborghini, Economy Middle East spoke to Paolo Sartori, Regional Head, Automobili Lamborghini Middle East and Africa, and Martino Picotti, General Manager at Lamborghini in Dubai and Abu Dhabi.
Speaking about the appointment, Paolo Sartori, said: "We are excited to welcome Ultimate Motors as our new distributor in Dubai and Abu Dhabi. With a product offering more wide-ranging than ever, more technologically advanced, and able to amplify our customers' emotions, I'm sure that we will continue to grow the brand in the UAE, building on our success and popularity from previous years."
Comprising a highly experienced and skilled management team, Ultimate Motors has been appointed by the Italian super-sports car manufacturer following an extremely successful first half of 2022 for the brand in the UAE. Speaking to Paolo, we asked:
Will Lamborghini continue to manufacture internal-combustion engines after 2025?
At Lamborghini, we have a defined strategy, and from 2023, with our new models, we'll see a shift to a range that will include hybrids only. Then in the second part of the decade, some electrification on certain models will come, but that is still to be defined.
We are of course Lamborghini and we always want to create something exciting for our clients. We are very aware of the needs and the demand, and we will always be sure and make sure that the expectation of our clients will be managed and met for the product when it comes to the range. But, at the moment, this is our strategy, and I think the first touch point of the hybridization will be with the follower of the Aventador, which will still keep in the V12.
The majority of the power will still come from the V12 naturally spirited range. Of course, then we will go into the plug-in-hybrid. So we're still very much focusing on giving those emotions from each car and we start with the Aventador next year, and then we will go towards hybrids. We are also working very much to reduce CO2 emissions as a company for our product range, and we'll cut it down by 50% in 2025.
For more lifestyle stories on cars, click here
How will working with Ultimate Motors benefit the Lamborghini brands here in the UAE?
I am very happy to work with our new partner, our new distributor. We have a fresh new team on board with us, and I'm very excited about what they can bring in terms of know-how and experience. We have a lot of events planned, among other things together. One good example is the event we did in Abu Dhabi for the new service center, which is state-of-the-art. Definitely very excited to work together with our new dealer for Lamborghini in Dubai and Abu Dhabi.
Martino Picotti, GM at Lamborghini in Dubai, and Abu Dhabi
Martino Picotti, General Manager at Lamborghini in Dubai and Abu Dhabi said: "We are delighted to take on this role as the new distributor for Automobili Lamborghini in Dubai and Abu Dhabi. And we are confident that we can create a successful future for the Italian automaker in the UAE by continuing to gear up our operations and enhancing our structure with the introduction of key functions and departments such as the Selezione Certified Pre-owned, CRM, and Training & Compliance.  Therefore we look forward to providing our customers with an unrivaled experience while maintaining the highest levels of quality."
Could you tell us about the sales volume for Lamborghini here in UAE and what are the most popular models in the region?
The UAE sales volume has always been very strong and we're very happy to have a very busy order volume for the next 24 months. With regards to the UAE, the Urus, our sports luxury SUV, has the highest demand. We also have good demand for the V10 and the V12s'. We also expect to have inventory for the Performante and Tecnica variations in the showroom from the first quarter of 2023.
Exclusives