February 14, 2023 11:36 am
Sheikh Hamdan at WGS: Meta deal to generate AED100 bn annually
Dubai looking to further deepen partnerships with global tech giants
Sheikh Hamdan bin Mohammed meets with Meta's President for Global Affairs (Photo Credit: Dubai Media Office)
Dubai's strong partnerships with companies such as Meta also support D33's aim to generate 100 billion dirhams annually from digital transformation and the Dubai Metaverse Strategy's goal to turn the emirate into one of the world's top 10 metaverse economies by 2030, Sheikh Hamdan bin Mohammed bin Rashid Al Maktoum, Crown Prince of Dubai, said.
The announcement came during Sheikh Hamdan's meeting with Nick Clegg, President of Global Affairs, Meta, on the sidelines of the World Government Summit (WGS) 2023.
Sheikh Hamdan further said that partnerships with international technology players are particularly vital in the context of the objective of the Dubai Economic Agenda D33, recently launched by Sheikh Mohammed bin Rashid Al Maktoum, Vice President and Prime Minister of the UAE and Ruler of Dubai, to accelerate investments in advanced technology and develop a large pool of talent to consolidate Dubai's global competitiveness, innovation, and knowledge-based economy.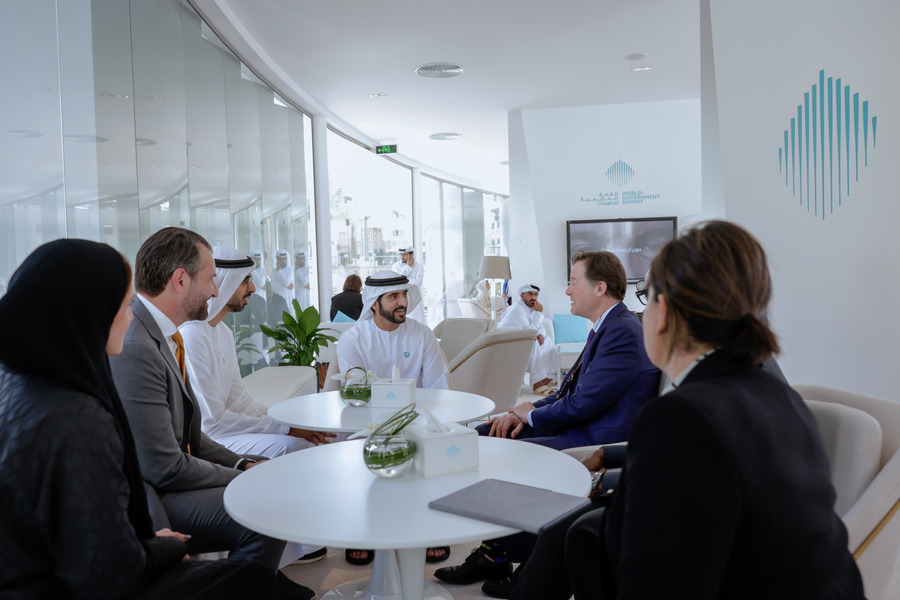 In his discussions with Meta's Global Affairs President, Sheikh Hamdan bin Mohammed said Dubai is looking to further deepen synergistic partnerships with global technology majors like Meta to further the leadership's vision to transform Dubai into a frontrunner in shaping the future of the world's digital landscape. As part of the goal of turning Dubai into a global destination for technology and digital industry talent, the emirate is keen to strengthen cooperation with the world's leading companies in the sector, Sheikh Hamdan added.
Read more: Deloitte WGS: Addressing cyber skills gap and future health policymaking
Sheikh Hamdan highlighted that Dubai provides established technology companies, emerging players, and promising entrepreneurial ventures one of the world's best environments to incubate innovative ideas and tap new growth opportunities emerging from the waves of the digital transformation sweeping the economy.
The meeting was attended by Omar Sultan Al Olama, Minister of State for Artificial Intelligence, Digital Economy and Remote Work Applications, and Managing Director of the WGS Organisation.
Meta, formerly known as Facebook, opened its new regional headquarters in Dubai Internet City in March last year. The new headquarters enables the company to cater to the growing needs of a vast number of people in the region who use the company's platforms. Meta works with communities, creators, partners, media, and governments to enable millions of people in the region to use its platforms to create content. From everyday users to large global brands and upcoming entrepreneurs, Meta's platforms are utilized in a variety of ways in the region.
For more on WSG, click here.
Exclusives