UAE mortgage rates remained attractive in 2022 despite rising inflation and interest rates during the year.
Newly released research shows mortgage transactions have sustained momentum in the country's real estate market, particularly in Dubai. 
The trend came despite fears of a slowdown following the completion of Expo 2020 Dubai and challenging global macroeconomic conditions.
The Mortgage Market Annual Report 2022 states Mortgage Finder noted an annual increase of 50 percent in mortgage applications last year. 
Dubai Land Department's (DLD) mortgage transaction data too demonstrated continued momentum from 2021. There were 16,700 mortgage transactions in 2022, a record-high volume for the city.
Why were UAE mortgages popular in 2022?
A multitude of factors contributed to the popularity of mortgage transactions in the UAE in 2022.
One driver was growing property investor appetite. 
In Dubai, demand for properties outstripped supply in 2022. In the luxury and ultra-luxury segments, amid growing demand from ultra-high-net-worth individuals, the trend will likely continue in 2023.
With construction activity resuming, property handovers in 2022 reached a 35,560 properties in Dubai alone. The figure was a year-on-year jump of about 16 percent.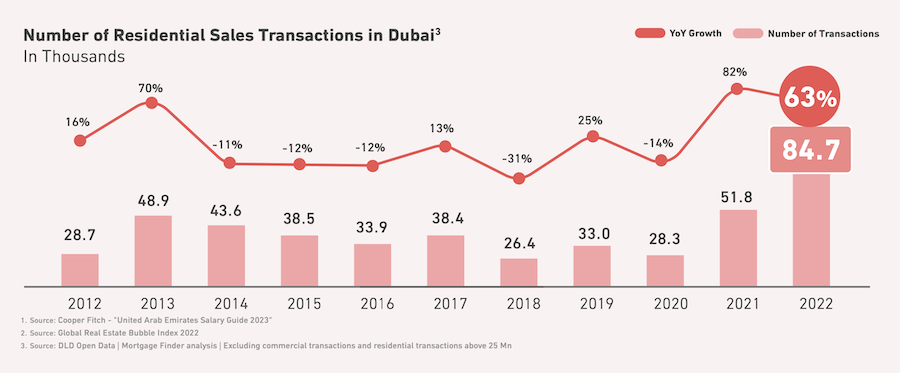 Growing rents in 2022 also turned the tide toward sales transactions and mortgages. In the post-COVID property sector, pressure on tenants increased as landlords sought to either sell properties or pay higher rents. In some cases, hikes of about 50 percent were made to rental rates. 
According to Mortgage Finder, tenants "who had the means to make a down payment rushed to take advantage of interest rates remaining sub-5 percent throughout 2022 to secure a mortgage and buy their property". 
However, there was significant growth in buyer demand, and DLD too reported a decline in rental transactions alongside "an astonishing growth in sales transactions".
Read more: Dubai posts record 16,700 residential mortgage transactions in 2022
Interest rates
UAE interest rate decisions are naturally influencing mortgage activity in the country.
Mortgage rates in the UAE are linked to the Emirates Interbank Offered Rate (EIBOR) index. The EIBOR is, in turn, influenced by the US Fed rate since the UAE dirham is pegged to the US dollar.
Rising inflation has led to growth in interest – and consequently, mortgage – rates. 
Mortgage Finder estimates UAE mortgage rates reached 5 percent in end-December 2022 from 2 percent at the start of last year.
Average mortgage terms and loan-to-value held steady at 21 years and 73 percent in 2021 and 2022.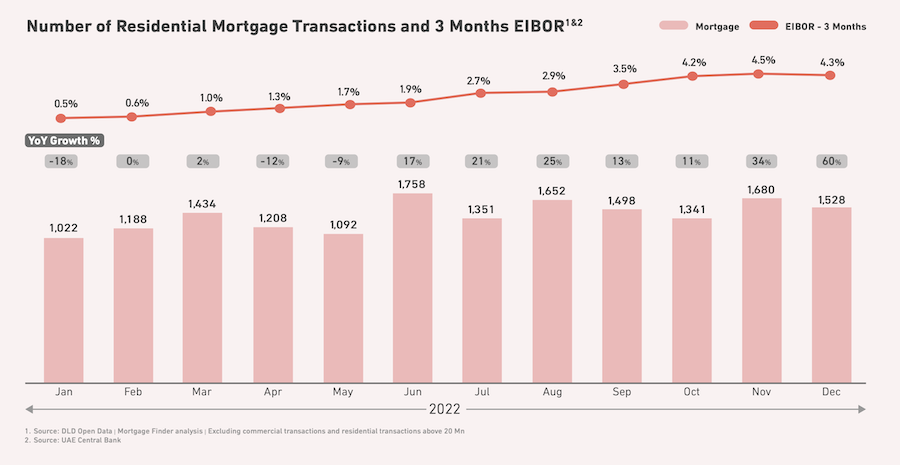 Mortgage values, however, grew from an average of AED1.55 million ($422,000) in 2021 to AED1.67 million ($454,700) in 2022.
Buyout transactions too doubled in 2022, which Mortgage Finder said: "was a natural result of the rapid rise in mortgage rates". 
"Most homeowners had opted for variable rates in previous years to take advantage of rates below 2 percent, as no one was anticipating a large-scale war to break in 2022, driving inflation and exponentially higher interest rates. 
"Transitioning to a fixed rate mortgage was the prudent decision to make for most in order to stabilize their housing cost."
UAE mortgage rates outlook
UAE-based Lenddoo Mortgages said in the fourth quarter of 2022, the majority of variable-rate holders were refinancing their mortgages into lower, fixed-rate mortgages. 
The agency estimated in January that for every AED1 million of mortgages, homeowners on variable rates will pay an additional AED4,000 per month in Q1 2023 compared to Q1 2022. However, banks are also offering three-year fixed rates of about 4.99 percent, which it said is "much lower than any existing variable rate mortgage".
Mortgage transactions, particularly in Dubai, may display some immunity to interest rate hikes in 2023, Ata Shobeiry, chief executive of UAE property portal Zoom Property, told local media. 
"The interest rate may reach 4.9 percent by the end of the year. But, the perks Dubai offers to entrepreneurs, investors, and end-users will continue attracting potential buyers who will drive the market's growth in coming times."