February 13, 2023 11:28 am
World Government Summit (WGS): A view from above
Dubai to become first city with fully developed vertiports network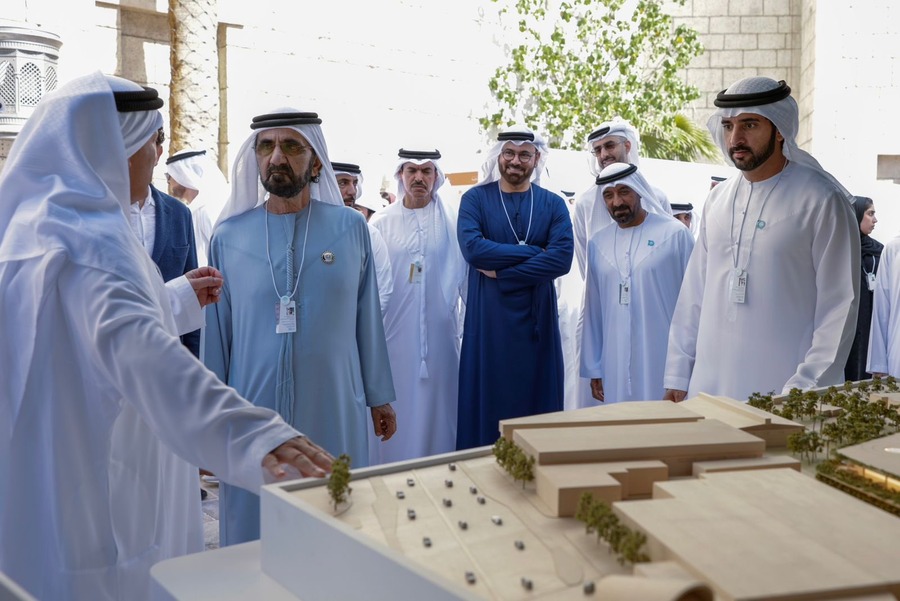 Sheikh Mohammed Al Maktoum approved designs for air taxi stations at the World Government Summit (Photo Credit: Sheikh Mohammed's Twitter account)
Air taxis will begin flying in Dubai within three years, says Sheikh Mohammed bin Rashid, Vice President and Ruler of Dubai.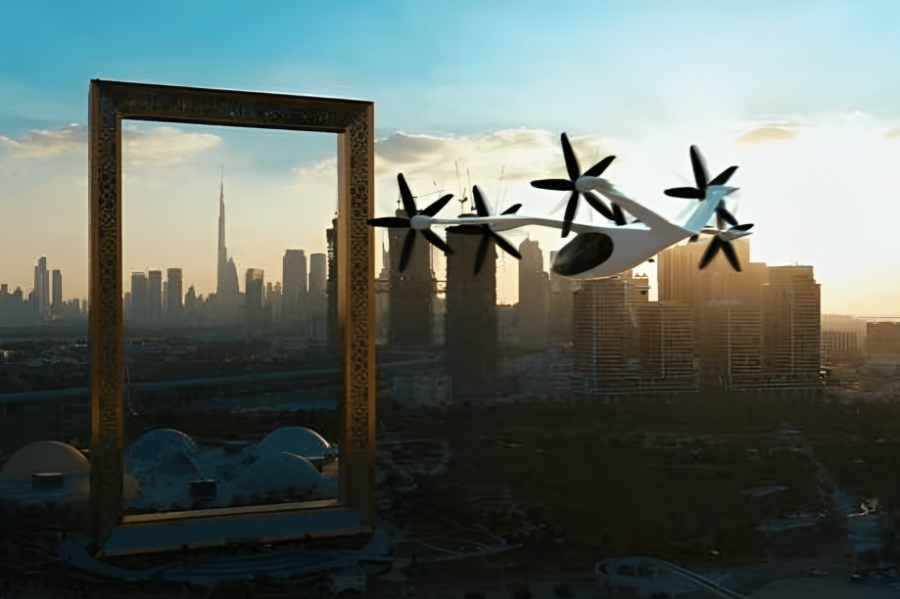 Sheikh Mohammed made the announcement on Twitter, where he revealed he had approved designs for air taxi stations at the World Government Summit (WGS) in Dubai this week.
"From the World Government Summit, we approved today the design of the new air taxi stations in Dubai, which will start operating within three years," Sheikh Mohammed tweeted.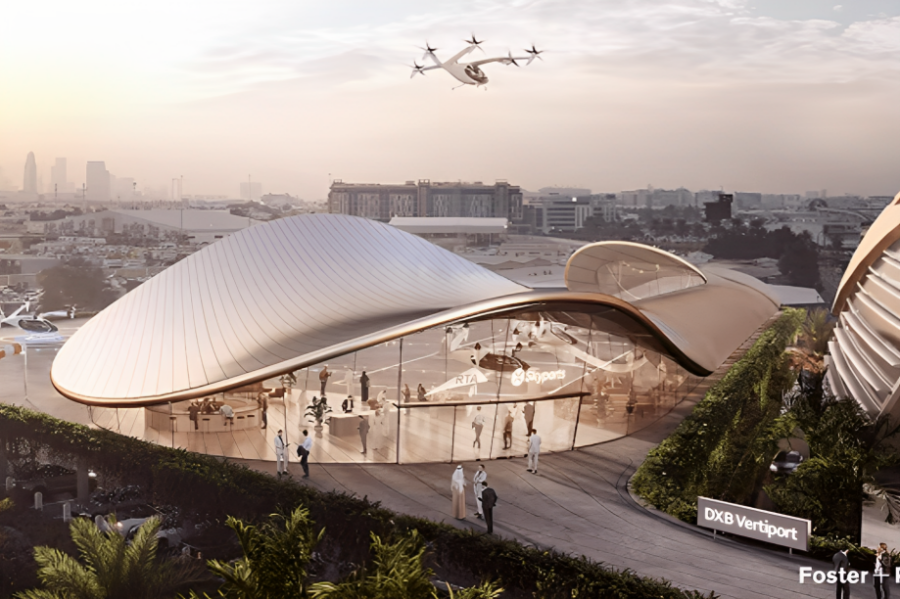 A video accompanying the tweet says: "RTA has been working with advanced air mobility companies Skyports Infrastructure and Joby Aviation to design and develop the infrastructure for an expected launch of electric vertical take-off and landing (eVTOL) operations by 2026."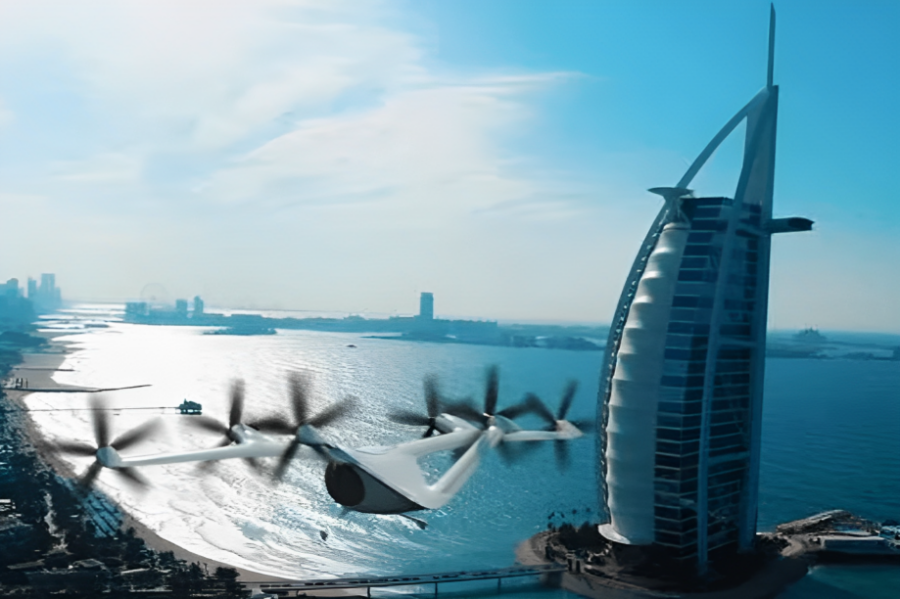 Some of the innovations feature the "National Platform for Artificial Intelligence" developed by Serbia, which is based on a new strategy aimed at developing a massive device that allows students, scientists, and startups to use the platform for free to develop artificial intelligence applications.
Other projects include a future model that allows citizens to access government services through a virtual assistant, as well as future techniques for neurotechnology development and others.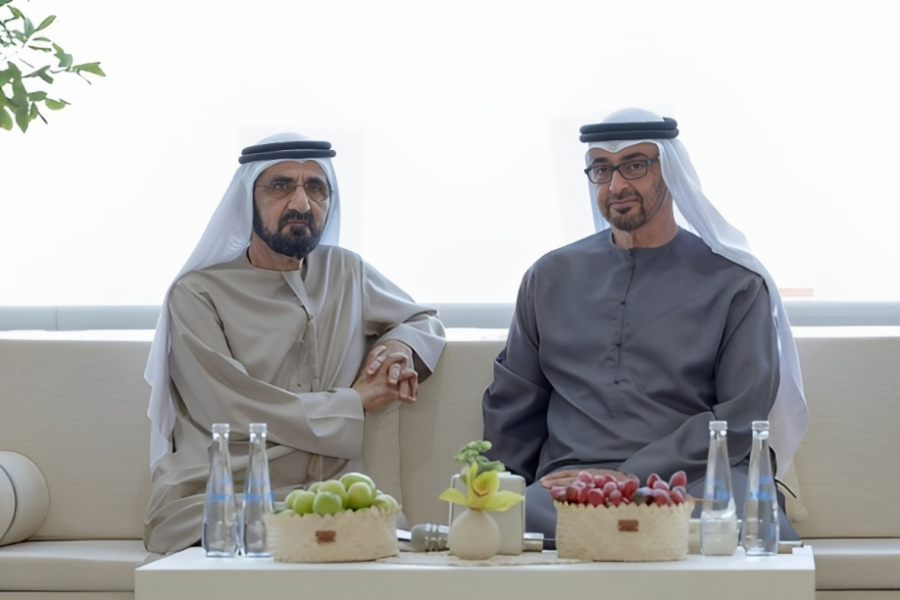 UAE President Sheikh Mohamed bin Zayed Al Nahyan and Sheikh Mohammed bin Rashid Al Maktoum welcomed participants to the World Government Summit (WGS), which starts on Monday.
The WGS, being held this week until February 15, is one of the world's major platforms for high-level delegates to exchange ideas on a broad and urgent range of topics.
Under the theme of Shaping Future Governments, the three-day event will bring together 20 heads of state, more than 250 ministers, more than 10,000 government officials, thinkers, global experts, and over 80 international organizations.
Read more: WGS in Dubai to discuss a better future for humanity
"The WGS consolidates the UAE's message of openness and constructive interaction with global developing issues and emphasizes the UAE's influential contribution to finding solutions to future challenges, in a way that meets the aspirations of future generations and benefits the world," said Sheikh Mohammed Al Maktoum.
"The WGS signifies 10 years of influence during which the summit has unleashed new horizons for management and institutional work. "There are new challenges facing our fast-changing world every day and close cooperation among the world's governments fosters hope for a better tomorrow for humanity. The WGS is a shining example of what we can do to serve people and create a better future for the new generations," Sheikh Maktoum added.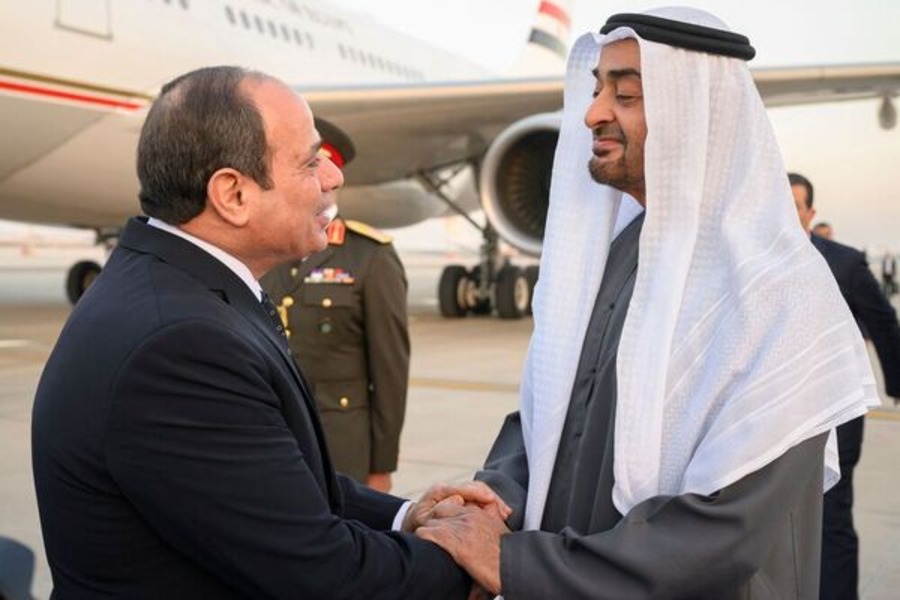 El Sisi
President Sheikh Mohamed on Sunday welcomed Egypt's President Abdel Fattah El Sisi to Abu Dhabi.
El Sisi is in the UAE on a working visit and will lead the Egyptian delegation to this week's WGS in Dubai.
He is one of many heads of state scheduled to attend this week's high-level event.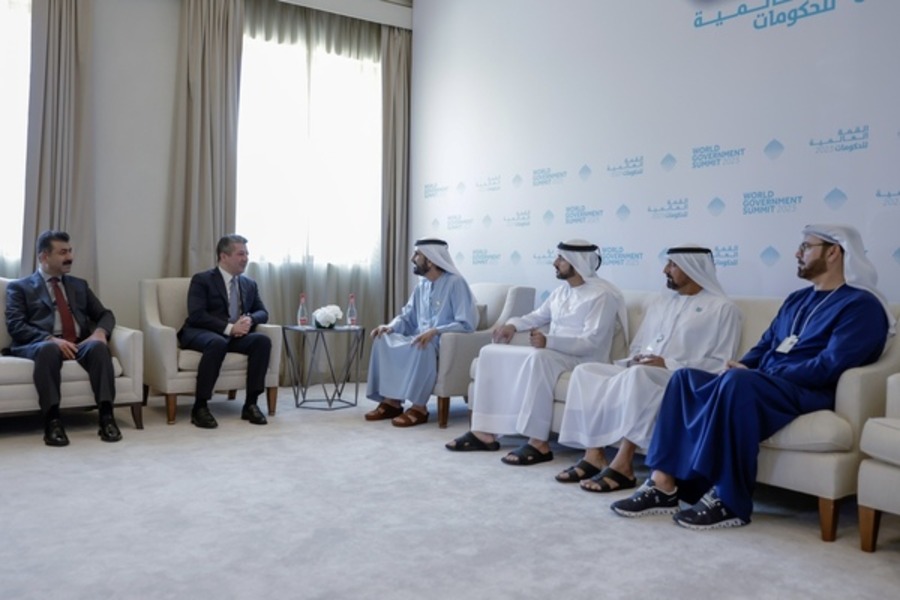 Prime Minister of Iraqi Kurdistan
Sheikh Mohammed bin Rashid met Masrour Barzani, Prime Minister of Iraqi Kurdistan, before the WGS 2023.
The meeting covered various aspects of cooperation between the UAE and the Kurdistan region of Iraq, including the economy and investment.
They also exchanged views on all regional and international issues of common concern.
Sheikh Mohammed affirmed the depth of the solid fraternal ties and the well-established relations that unite the UAE with brotherly Iraq, especially the Kurdistan region.
Barzani expressed his pride in Iraqi Kurdistan's relationship with the UAE.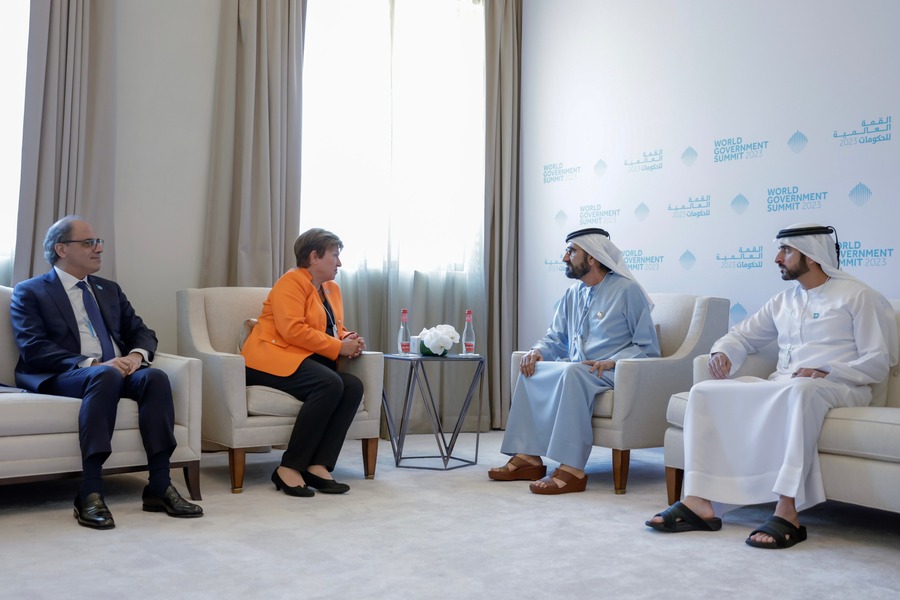 IMF chief
Global economic growth may be reaching a "turning point", supported by falling inflation and China's reopening, International Monetary Fund (IMF) managing director Kristalina Georgieva said on Sunday.
"While this is encouraging, the balance of risks remains tilted to the downside," Georgieva told the Arab Fiscal Forum in Dubai, part of the WGS.
"China's recovery could stall [and] inflation could remain higher than expected.
The Middle East and North Africa region is forecast to grow by 3.2 percent this year, down from a 5.4 percent expansion in 2022.
"We expect inflation to gradually decline as commodity prices settle and tighter monetary and fiscal policies have their intended effect," Georgieva said.
"For the Gulf Co-operation Council countries, we expect inflation to remain contained."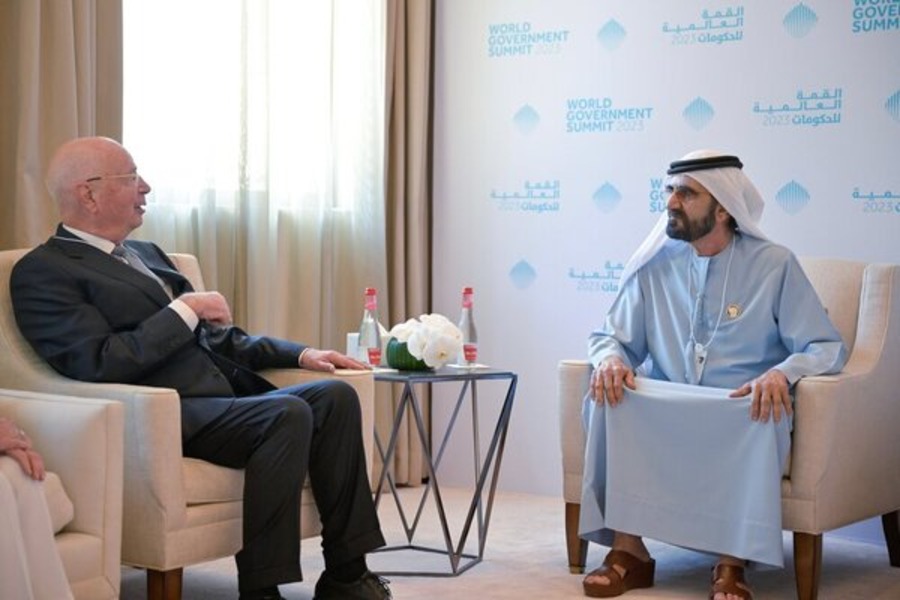 Klaus Schwab
Sheikh Mohammed bin Rashid met Klaus Schwab, founder and executive chairman of the World Economic Forum, on the eve of the WGS.
Sheikh Mohammed said cooperation between the World Economic Forum and the WGS "contributes to the consolidation of global dialogue and providing a vision to develop institutional work, which will reflect positively on development plans and the growth of global economies".
Schwab said the WGS "plays a vital role in formulating new visions for government action and international co-operation".
For more economic news, click here.
Exclusives